Golden Grizzlies split series with Milwaukee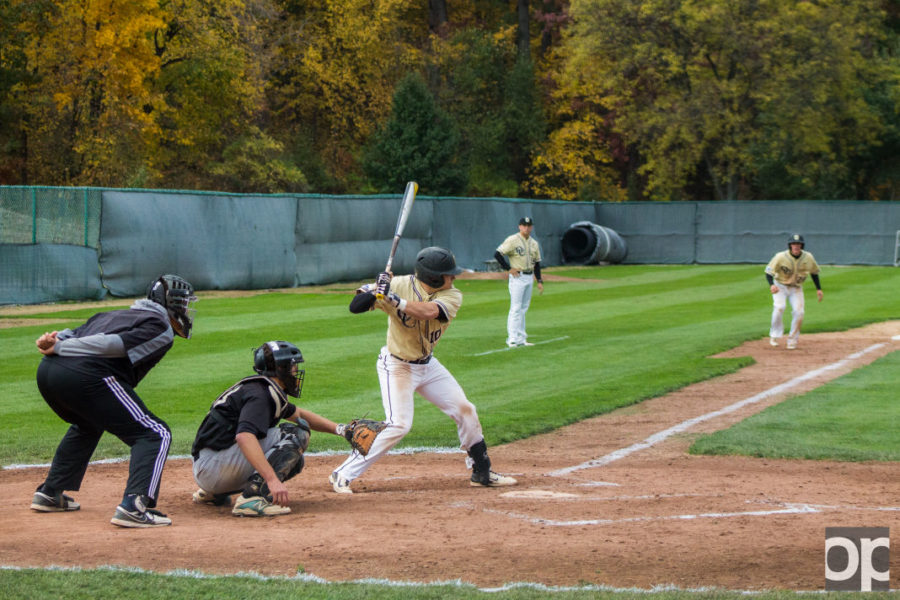 By Scott Davis
March 31, 2015
After some last minute changes, Oakland's baseball team traveled to Milwaukee for a weekend series where it picked up an extra inning win and a loss.
The Golden Grizzly team was supposed to have their first home series this past weekend, but due to unplayable field conditions, the series had to be moved to Milwaukee instead. Oakland was still considered the home team even though playing in Milwaukee.
The series started with a doubleheader Saturday where Oakland walked-off in the 11th inning, winning 10-9. Milwaukee held a 9-8 lead going into the bottom of the 11th inning, but Oakland loaded the bases and outfielder Jake Morton hit a single to center to give the Golden Grizzlies their second conference win this season.
"I'm really proud of the guys with how they responded to the adversity in game one," head coach John Musachio told GoldenGrizzlies.com. "They showed a lot of heart and found a way to win."
Oakland had to come from behind to get the victory as Milwaukee scored four in the fourth inning. The Golden Grizzlies added two in the bottom of the fourth but then exploded for six runs in the eighth.
Third basemen Spencer Marentette lead the team with four hits, while outfielder Robby Enslen had three hits to go along with his two RBIs.
In the nightcap, Milwaukee got the better of Oakland as they won 11-4. The Golden Grizzlies had a 3-2 advantage after two, but the Panthers took over from there. A six run sixth inning for Milwaukee put them up 10-4 and they never looked back.
Enslen had another multi-hit game as he went 2-5, while first baseman Zach Sterry and outfielder Tyler Pagano also had two hits. Nate Green, Oakland's starting pitcher, dropped to 1-3 on the season as he went four innings giving up six runs on nine hits.
The series finale scheduled for Sunday was cancelled due to inclement weather. Oakland now sits in fifth place in the Horizon League with a 2-6 record.
Their next Horizon League series will take place this Thursday through Saturday against Youngstown State at the Oakland Baseball Field. Thursday's first pitch is scheduled for 3 p.m., while Friday and Saturday's are scheduled for 1 p.m.