Ben Fielder hired as new associate athletic director for development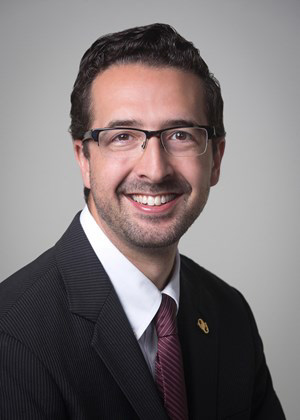 Ben Fielder remembers 2005 in Tulsa, Okla. He was rushing the court as a pep band member with 50 others, celebrating Oakland University's first ever NCAA tournament bid.
Fourteen years later, Fielder is working at his alma mater as the associate athletic director for development, attempting to build the athletics program for the future.
As an Oakland student, he helped start the Grizz Gang with Anthony Gallina — now the director of philanthropy for the School of Education and Human Services — while majoring in musical theater. As he became more involved in Oakland sports, he joined the track and field team, quitting after a year due to the conflicting workloads of his musical theater shows and training schedule.
"That was an eye-opening experience for me to see the amount of time and dedication that student athletes spend," Fielder said. "It was a great experience. I truly enjoyed it and it allowed me to get to know athletics a little more."
He previously worked in the admissions department as an admissions adviser, recruiting students to join the university that he is so passionate about. Fielder would recruit around Michigan and Illinois.
"I loved it," he said. "For me, it was a perfect entry level starting position. I loved Oakland and it was easy to go around and talk about. I also got to learn a little bit of all the areas of Oakland."
For seven years, Fielder worked in admissions at Eastern Michigan University, where he met his wife and started his family.
After gaining experience at Eastern and working his way up, he set his sights on a return to Oakland, where he has always wanted to return. When he saw a job for development in student affairs, he made the switch back.
Fielder's job for the past two years has consisted of working with administration and donors to support students through new scholarships and grants.
"I'm very passionate about this place, so it was a great fit for me to talk to alumni and donors of the university," Fielder said. "These past two years, I've really worked hard to establish new scholarship and endowments that are supporting areas in student affairs."
Fielder will attempt to use the same development skills he used with student affairs in his new position, and having experience as a student athlete, he knows the effort and time they put into their sports.
"Being an athlete just for a short stint helped me as I go out and talk to potential donors about the needs we have in athletics," he said.
Despite having worked for his alma mater in the past, for Fielder, working in the athletics department is something special.
"It feels like I'm in a dream," he said. "I'm blessed to be in this position and share the vision of Oakland athletics. It's a humbling experience and something I am extremely excited for."
As someone who has seen Oakland sports grow throughout the last 15 years, Fielder believes there is potential for Oakland to make noise in Michigan, but there still is work to be done in improving facilities and amenities.
"In my opinion, this university is primed for continued success," he said. "I also feel like we have some very big needs. We need space for a nutrition space, new locker rooms and workout facilities. To continue to grow and maintain the caliber of student athletes in the classroom and their sport, we have to have the facilities to get them there."
Overall, Fielder hopes to bring the same energy and excitement he did as a fan. The excitement he felt from the stands is one he feels now in the workplace.
"Everyone is excited is continue to move this forward," Fielder said. "I can feel so much positive energy, and that's key for success. It all stems from a positive environment. The positive energy we have here is going to really help us continue to the growth that we want for Oakland athletics."