New Grizz Gang e-board looks to grow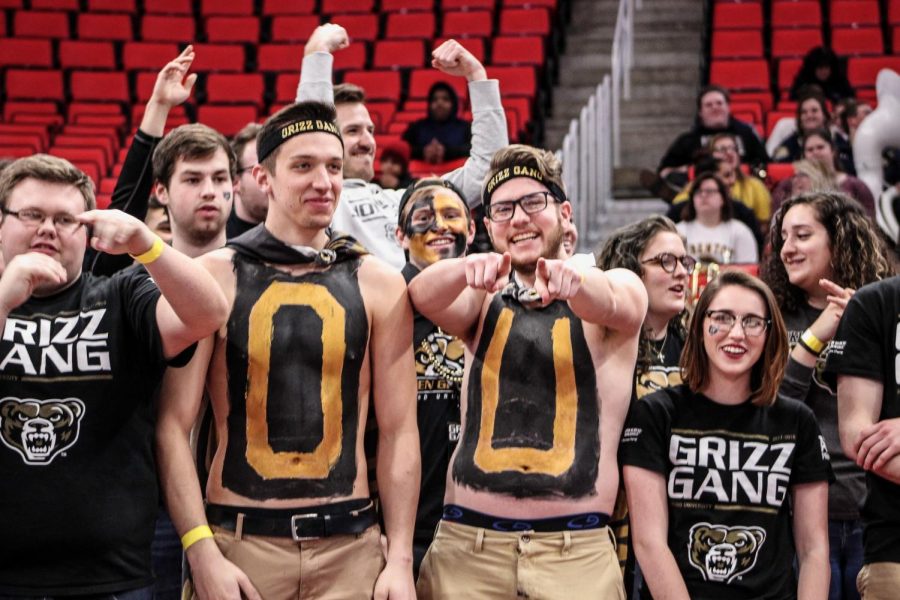 With another new school year comes another new Grizz Gang Executive Board, responsible for everything student section-related. The e-board will consist of four officials and four street team members. The officials are Michael Prestininzi, Chris Cousineau, Travis Fedolak and Mariana Seal.
Prestininzi, the president, is a senior pursuing a marketing degree with an entrepreneurship minor. He has been involved with the Grizz Gang since his freshman year of college and started helping the e-board his sophomore year. You might recognize him as one of the fans who always has a painted chest representing Oakland.
After a year as treasurer of the organization, he has taken the role of president with a main goal to expand the reach of the student section across campus.
"I want to expand to more sports and reach out to other student organizations," Prestininzi said. "Doing events like movies and other things not directly related to sporting events, and just really growing so that more people on campus know who we are and what we do."
Last year, the Grizz Gang expanded their brand by hosting multiple bus trips to away games for the men's basketball team, as well as hosting watch parties in The Habitat for away games during the week. Prestininzi sees potential in the Oakland sports teams as well as the fans that could really be showcased across the state and country.
"It seems like we always have a lot of good programs and good potential, but it goes pretty unnoticed," he said. "There are some dedicated fans, but none of the sports are regularly talked about. To me, that community isn't something that is focused on enough, that's why we are trying to show people that Oakland can be a center for sports."
To show Oakland is a center for sports, the Grizz Gang is looking to extend the forward progress they made last season. Vice President Chris Cousineau is focused on pride and spirit in all sports, rather than just basketball, which is the most popular sport on campus.
"I want to expand to other Oakland sports — continuing to get students involved in an array of events — not just basketball," said Cousineau, a senior pursuing a marketing degree as well.
To do this, Cousineau, who is also a member of the pep band, said that they need to work together as a team, much like the Golden Grizzlies they cheer on.
"Teamwork is key, and when I say teamwork, I mean the e-board, the street team and all the students that come out to the events," he said. "We are all a family. Having the student support really factors into home court advantage and can impact the game and help our players."
As the new sports season inches closer and closer, the Grizz Gang hopes to see as many new faces as they can at sporting events.
"Anyone can come out to the games — you don't have to be a die-hard sports fan to enjoy the games," Cousineau said. "Grab some friends, come support your school and have a good time."