Men's basketball enters middle of season with shallow bench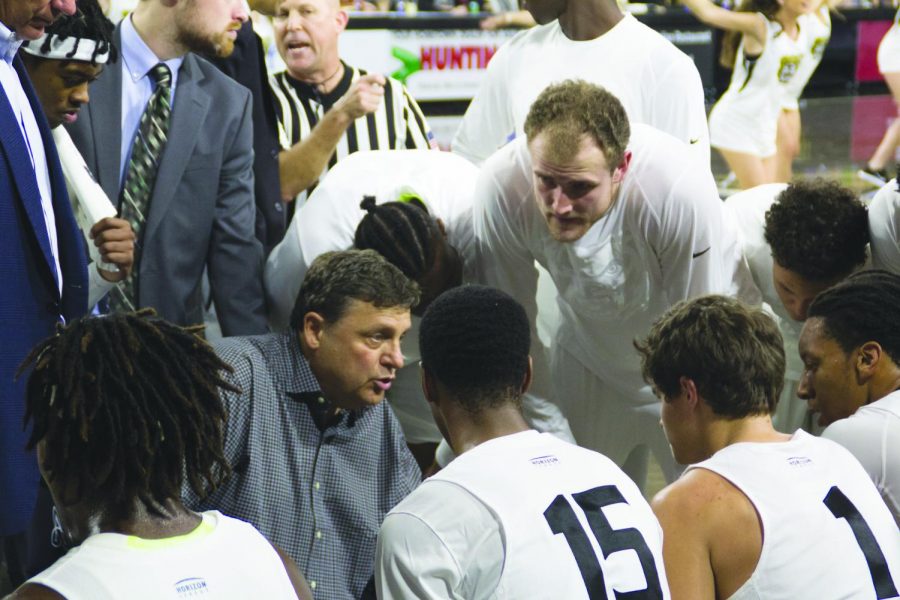 Having only 10 active players wasn't something Head Coach Greg Kampe ever expected for the men's basketball team, but it's the problem he currently faces.
The initial roster was slim before the departures of Jordan Nobles and Brailen Neely. With four seniors graduating and three players transferring to Division II schools, the initial roster had 12 players. Kenny Pittman and Babatunde Sowunmi were supposed to be redshirted, but Kampe couldn't have an eight man roster.
Nobles left the team for academic reasons, while Neely left the team for undisclosed reasons, but Tony Paul of The Detroit News reported it was due to playing time concerns.
Practicing with 10 players means no lines in practice for shooting, so everyone can practice at the same time. When Stan Scott missed time with an ankle injury, Kampe brought in Oakland legend Travis Bader to practice with the team.
"With only 10 guys on the roster, all 10 have to be ready," Kampe said. "It makes practice more competitive. We also have to pace ourselves in practice because there's only 10. No one gets a break."
Despite a roster that has no seniors starting, the team has won five of their first eight Horizon League games, including two wins against teams that sat atop the Horizon League at the time of the game (Northern Kentucky and Detroit Mercy).
Having a shallow roster has led to increased minutes for freshmen Braden Norris and Tray Maddox. Norris is sixth in the Horizon League in total minutes played, averaging 34 minutes per game, and Maddox scored a career-high 21 points against the Indiana University Purdue University-Indianapolis Jaguars on Thursday, Jan. 24.
With a young team led by freshmen and juniors, Kampe has had to adjust his coaching style. Usually using an in-your-face style of coaching, this season he has dialed it back and been more calm on the sidelines.
"I'm not sure if my past behavior with how I interact with them (players) during games may be the best for this team," Kampe said in Oakland All Access episode two. "I really have tried to adapt to them. I don't want to not be who I am, but I also have to understand who my audience is."
Having only 10 players that can potentially come back and gaining Neely's scholarship back has altered the recruiting plan for Kampe and his staff.
"We're fighting through this part, and it really opens up recruiting for us," Kampe said. "We aren't shifting our focus to next year, but with 10 guys we're trying to determine what will help us for next year. We can look forward while assuming we'll have all 10 guys back."
Lack of depth is something Kampe and the Golden Grizzlies are used to. Last season, five players went down with season-ending injuries. Neely, Martez Walker, Jaevin Cumberland and Brad Brechting all were absent in the Horizon League tournament due to injury.
"Injuries would really hurt us, but we're just hoping it won't happen in multiple years," Kampe said. "I've had to adjust my coaching style because no one can be hurt. There will be nicks and scratches always, but we just have to hope for the best."