Sessions' resignation spark protests across the US
More than 200 protesters gathered in Ferndale on Thursday, Nov. 8, as part of a nationwide response to former Attorney General Jeff Sessions' resignation last week.
Sessions' resignation on Wednesday, Nov. 7 sparked protests around the country that were set up in case President Donald Trump attempted to interfere with special counsel Robert Mueller's investigation. Mueller is looking into possible collusion between Trump and Russia, as well as Russian interference in the 2016 election.
"It's because no one is above the law," said Tyler Schramski, a protester from the Ferndale gathering. "I think that Donald Trump thinks that he is."
That sentiment was not held by Schramski alone. The phrase 'No one is above the law' rang through the air the night of the protest, with the crowd erupting with the phrase at random intervals.
More than 900 protests were planned online as a rapid response to any interference Trump may attempt. Similar protests occurred in Ann Arbor and Detroit, as well as much larger protests happening in New York City and Los Angeles.
People view Sessions' recent resignation and his replacement, Acting Attorney General Matthew Whitaker, Sessions' former chief of staff, as a move to attack the investigation.
These emergency response protests were due in part to Whitaker, who went on CNN in 2017 and talked about how this administration might end the Mueller investigation without firing Robert Mueller, and instead "just reduces his budget to so low that his investigation grinds to almost a halt," Whitaker said during the interview.
"Our goal is to make Whitaker excuse himself and fix democracy," Kevin Deegan-Krause, a political science professor at Wayne State University and one of the speakers at the protest said.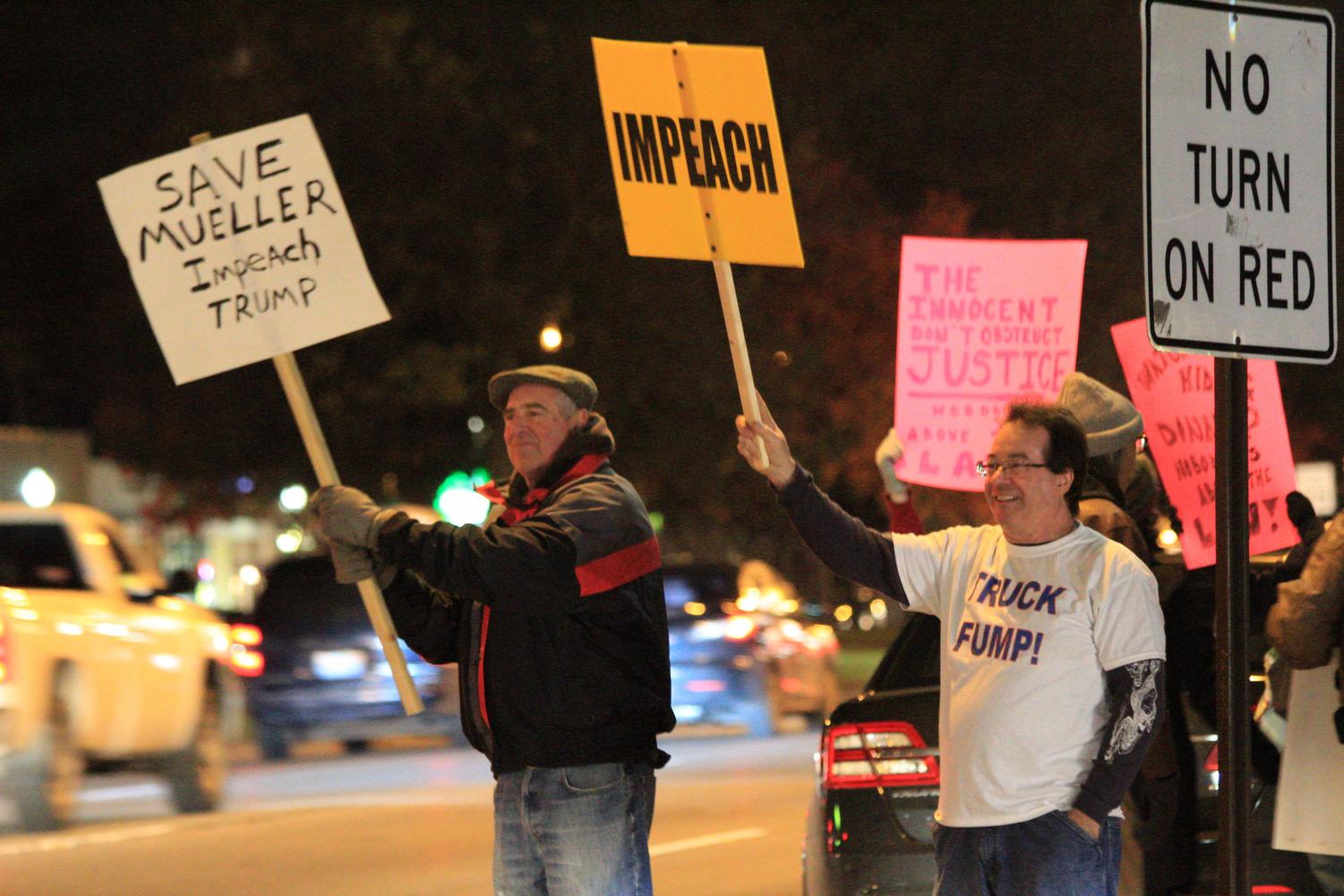 From the first moment that it seemed like Trump may fire Sessions or interfere with the Russia investigation, "there was this movement to be ready," Deegan-Krause continued. "It built overtime and hit the ground running."
Part of the organization for these protests involved a plan in which the nationwide protests would spark. Certain actions taken by the Trump administration would ignite the initial wave of protests. These actions include the firing of Robert Mueller, the pardoning of key witnesses, or the Mueller investigation showing that the Trump administration has committed "significant wrongdoing," according to the moveon.org website where the protests were planned.
"I can only assume this is going to get worse," Deegan Krause said, saying that this issue would build into a constitutional crisis.
Deegan-Krause was one of the main speakers at the event, with a few others repeating the similar message of President Trump not being above the law.
Sessions' resignation timing almost immediately followed the midterm elections, with the House of Representatives majority being taken by the Democrats.
Deegan-Krause ended the speech with a call to action to the protesters, telling them to just talk to people they might disagree with politically.
"You have to talk to people," Deegan-Krause said. "Talk to them well, and talk to them long. Don't correct them but listen."