Babatunde Sowunmi: From Nigeria to the O'rena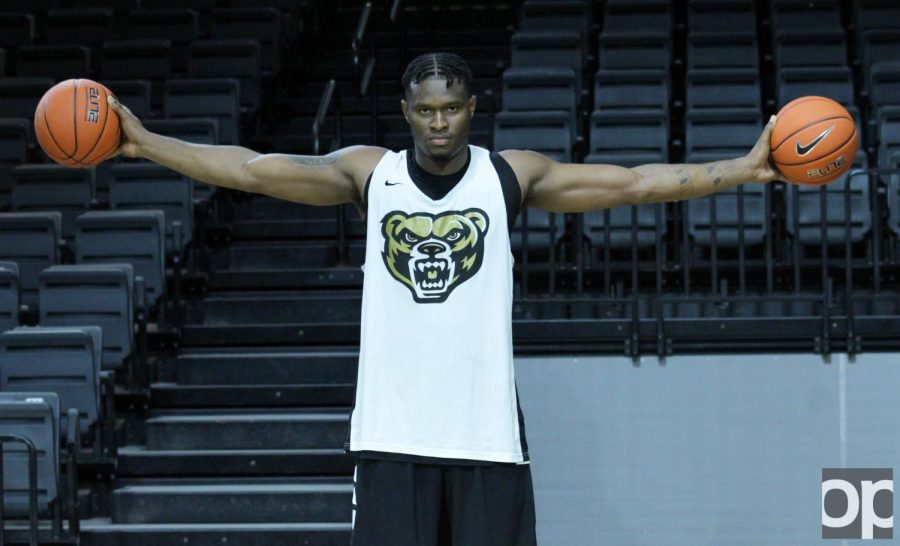 Growing up in Nigeria, Babatunde Sowunmi always imagined himself playing soccer for the national team. At 16 years old, he moved to the United States and began playing defensive end for his high school football team. Now, he's a center on the men's basketball team.
"My dream as a Nigerian kid was to play soccer, and maybe play for my country," Sowunmi said. "I never had the dream or desire to play basketball. It never occurred to me, because where I am from basketball isn't that big."
Sowunmi started playing basketball in the winter of 2016, his first year in the United States. A D1 center now, the game of basketball didn't always come easy to him.
"When I came to the United States I knew very little about basketball," Sowunmi said. "It was a tough transition, it was different for me, I wasn't used to playing basketball, running up and down and using my hands. I was used to using my legs."
Basketball wasn't the only sport Sowunmi eventually became good at. He was an all-region defensive end and kicker for Solid Rock Academy's football team, averaging five sacks per game.
"The high school year starts with football, so I played that first," he said. "After football season ended, I started playing basketball because of my height. It was an advantage for me, so I thought 'this is good, I could keep doing this.'"
Assistant Coach Tony Jones was the coach who discovered Sowunmi at an AAU game in Milwaukee, Wis. back when he was in high school in Fayetteville, Ga.
"When I saw Babatunde for the first time I thought he was a UGA recruit because he was from Atlanta," Jones said. " He was so big and strong with decent athletic ability. After seeing his skill level I knew his best basketball could be in front of him. I thought we could develop him and after a couple years could be a dominant player in our league."
According to the Detroit News, Sowunmi was matched up against a top-100 recruit and shut him down. While his opponent had two points, Sowunmi had 14 points, 20 rebounds and eight blocks.
Off the court he excelled as well, ranking in the top of his high school class and even being elected as the class president.
"I think I had a B one time," Sowunmi said. "I maintained good grades right from when I came here. That was why I was voted class president."
In the future, Sowunmi hopes to obtain a master's degree in Sports Management. For his bachelor's degree he is majoring in Human Resources Development (HRD).
"I like being able to interact with people, I am a people person," Sowunmi said. "I like sports management. Coming here, there is no sports management major. I picked the next closest thing, which is human resource development."
Sowunmi is one of two centers on the men's team, Brad Brechting being the other, and he looks to make an immediate impact with his size and strength.
"Obviously when you have size on the court it can help a great deal during a long season," Jones said. "The quicker he picks up on the concepts and schemes, the quicker he will be able to help our team. I can envision him getting time early in the season and it can improve if he can handle the aforementioned question marks."
The men's basketball team kicks off their season on Wednesday, Oct. 24 at 7 p.m. with an exhibition game against Hillsdale College at the O'Rena.