BRONCHO's new album "Bad Behavior"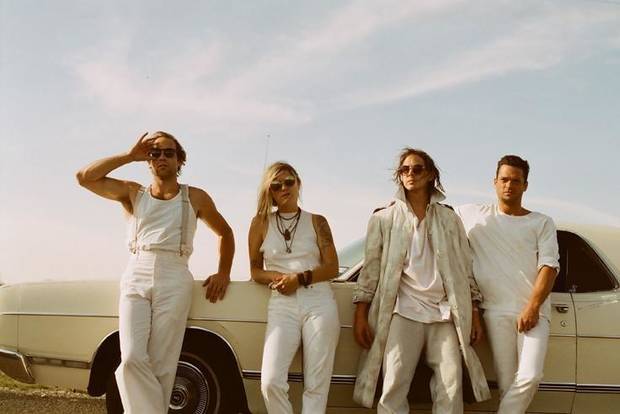 BRONCHO released their latest album Bad Behavior on Friday, Oct. 12. The band is currently touring in North America.
BRONCHO formed in 2010 in Norman, Okla. It is comprised of Ryan Lindsey on the vocals and guitar, Ben King and Mandii Larsen also on guitars, Nathan Price on the drums and Penny Pitchlynn on the bass. Their instrumentals are a huge asset to their music as they create a rich, layered sound that is very atmospheric.
The band's music has been featured in the show Girls, Santa Clarita Diet and some commercials as well.
Known for their catchy indie rock/pop-punk sound, BRONCHO brings that signature sound to this album, but with some sleeker sounding songs, like the opener, "All Choked Up."
The song's catchy rhythm and breathy vocals contradict the sadder, nostalgic feeling it brings. The lyrics convey this idea well, with lines like, "Don't sit down, I need to say something / I need to say another before I get choked up / I wanna dig deep and I wanna dig deeper / Unless you use another way to get choked up / My mom said this five years ago."
One of the stand out songs from the album is "Sandman." Its sound is upbeat, with all the usual instruments the band plays, but also utilizes what sounds like a tambourine, adding another interesting layer to the song. Another aspect of the song that makes it so fun are the references throughout to the classic song by the Chordettes, "Mr. Sandman." 
The album ends with "Easy Way Out." The repetitive lyrics make it catchy, and the upbeat vibes make it a great choice to end on.
The album lives up to its name, with a clear theme of bad behavior running through the songs, exploring different scandals within each song. Bad Behavior is a clever, at times lighthearted, commentary on various vices, current events and society. The continuity of the songs add to the intrigue of the album.
While still sounding like themselves, this album definitely has a more mature sound. The album's sultry sound make it an easy, smooth listen. It is a great album for singing along to or putting on in the background while doing homework.
As the lyrics are always interesting, BRONCHO's sound really makes them stand out. The bass and drums make their music pop. All 10 songs on the album flow together really well, without blending together. The repetition of the lyrics of each song make them instantly catchy and easy to sing along with.
I would definitely recommend this album, whether to old fans of BRONCHO, or just anyone looking for a band with a fun, chill sound.
Rating: 5/5 stars