OU Feminists celebrate third annual Slut Walk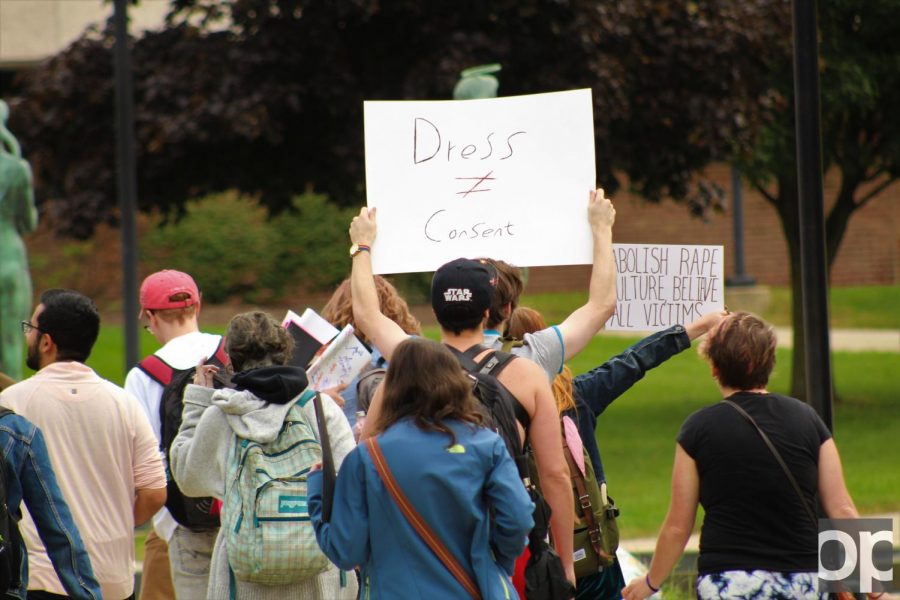 The Feminists of Oakland University set off for their third annual Slut Walk on Thursday, Sept. 27. Turning heads and becoming conversation starters, the OU Feminists marched around campus spreading awareness of sexual assault.
"We typically tell women that we should be ashamed of our bodies, essentially that you need to cover up," senior and Feminists of OU President Courtney Bryson said. "We assume things by the way a woman acts, or if she doesn't wear enough clothing or that she's asking for it, and we need to get rid of these terms and stop victim blaming."
The walk started at Elliot Tower, and continued to the bronze Grizz statue by the O'rena and the main sign on campus off of Meadow Brook Road. The feminists carried signs saying, "No does not mean convince me," "My skin is not a crime" and "Consent is an ongoing, clearly-given, enthusiastic, sober yes"—all while wearing revealing clothing, reclaiming the word "slut."
The Slut Walk took place just one day after a reported sexual assault on campus, which allegedly took place on Wednesday, Sept. 26. The Brett Kavanaugh hearing was also happening the same day as the walk, making the event particularly relevant. One attendee of the walk even carried a sign saying, "Remember Anita Hill, believe Christine Ford."
"These women that are on trial today are going through all these things that we are saying, they've been blamed, they're saying that they're just making it up for money or popularity when, in reality, there's not much they have to gain from this except trying to get justice," Bryson said.
According to the National Sexual Violence Resource Center, 20–25 percent of women on college campuses will be sexually assaulted, and 90 percent of sexual assaults on college campuses will go unreported.
The Oakland University Police Department (OUPD) is a resource for OU students and faculty to use in times where they feel uncomfortable or unsafe. They are reminding the community to always seek consent and be aware that the absence of "no" does not mean "yes."
"I think it's a really important movement, especially given the time that we are in where a lot of people don't really understand the rules of consent," freshman Natalie McDermott said.
McDermott was not a part of the Slut Walk, but was a student on the side showing her support alongside her peers. Multiple people were shouting, "I support you" during the walk. The group got plenty of positive feedback, cheers and smiles as they continued their protest.
The impactful movement hit close to home for both the people participating in the walk and for the peers they passed. The members who walked hope they made a difference and got people on campus to start thinking about sexual consent.
"I feel the need to then stand up for others as well, maybe people who don't show up to the walk today, or never report, or never get help, because sexual assault is not okay and rape culture is not okay," sophomore Ashleigh Dubie said. "Even though we have a society and people within our own school who make rape seem like a gray area, and it's not, it's black and white. If you rape someone, you rape someone, if yes is not yes, it's not consent."