OUPD raises funds for new K9 unit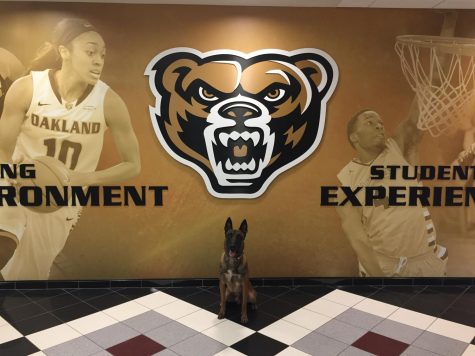 According to a recent study by the National Council for Home Safety and Security, Oakland University is the safest campus in the state of Michigan. This is thanks in part to the police department that we have at our disposal.
However, rather than resting on their laurels of this title, the Oakland University Police Department (OUPD) is looking for ways to make OU ever safer for its student population. Within the last year the police have introduced in-car cameras and tasers to officers on campus, and they are currently looking to add another layer of defense in the form of a four-legged companion.
The OUPD is currently raising funds to bring a K9 unit onto campus. The initial fundraising push is for $30,000, which covers the cost of both a bomb detection dog, as well as training for the K9 Unit.
Lieutenant Nicole Thompson of OUPD, one of the officers pushing for the K9 unit, thinks that a bomb detection dog would be a great addition to the police department.

"We had over sixty events on campus last year with more that 1,000 people," Thompson said. "If we had a K9 unit at out disposal, we would use it every chance we could get."
Beyond the initial push for fundraising for the dog, the total cost for the police dog would be around $100,000. This would include the original $30,000 needed for the dog, as well as a special vehicle for the unit and general upkeep.
"I would like to say within a year of getting funding we would see a K9 unit on campus," Thompson said.
If Oakland were to get a K9 unit, we would not be the only college campus to have bomb dogs in Michigan. Michigan State University, for example, has the second largest K9 Unit in the state behind the Michigan State Police.
Not all students think that the K9 unit is needed on campus. One such resident is Jared Lance, a senior management information systems major.
"I think a K9 unit would make campus safer, but I feel like it's not necessary to have on our campus," Lance said. "OUPD has been doing fine without one."
As of right now, OUPD has raised around $4,500 of the necessary $30,000 for the bomb detection dog.