Oakland University professor receives Michigan Distinguished Professor of the Year award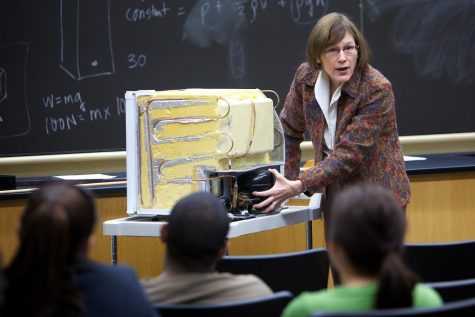 Photo Credit: Oakland University Office of Communications and Marketing

Being recognized for something you have put a lot of work into is a high that everyone strives for. Validation for a person's efforts shows that the person is making a difference in what he or she is doing.
When Barbara Oakley won Michigan Distinguished Professor of the Year in April, she was surprised and humbled.
One of her more popular courses, "Learning How to Learn: Powerful mental tools to help you master tough subjects," available on Coursera, has been taken by around 2 million students from 200 different countries. Oakley attributes winning the award to her making her work widely available online to any student that may find it useful.
"As professors, we often wish we had the means to make an impact on people's lives," Oakley said. "New online ways of outreach have given extraordinary opportunities to academicians."
Along with creating one of Coursera's most popular online classes, Oakley has also had a wide variety of experiences outside the world of teaching. From serving in the U.S. Army to working as a Russian translator on Soviet trawlers to serving as the radio operator at the South Pole Station in Antarctica, Oakley is able to pull from these experiences in order to connect with a wider pool of students.
"Today's visionary professors can leverage their abilities and move online, where many more students can benefit," Oakley said. "If I can serve as one example of this phenomenon for other professors, I am happy."
Oakland University President Ora Hirsch Pescovitz, was one of many that were delighted to hear that Oakley had won the award.
"Professor Oakley is not only a first-rate scholar and a teacher of young minds, she is also an inspiration to our students, faculty and entire Oakland University community," she said.
Pescovitz is also on the board of directors for the Michigan Association of State Universities, which is responsible for the Distinguished Professor of the Year award. Pescovitz did not have any input on the selection of Oakley.
The Michigan Association of State Universities, or MASU, is a group composed of Michigan's 15 public universities. The MASU's goal is to promote the value of higher education to the state of Michigan, as well as develop policies to improve the quality of that education.
"My role as a member of the MASU Board of Directors is to do my best to see that OU interests are advanced along with the other colleges and universities," Pescovitz said.
Dan Hurley, the CEO of MASU since 2015, provides resources and advice to the public universities within the MASU. Hurley hosts and oversees the selection for the Distinguished Professor of the Year award.
"The calling of the professoriate is the ability to change the human condition," Hurley said. "When I look at professor Oakley's work, she exemplifies that statement of using her abilities as professoriate to improve the human condition."
The selection process for the award involves a selection committee that consists of members of the association's Academic Affairs Officers committee. Nominations from each university were received and evaluated in February, with recipients being notified in March.
The MASU awarded Michigan Distinguished Professor of the Year to three professors this year, including Oakley, Anne Ruggles Gere from the University of Michigan and Deborah Herrington from Grand Valley State University.
Currently, Oakley is working with Microsoft and Arizona State University in order to create a series of videos to help teach English to kids and teenagers. She also has a book coming out on August 7, 2018 that expands upon "Learning How to Learn."