Isaiah Brock transfers to GVSU men's basketball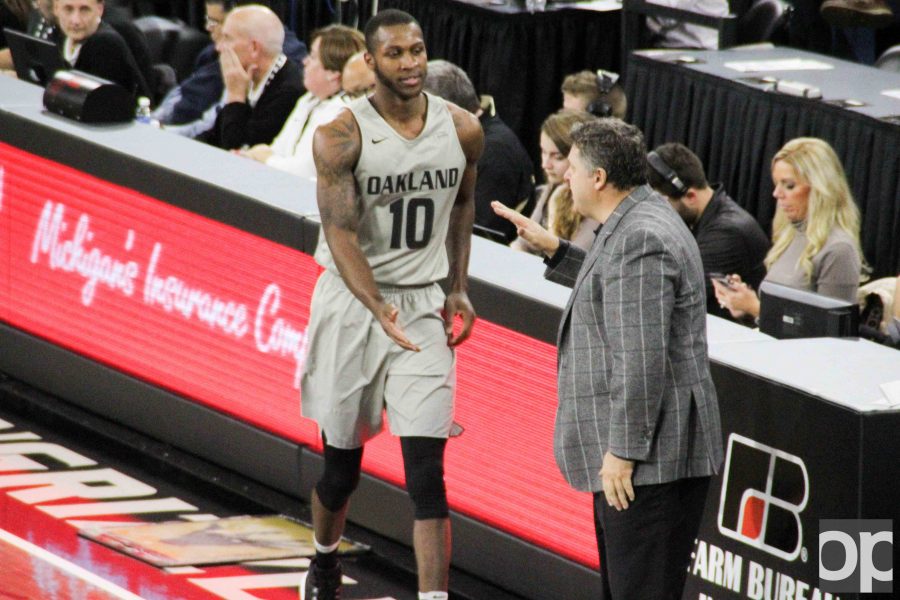 For the second straight summer, Isaiah Brock's decision on whether or not to return to Oakland men's basketball has been made. Last summer, Brock decided to step away, only to come right back to the Golden Grizzlies. This summer, however, Brock made the decision to leave Oakland University.
It was announced on Grand Valley State University's (GVSU) website that "The Grand Valley State men's basketball team and head coach Ric Wesley announce the signing of transfer center Isaiah Brock from Division I Oakland University."
Brock's decision comes out of the blue for the coaching staff at Oakland. Head Coach Greg Kampe had no idea of Brock's decision to leave until someone brought a picture of Brock and GVSU Head Coach Ric Wesley into his office.
"I have no clue why he left," Kampe said. "I have no clue what he is thinking. He told me when the season ended he didn't want to play basketball anymore, like he had the year before. I talked to him in the meantime, we talked about the possibility of playing somewhere else. They were all very brief conversations and in the very brief conversations I had with him, it sounded like he didn't want to play basketball anymore."
The 6'8″ center from Baltimore, Mary. was a force on the block for Oakland, leading the team in blocks per game (2.9) and tied for first on the team in rebounds per game (8.1) with forward Jalen Hayes. Brock played in 30 of 33 games in the 2017-18 season, averaging 28.2 minutes per game, ranked 4th on the team.
"On the court he was one of the best shot blockers in the league, one of the best defensive rebounders," Kampe said. "He gave us something a lot of teams in our league don't have, an elite shot blocker. He was getting better on offense, even though he was limited. Had he decided to come back we would have tried to increase his touches and work on his offensive game."
The 24-year-old Brock came to Oakland in 2016 after spending four years in the United States military. In his first two seasons at Oakland, Brock already made his impact on the record books, recording the second most blocks (158) in a career.
"The Lakers led the GLIAC in rebounding margin each of the last two seasons," GVSU's website said. "But the addition of Brock could take the Lakers to a new level on the boards. Brock finished fifth in the Horizon League last season with 244 rebounds, including a season-high 16 boards at Western Michigan."
GVSU's team finished 9-11 last season, and was not one of 32 teams in the Division II national championship tournament. GVSU's conference rival, Ferris State University, was the Division II national champion. With the addition of Brock, the Lakers look to contend with Ferris State.
Kampe expressed optimism in the possibility of redshirt junior Brad Brechting filling Brock's role of rim protector and lead rebounder this upcoming season.
"We thought Brad was going to be a major piece this year," Kampe said. "He broke his foot before we had to play, and that lasted 13 weeks. I have very high expectations for Brad. I thought this year was going to be big for him, and it was a major blow to our team when he got hurt. He's going to be one of the tallest players in the Horizon League, he has two years of experience under his belt, and I expect he will get better as he gets older."
The team has now lost its top five minutes leaders due to graduation or transferring, and five new players have been brought in either via recruiting or transferring.
"We're going to have a very different team," Kampe said. "We scored 2,580 points last year, we have 222 of those points coming back, about 7 percent. I couldn't tell you who is going to do what. We have five newcomers and seven guys coming back, practices should be very competitive. I don't think Oakland has ever put a bad team out there, and I suspect we won't again."