Does OU's movement for diversity & inclusion really include everyone? Student veterans aren't so sure.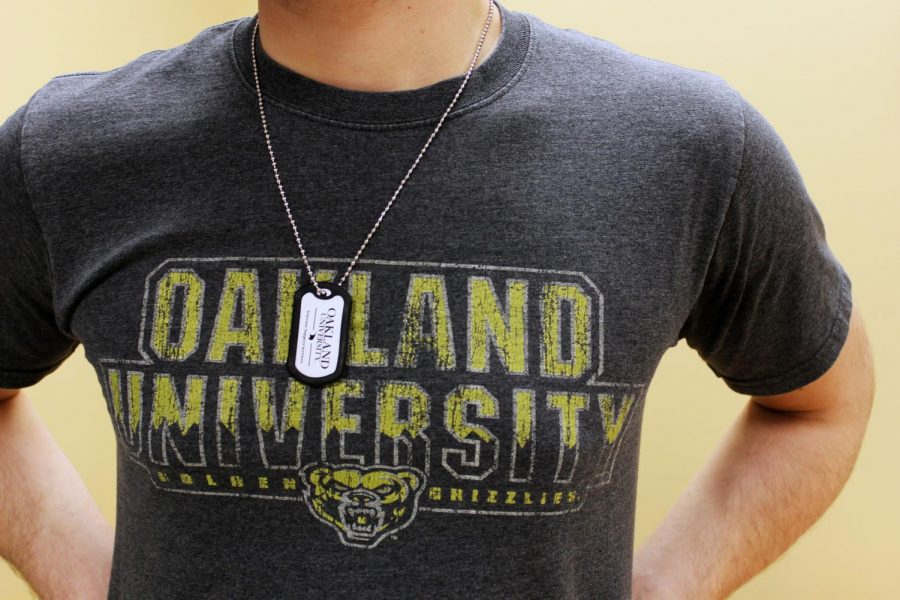 The age of diversity and inclusion at Oakland University has left many veteran students wondering why the most diverse group on campus hasn't been included.
The over 375 veteran students attending Oakland are made up of various ethnicities, religious backgrounds, sexual orientations and have traveled all over the world, yet the university only hired its first full-time veteran support representative in June 2017.
While we are only beginning our trek toward a more veteran-friendly campus in the student's eyes, Wayne State University already did a second overhaul of its veteran center back in 2014.
"With all the diversity and inclusion that OU is trying to turn over, we are not a part of any of that," said Mason Turrell, who is a work studies employee for Veteran Support Services (VSS) but who brought this issue forward solely from his roles as student veteran and president of Student Veterans of Oakland University. "We're not saying give us our own, we're saying we simply want to be a part of it as a whole."
As the academic year winds to a close, student veterans are hopeful a number of issues will be resolved, or further improved, for the coming year.
The veteran center move to Vandenburg Hall
The current veteran resource center has been housed in North Foundation Hall since its creation in 2011 when it took over an old break room space. It is around 230 square feet.
The size has created a plethora of issues including room for only four desks, no option of privacy, not enough space to house the veteran textbook loan program, forcing some veterans to have their back toward the door which can provoke anxiety and unnerving feelings, etc.
However, a move, still in the planning stage, is set to place the veteran center in a significantly larger space in Vandenberg as of fall 2018.
According to Vice President for Student Affairs and Chief Diversity Officer Glenn McIntosh, as of April 2, he plans for the VSS center to have four staff offices and a social/educational lounge space area.
Coordinator for VSS, who fills the role of OU's first full-time veteran support representative, Eric Wuestenberg reported the new center will potentially be taking over the current Gender and Sexuality Center space and part of the Division of Student Affairs & Diversity space as well as the old cafe on the first floor, to total at around 3,000 square feet. The additional Student Affairs office space may be given to another office.
"Until we get the keys to our new space, we won't know what we're getting, but we are getting something substantially bigger," Turrell said.
Wuestenberg's goal is for the new space to become a one-stop shop for everything a veteran could need on campus, and he stated Oakland has been supportive since day one in his vision for the new center.
While student veterans are relieved and excited about the desperately needed increase in space, the move will create a new problem for the veteran center: location and accessibility.
Since vet centers are a gathering place for students from all over campus, Vandenberg is out of the way, and the lack of parking added to the steep walk outside of the building could be a problem for disabled veterans.
Wuestenberg's solution to the distance is to get a golf cart to transport veterans; however, funds for a golf cart currently aren't in the VSS budget so they may look into donations or fundraising options.
"Other students, staff and faculty here at the university know that we're potentially moving over there and they think it's a bad idea," Turrell said. "The fact that we are moving to Vandy is great for the future, however it's a student service. North Foundation is a student service building. You're potentially taking that student service and moving it to the far north end of campus."
When the Second Year Experience and the Registrar's Office moved out of North Foundation, Turrell recalled hoping VSS would move into one of those spaces. The former Registrar's Office space was especially well-suited for their spacial needs.
While the Division of Student Affairs & Diversity office, the Gender and Sexuality Center and the Dean of Students office, will all be moving from Vandenberg back into the Oakland Center once the expansion is complete, Omar Brown-El, senior director of the Center for Multicultural Initiatives reported there would not be enough space to accommodate the significant need of the new veteran center.
WSU's second vet center overhaul came with renovations to its student center where the plans included creating a large enough space for veterans within the central hub of campus according to Matthew McLain, assistant director of the Office of Military & Veterans Academic Excellence at WSU.
Jean Ann Miller, director of the Center for Student Activities, reported that there may not have been talks about building the space for a veteran center within the OC expansion because the expansion planning may not have coincided with the talks of moving to a larger veteran center.
Some student veterans have expressed worry that the move to Vandenberg is only taking place so the population will stop pushing to resolve issues with their treatment.
"A lot of people have said 'I feel like it's a keep quiet type of thing' and that's sad," Turrell said. "It's like do you really want to, not even go to a university, but be affiliated with that university if that's going to be the case. It's really sad to even think that and I wish OU would do a better job at recognizing how valuable veterans and spouses and dependents truly are."
Transferring military experience to class credit
The Post-9/11 GI Bill (Chapter 33) states the VA will cover higher education costs for up to 36 months once a service member leaves the military. While this covers four years of fall and winter semesters, it can be difficult to complete many undergraduate degrees in that time frame, which leaves the veteran footing the remainder of the bill.
Allowing certain aspects of military experience to count for class credits would save veterans both time, as they are already older than typical college students, and money.
Oakland doesn't accept many military credits according to Turrell. He reported it is in the works to try to fix that, but at the current moment it's a real issue.
Kyle McIntosh, who is a veteran representative for VSS but who speaks on these issues solely from his role as a student veteran, is graduating with 220 credits as an undergrad. He described most of his credits as "attaboy credits" because they count as electives but nothing that go specifically toward his degree.
This situation can leave veteran students not graduating faster but instead finding themselves placed at the senior level where they have to pay more for classes but still take the same amount.
The global perspective credit, which Interim Senior Associate Registrar Paul Battle reported OU does not allow to be filled with military experience, is one that veteran students feel strongly about since many have been deployed abroad.
"Why do I need to take a global perspective class?" Kyle McIntosh said. "I was deployed to Afghanistan twice and East Asia once for four and a half years."
As an intelligence analyst in the Marine Corps., he also had to write intel reports yet still had to take writing classes at OU.
The students understand that not every veteran will qualify for the same transfer credits, but feel there should be a system in place to accommodate those who do.
Wuestenberg recently went to a meeting in Lansing to discuss this issue occuring at all 48 public institutions in Michigan.
"That's a problem we have not just here at Oakland, or even statewide, this is a nationwide problem," he said. "It's a work in progress."
Training faculty & staff to better help veterans
Kognito Training is a 20-minute online program that began in June 2016 and closes June 30, 2018.
"It helps [staff and faculty] figure out how to help veterans whether it's academically or mentally," Turrell said. "If a veteran is having troubles in a class and it's not really education-related, this training kind of shows hey these are some of the steps, these are some of the ideas."
According to Brown-El, it has been circulated among all faculty and staff through the vice president sending the information out in weekly or month communications.
While he reports they are only 20 participants away from meeting their goal, those who have not taken it include the entire Provost Office, Glenn McIntosh, President Ora Hirsch Pescovitz and everyone from Student Affairs except Lori Marsh, according to VSS.
"Why is faculty going to take it if the leadership doesn't take it?" Kyle McIntosh said.
22 veterans commit suicide every day according to Turrell, so he feels that the training should be made mandatory not only at OU but nationwide.
A link to the training can be found of the VSS webpage.
Respecting the American flag
U.S. Code Title 36 Chapter 10 states that it is illegal to alter the American flag, which includes using it as wearing material; however, a student's personal flag, which the Gender and Sexuality Center has utilized in University publication, features the stars, but instead of the red and white stripes, the rainbow.
Turrell reported the scrolling banners on OU's homepage have held photos of the flag twice in the past year. Student veterans, supportive of the LGBTQIA+ community and simply wishing to protect respect of the American flag, approached the university with their concern after the first instance and it was taken down but then was again featured.
"There has been conversation about the usage of the flag, the only thing I'm aware of is that it was on the University's web page and they did communicate, the Gender and Sexuality Center, that they would no longer use it or it wouldn't be used for that purpose on the website," Brown-El said.
Despite this, the flag is currently featured on a scrolling banner on the Gender and Sexuality Center's webpage.
Recognizing military holidays
Student veterans have noted a lack of recognition of Memorial Day and Veterans Day in recent years.
The College Republicans student organization put on a 9/11 event but that is a student org taking the initiative.
"Why is it on the student org to do this?" Kyle McIntosh said. "We do a lot for Martin Luther King Day and this is a federal day. Which is fantastic, again I think it's great, but what about these other days?"
He reported student veterans are not asking for big, lavish events or speakers but recognition and perhaps something as simple as a black life-size silhouette of a soldier with some quotes in buildings on campus.
"We're out of the winter semester at that point [Memorial Day] so we generally don't have scheduled programs during the summer semester," Brown-El said.
However, Friday, June 29 will bring a celebration of CMI's 25th Anniversary Reunion Weekend.
VSS now intends to plan a Memorial Day event this year after action by Kyle McIntosh. VSS also plans to do a Veteran's Week, rather than day, with a pancake breakfast each morning.
Creating a culture of education and understanding
Within the next 10 years, there are going to be over 50,000 veterans returning to Michigan alone and 75 percent of that will be in Wayne, Oakland and Macomb according to Turrell. Additionally, just over 375 individuals using VA benefits already bring in 4 million dollars to the university.
"We joined in a time of war, it's a very different culture when there's not a war going on and so a lot of them are getting out and what are they going to do now?" Kyle McIntosh said. "To me, the university needs to be focusing on really showing how veteran-friendly they are."
With the veteran resource center just beginning its growth, student veterans want to focus on communicating their needs and solutions.
"I think most of the time it's a lack of knowing, it's not a lack of wanting," Wuestenberg said.
Additional ways to further support veteran students would include adding VSS information to class syllabi, creating a veteran-specific orientation, recognizing that they are not 18-year-olds but adults and respecting that not all disabilities are visible.
"I don't want people to say 'oh you're a hero thank you for your service', we did it because we felt a call," Kyle McIntosh said. "I joined the Marine Corps. because I wanted to be there so someone else's son didn't have to be. I felt it was my job to serve my country. None of us consider ourselves heroes. But we don't want to be forgotten."