Writing and Rhetoric Department hosts 14th biannual Writing Marathon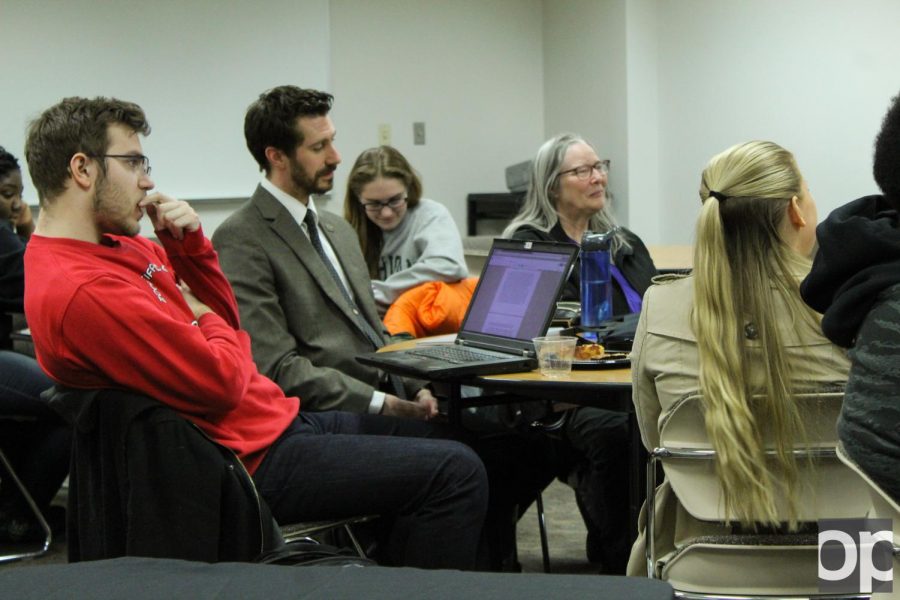 Ariel Themm, Staff Reporter
April 10, 2018
The 14th biannual Writing Marathon took place on Thursday, April 5. Beginning in Lake Superior B of the Oakland Center at 5 p.m., the event moved participants to various locations around campus to write before regrouping at 7 p.m.
Pizza and cookies were served for the event as students and faculty were divided into several groups for the marathon. The groups were then sent out on a "marathon" across campus, traveling to various locations to work on a writing piece of their choice.
"One summer, I did a program with Meadow Brook Writing Project—it was called the Summer Institute, where a bunch of writing instructors get together and talk about writing practices," said Christina Hall, the coordinator of the Writing Marathon and an Oakland University writing professor. "One of  the things we did in a group was a writing marathon over at Meadow Brook Hall, where we also do our youth writing camps and I thought, 'Oh my gosh, our students would totally love this.' So I started doing it in my classroom, once or twice a semester, just on a small scale. Then I was like, 'This would be really cool to do with everybody,' and so we began coordinating the event for the next semester."
The Writing Marathon gave students the opportunity to either start writing one piece and move onto another at the different locations they visit, or continue one piece for the whole marathon. In the spirit of no limits, all different writings were accepted.
"When I first started here at Oakland four years ago, this writing marathon was one of the first department events that I could go to," said Melissa St. Pierre, a special lecturer in the OU Writing and Rhetoric Department. "I used to be a student here and I never heard of an event like this before. This is a good event to see that writing is fun and not just a solitary activity. We are passing by things we see every day but now we're stopping and taking time with this event to be inspired and are much more interesting."
In the past, the event would launch a scavenger hunt with specific words to be included in the participants' writing pieces. But people seemed to have just as much fun in an unstructured environment as well.
"Words are our greatest power, weapon and ally," St. Pierre said. "This country wouldn't even exist without words. It has the power to heal, to create good and bad outcomes. Words are used if you're a writer or a mathematician, we still need to understand them and learn from them and respect  the power of language.
"This event opens the door to acknowledge other kinds of writing events. It is highlighting the strengths of the Writing and Rhetoric Department here. This event is to show not just the students but the OU community that writing is not just a part of the gen-ed classes. There is so much more to the department than just those classes."
Coordinators plan to continue the writing marathon in the coming years, with the next event scheduled for the fall 2018 academic semester.