Hinds is back with girl power infused sophomore album "I Don't Run"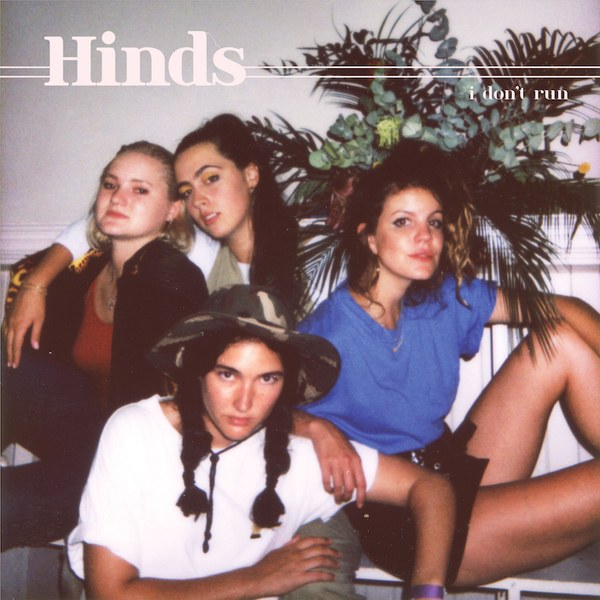 I don't know about you, but when I think about lo-fi rock I always picture hard edged city kids from either California or New York with kitsch threads and a raw sound. I was pleasantly refreshed when I came across Hinds, a girl band  out of Spain.

The girls joined forces to create the band, formerly known as Deers, in 2011. Fun fact: the name change was due to a threat of legal action causing them to make a slight switch to Hinds, which actually means "female deer." The band is made up of Carlotta Cosials (vocals, guitar), Ana Perrote (vocals, guitar), Ade Martin (bass, backing vocals) and Amber Grimbergen (drums).

Together they have released two albums, one compilation LP and four singles. Hinds' second studio album, I Don't Run, was released on April 6. Though this genre is typically an acquired taste, I think it is definitely worth it for anyone to give it a listen.

One of the things I think the girls do well is their quirky use of English in their lyrics. They play with turn of phrase and use words in a non-native way. I like that this sets them apart from U.S. bands, they kind of created an interesting sub-genre of their own.

An example of this is the third track of the album, "Linda" which appears to be kind of a funny, yet passive aggressive break up song. A phrase from this song I found interesting and offbeat is, "When you ring my bell and I wanna be ready for your smell."

Another thing that I found I was completely in love with was Hinds' bad-ass anthems that just bleed girl power. The song "Finally Floating" is a song that layers vocals from both Cosials and Perrote, who are chanting about the wastefulness of having a crush consuming their mind. These lyrics from the chorus are split between both vocalists, "[Ana] Useless, overdose on time stuck in this phase, in this phase, [Carlotta] I'm feeling great 'til I'm laying in bed I know this rhyme, no melodies, sounds again." This was a really cool way for them to add more power to their lyrics.

In addition to the slamming guitar infused sound and rhythmic drum beats, Hinds manages to pump out songs that are so serene it is almost hypnotizing. "I Feel cold But I Feel More" and "Ma Nuit" are prime examples of this with their repetitive and softly exposed sound.

I think this album was predictable in terms of the instrumentation but Hinds brought some really quirky and fun lyricism to the table which I adored. They definitely have grown to be more nuanced since the last album and I can't wait to hear more from them in the future.
Rating: 4/5 stars