Anti-abortion group sparks outrage by students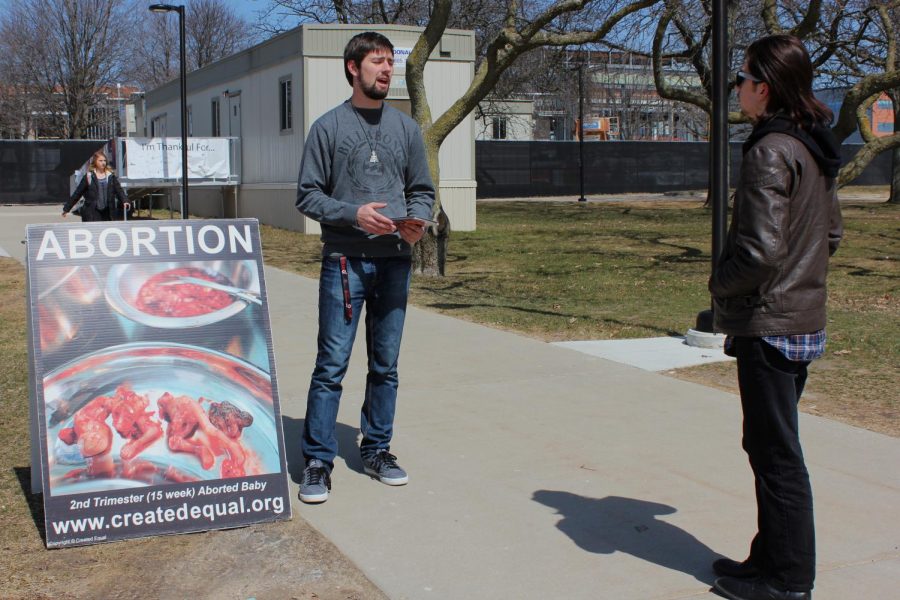 Anti-abortion group "Created Equal" arrived at Oakland University to distribute information regarding the practice of abortion on Monday, April 2. Bringing incredibly graphic images and GoPro camera, the group sparked outrage with students while they were filming students non-stop while they asked them their opinion on abortion.
"The purpose of the event is to spread awareness about abortion and to show the destruction it has on innocent human beings every year in America," said Sam Riley, an organizer with Created Equal.
The group, which originally was scheduled for an appearance on campus from 9 a.m. to 5 p.m. on Tuesday April 3 instead arrived unannounced on campus Monday, April 2. Some students complained to the Dean of Students due to the lack of warning about the graphic images that were displayed by the group.
"No students were warned of potentially trauma-inducing signs and were surprised when walking to class," said Oakland student Kiera Woodward. "I told the Dean of Students there should have been a warning to the general student population. Nobody wants to be minding their own business going to class and see images that take them back to a traumatic moment in their life."
Annmarie Terese, another OU student criticized the university for its lack of transparency when notifying students.
"Arriving on campus to find these graphic images with no warning from administration year after year is disturbing and upsetting," she said. "Students who are new to campus do not know to expect these kinds events and could be blindsided and traumatized by them. At times like this, it is important that administrative and campus leaders are transparent in their handling of campus issues and event reservations."
While other groups registered as a student organizations are usually shut down if they gather without reserving a space, the Oakland University Police Department said this group was exercising its First Amendment rights by standing outside Kresge Library and did not tell the group to disperse.
"​Even though​ the group was scheduled for a different day and arrived earlier than expected, Oakland University as well as the Oakland University Police Department endeavor to allow for the free and ​open expression ​and discussion of ideas as protected by the 1st Amendment," said Lieutenant Terry Ross of OUPD. "Even if the expression and discussion is thought to be offensive to some, it is still protected by the First ​Amendment."
Ross also said the group had full rights in filming students without their permission and simply urged students to avoid the area, stating, "Since the event was in an area that is specifically designated for an open forum/discussion, a subject's privacy rights are not infringed upon.  In an open/public area there is no expectation of ​​privacy. A person has ​the right to avoid the area in question if there is that concern."

While counter protests were planned for April 3, they have since been canceled due to the group's early arrival. Rumors were spreading that the group may return to campus on a later date. If so, further protests may take place on campus due to outrage from various student leaders over the graphic images.