Kendrick Nunn nominated for Jerry West Shooting Guard of the Year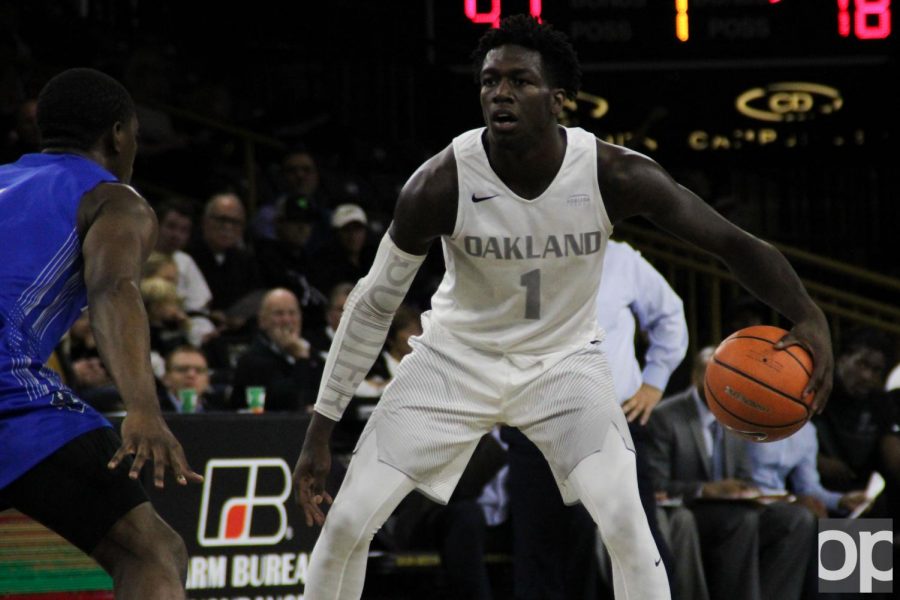 The Horizon League Player of the Year and Oakland University guard Kendrick Nunn has added another accolade to his list. Nunn was nominated for the Jerry West Shooting Guard of the Year award on Tuesday, March 6.
Nunn was one of five national finalists, along with Jerome Robinson of Boston College, Marcus Foster of Creighton, Grayson Allen of Duke and Carsen Edwards of Purdue. Of the five finalists, Nunn has the highest point total and the most 3-pointers made.
Previous award winners are Malik Monk (2017) of the University of Kentucky, Buddy Hield (2016) of Oklahoma University and D'Angelo Russell (2015) of the Ohio State University. All three were lottery picks in the NBA draft.
Nunn scored a season high 39 points against the University of Wisconsin — Green Bay on Feb. 22, and scored over 36 points in four other games. His most notable scoring outburst came against Oakland's rival, the University of Detroit Mercy, where he scored 38 points and hit eight 3-pointers. One of the most durable players in the country, Nunn averaged 38 minutes per game, and played in all but six games due to ankle tendinitis.
Nunn lead Division I in 30-point games with 11, and recorded the second most points scored in a season (777) for Oakland, behind Reggie Hamilton's 942 points scored in the 2011-12 season. In his only season at Oakland, Nunn won Horizon League Player of the Week three times, and was a first team All Horizon League award winner. He and fellow senior guard Jalen Hayes combined for the NCAA's leading scoring duo as well.
After Oakland's season-ending Horizon League Tournament loss to Cleveland State University, Nunn was grateful for the time he spent as a Golden Grizzly.
"A new guy coming in as a transfer — they welcomed me in," Nunn said. "I made some brothers, and that's the most important thing. That will last a lifetime."
Voting for the Shooting Guard of the Year award began on March 9 and will run until March 23. The winner will be determined based on a combination of fan voting, which can be done at www.HoophallAwards.com, and voting from The Naismith Memorial Basketball Hall of Fame's selection committee.
"For several decades I've been involved in the game as a player, coach and executive which has allowed me to watch a number of young athletes compete," Jerry West said to hoophall.com. "I truly enjoy observing collegiate athletes and these five finalists are in an elite class."
If Nunn was to win this award, he would be the first mid-major award winner, as the three previous award winners were from power five (Big 12, Big 10, SEC) conferences. The Shooting Guard of the Year award will be announced during ESPN's annual College Basketball Awards in Los Angeles, Calif. on Friday, April 6, 2018 at 8 p.m.