Oakland defeats IUPUI in tournament opener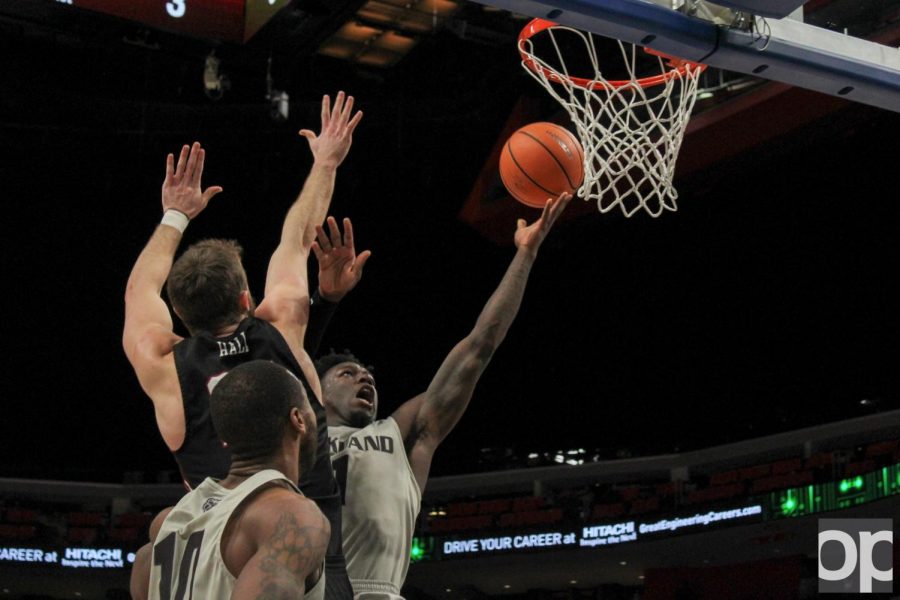 The Golden Grizzlies had lost their last three games in the Horizon League tournament, not having won a game at Motor City Madness since 2014. On Sunday, Mar. 4, Oakland rewrote the narrative, and in the words of Head Coach Greg Kampe, "looked the basketball gods in the eyes and said not this time," as they won 62-55.
"This was the way we needed to win," Kampe said. "Obviously everyone knows the problem the senior class has had in the conference tournament. When Jalen got his fourth foul, things weren't going our way, you could see the same stuff happening. You could see these crazy, crappy things happening. We needed to say okay, this is not happening again."
Little Caesars Arena in Detroit was host to the game between Oakland and the Indiana University- Purdue University Indianapolis (IUPUI) Jaguars. The winner would face off against Cleveland State, who took down the tournament's number one seed in the Northern Kentucky Norse.
After nine minutes of play, Oakland led 22-9, leading many in the crowd to believe the game was going to be a one sided affair. However, the Jaguars went on a 14-2 run over the next seven minutes of the first half, and made it a one possession game.
After some battling back and forth, IUPUI hit a three pointer right before the half to tie the game at 28 points each. Foul trouble was a focus for Oakland at halftime, as senior Jalen Hayes had 3, and quickly would pick up a fourth. Despite the foul trouble, Kampe left Hayes in the game, and Hayes made it a priority to not foul out.
"I've been in this program a while," Hayes said. "Coach Kampe and I have a really good relationship and he trusts me. I just told him I wouldn't foul, so I stayed locked in on defense and didn't foul."
The game was a close, grind-it-out game through the entire second half, but Oakland pulled away with two minutes to go when Chris Palombizio followed up a Kendrick Nunn miss with an offensive rebound and a free throw. Oakland took a 54-53 lead, a lead that they would never give back from that point forward.
"Palombizio's rebound and free throw were huge," Kampe said. "If we miss that shot and they go down and score, it could be the same old same old and we'd be sitting here crying. To have Palombizio step up and make that play, it was huge."
Effort plays were the theme of the final two minutes of the game, as multiple rebounds and defensive plays secured Oakland their first Horizon League tournament win since 2014. Sophomore Isaiah Brock was the leader down the stretch, tipping in a Nunn miss to take a three point lead, and then blocking a shot on the other end to seal the deal.
"What we're doing is giving the ball to Jalen and Kendrick every possession, reading what the defense gives us, and make a play off that," Kampe said. "Someone has to step up when that happens and Isaiah did on that putback. He went where he was supposed to be and made a hell of an athletic play."
The 62-55 win was abnormal for the Golden Grizzlies, who averaged around 79 points per game this season. Kampe believed this win was necessary for the team's success moving forward in the tournament.
"We had to get a win by gutting it out, making important plays defensively, coming up with loose balls, and getting stops," Kampe said. "We guarded, we got shots, we had a night where we shot terribly, Kendrick Nunn was 2-10 from 3. A win like this will be key for us going forward."