Oakland defeats Milwaukee on senior night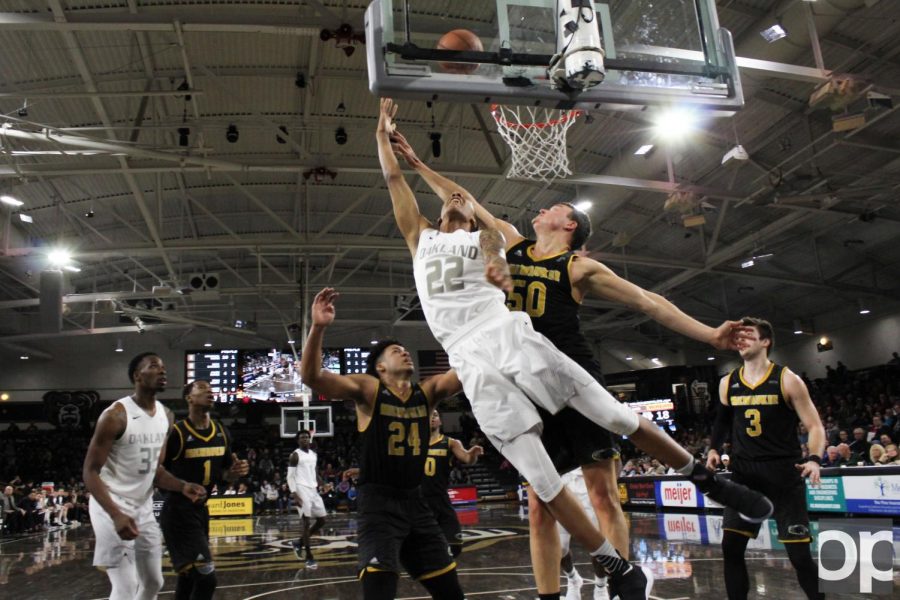 Seniors Kendrick Nunn, Nick Daniels, Jalen Hayes and Martez Walker were honored before Oakland took the floor against Milwaukee on Saturday, Feb. 24. The four were honored with video tributes, flowers and pictures with their families before the game.
"Senior night is always emotional –especially with this group," Head Coach Greg Kampe said. "Jalen and Nick have been here five years. For them to get that win and the attention they deserve, it was really heartwarming."
The game was back and forth the entire way, but Milwaukee held the advantage early on. After five minutes the Panthers led 10-9, capitalizing off five Oakland turnovers.
The Golden Grizzlies were implementing zone defense early on, which led to repeated open 3-pointers from the Panthers. With seven minutes to go, Milwaukee had connected on five of its 12 three point attempts, leading 25-21.
Oakland was unable to gain ground before the half ended and trailed 36-31 at halftime. Nunn was the main source of offense for the Golden Grizzlies, scoring 17 points on five of 10 shots.
After two and a half minutes, Milwaukee had stretched the lead to eight points with back to back 3-pointers. The deficit was at four when Oakland took control of the game and shifted momentum. Freshman Chris Gilbert hit a corner 3-pointer and Nunn followed with a steal and dunk to put the Golden Grizzlies up by one.
"I think Chris making the three was huge," Kampe said. "The only time he played was during a blowout, him going and making that shot was special. Our bench and fans came alive, the arena exploded."
After the lead change, the game was back and forth with 3-pointers being exchanged between both teams. With three minutes and 20 seconds remaining, Milwaukee held a 68-63 lead and had possession of the ball. Oakland came up with a stop, and Nunn buried a 3-pointer to cut the lead to two points.
"Jalen and Kendrick have come up big every game," Kampe said. "They're the two main scorers. If we want to win, they have to make shots. They understand that, they have to be good at that."
With just under two minutes remaining in the half, Daniels had a costly turnover on a wild pass, which put Milwaukee up 68-66. A defensive stop and then an assisted 3-pointer from Daniels to Nunn gave Oakland the lead, 69-68 with only 56 seconds remaining in the game.
The crowd erupted, and Oakland was able to hold onto that lead. The final score read 72-70 as Nunn intercepted a last second heave down court, stopping Milwaukee's final effort.
"It meant a lot to finish," Daniels said. "As a senior I can't make those mistakes down the stretch. I have to keep learning and keep growing. Next week is a big week for us."
Directly after the win the team was only focused on enjoying senior night, which concluded with fans taking photos and receiving autographs from all of the players.
"It was very important for us to win on senior night," Daniels said. "We always want to go out with a win for ourselves. Especially leading up to the tournament as well, it was very important to win."
The Golden Grizzlies face off against the Indiana University-Purdue University Indianapolis (IUPUI) Jaguars in the first round of the Horizon League tournament at Little Caesar's Arena in Detroit on Sunday, March 4 at 7:30 p.m..