Vance Joy's new album is everything you'd expect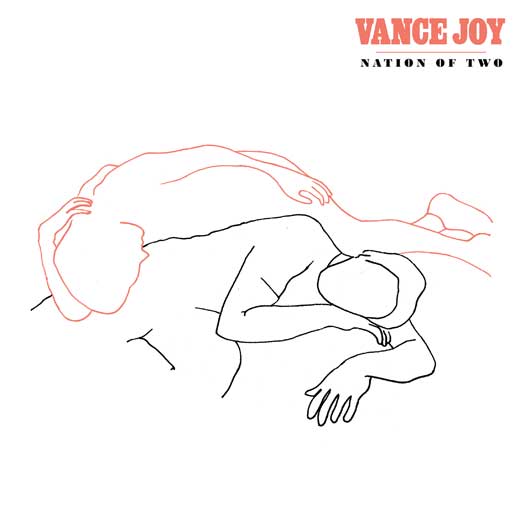 James Gabriel Keogh, better known as Vance Joy, released his second album, "Nation of Two," on Friday Feb. 23. The Australian indie folk singer is widely known for his song "Riptide," which was first released as a track on his debut EP "God Loves You When You're Dancing" (2013) and is also featured on his first studio album "Dream Your Life Away" (2014).
The new album has the same light tonality and acoustic sound as his previous album, but the lyrics carry a little more weight—and of course, with his track record, most of the songs are about relationships.
"Alone with Me" is a love ballad in which he describes being smitten with someone. The song sweeps you off of your feet with the lyrics, "I saw you smile / I knew you had spirit / Oh, won't you let your colors run / And isn't it odd, the way we try to tell ourselves we got limits / You're beautiful, but you just don't see it sometimes." I think this sort of lovey-dovey lyricism is expected when listening to his music, but that isn't to say he isn't good at winding you up in the fairytales he sings of.
The song, "One of These Days," describes two people that love each other but the timing is off. The chorus describes the persistence one feels waiting for the other, "The moment you stop looking / Wherever you go, you'll be in the right place / You'll never know the difference it makes / When you let go, and give up your chance / I'll come find you one of these days." I think this song is something you would expect to hear just before the part in the rom-com when the guy runs to the airport to stop the girl from leaving.
"Lay It On Me" is one of my favorite tracks on the album because it wanders from the idea of heartbreak. It is more upbeat and describes the mystery and excitement of meeting someone new. The lyrics, "I'm so gone / Anyone could see that I'm wasted / You cut through / And I just wanna know what's in your head," narrate this feeling so well. I think it is more realistic in terms of the way it describes how falling in love occurs—when you least expect it.
Overall, I would give this album 4 out of 5 stars. I think Vance Joy could have definitely tried to be more versatile in this new album. It sounds a lot like his previous album because he is glued to his typical singer-songwriter sound that he has perfected down to a science.
The issue for me is that he has become so comfortable with this sound. He has such a warm voice that is flexible enough to tap into a wider variety of tempos and rhythms. I'd love to see him incorporate more of a subtle electric sound paired with his raw vocals in the future.
Rating: 4/5 stars