'Phantom Thread' doesn't quite fit the eye of the needle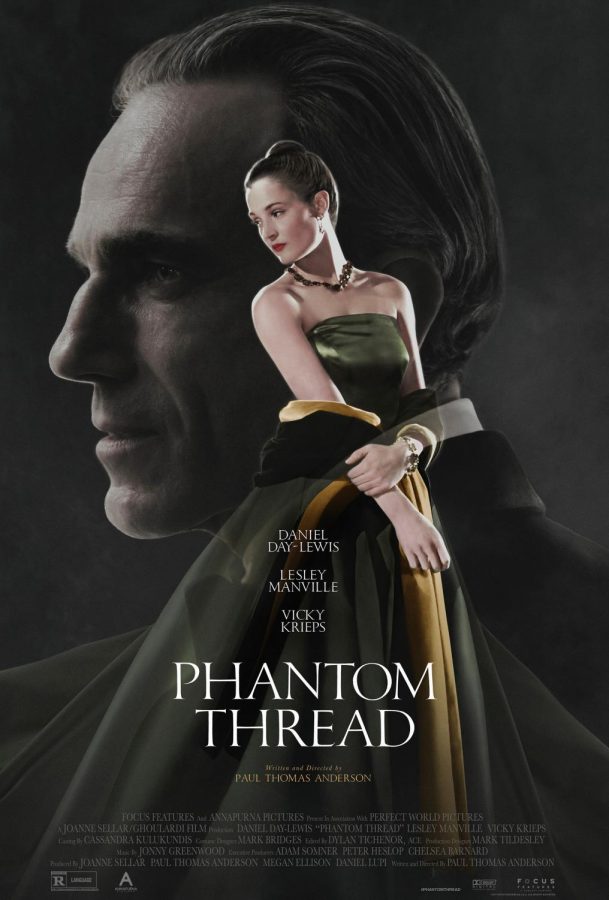 Falin Hakeem, Staff Reporter
February 6, 2018
When I first saw the trailer for Paul Thomas Anderson's "Phantom Thread" and heard about all of the Oscar buzz it was receiving, I thought "Daniel Day-Lewis as a costume designer? This should be riveting." But after leaving the theater, I felt as if the film's plot should've unraveled a lot more than it did.
Set in London during the 1950s, "Phantom Thread" is about the life of an esteemed, and also fussy, dressmaker Reynolds Woodcock (Daniel Day-Lewis), who dresses all kinds of royalty, celebrities and socialites in the prestigious House of Woodcock.
The film begins with Woodcock eating breakfast with his wife Johanna (Camila Rutherford), and not exactly enjoying it or her company for that matter, as he is a notorious bachelor. Reynolds proceeds to go out for some fresh air and meets a waitress named Alma (Vicky Krieps) who quickly becomes his lover and his muse. Reynolds' perfectly stitched world starts to tear apart once she starts living with he and his sister.
My favorite aspect of the film had to be the intertwining triangle woven between Reynolds, Alma and Cyril, Reynolds' beloved sister (Leslie Manville). Cyril was definitely one of the most critical parts of the film. She is the only family Reynolds has, and she is his right hand and consultant in all matters, whether it be clients or Alma. I thought Manville did a brilliant job in her portrayal, without even really saying much. At one point Alma came to Cyril to get her approval on surprising Reynolds with a dinner. But of course Alma went ahead and did it after Cyril advised against it. I think you can predict how that went.
Now there were other aspects of the film I very much appreciated and adored even, such as Day-Lewis performance of the controlling perfectionist that is Reynolds as well as Krieps' portrayal of the headstrong Alma. Not to mention the beautiful gowns and attention to detail with each close-up shot of a character's face.
However, I felt as if I was constantly waiting for something more to happen. I needed more to happen. I needed that shock value you crave when watching a film that is so captivating visually. I typically have patience when watching lengthier films, especially ones that seem so promising. But "Phantom" dragged on quite a bit, like the tail of a wedding gown designed by non-other than House of Woodcock.
When I left the theater, the film did not trace back to my mind throughout the entire day, almost like it was a ghost. "Phantom Thread" tried hard, and for that I give Day-Lewis and Anderson credit, especially with it being Day-Lewis' final performance before retiring.
Rating: 3/5 stars