Kendrick Nunn: possible NBA pick at end of season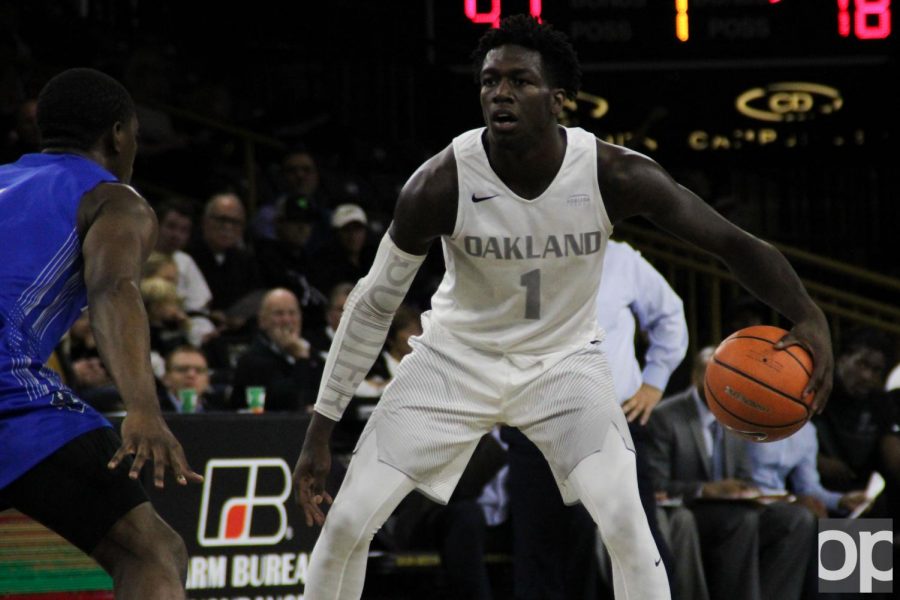 Kendrick Nunn defeated a rival and set a career high in scoring with 38 points against the University of Detroit Mercy on Saturday Jan 20. He was awarded Horizon League player of the week honors two days later, his third time this season receiving that recognition.
In two games against University of Illinois at Chicago and Detroit Mercy, Nunn averaged 35 points, seven and a half rebounds and two and a half assists. The 38 points against Detroit Mercy was the third highest a single player has scored in a game against the Titans.
"Since he was cleared to play with an ankle injury before the MSU game he has been phenomenal," men's basketball Head Coach Greg Kampe said. "He's shooting well, rebounding, passing. He has been playing a complete game."
Nunn is the first player to record three player of the week honors in a season since Kahlil Felder did it six times in the 2015-16 season. Felder won Horizon League player of the year as well.
After the Detroit Mercy game, Nunn averages 26.4 points, 4.7 rebounds and four assists per game. In his player of the year season, Felder averaged 24.4 points, 9.3 assists and 4.2 rebounds per game. While Felder had a more well-rounded stat line almost averaging a double-double, Nunn is leading the Horizon League in points, three pointers and three point percentage among other categories.
"Lots of scorers are high volume shooters," Kampe said. "But he does it without as many shots. He is efficient."
A February filled with more weeks like the week of Jan. 15-21 could lead to a tie or even surpassing of Felder's six player of the week honors, and result in a Horizon League player of the year honor for Nunn.
"Player of the year depends on us," Kampe said. "We need to be a top one, two or three team in our league for that. If we keep winning games he could definitely win it, Jalen [Hayes] could win it too."
After winning Horizon League player of the year, Felder was drafted in the 2016 NBA draft by the Atlanta Hawks in the second round with the 56th pick. Nunn stands six inches taller and was ranked No. 47 in ESPN's Class of 2013 Super 60. Scouts have been high on his potential since his senior year in high school.
Kampe, who coached Felder and Keith Benson who was also drafted in the second round in 2011, has believed in Nunn since the preseason.
The Detroit Free Press reported in Oct. 2017 that "Kampe called Nunn a potential 'lottery pick' in next year's NBA draft." He still believes Nunn has pro potential.
"Absolutely he could be an NBA player," Kampe said. "He is still gaining a lot of interest. It obviously depends on the rest of the season and how he plays in those games, but we have pro scouts at every game."