Austin Ricci, men's soccer team prepared for Horizon League spotlight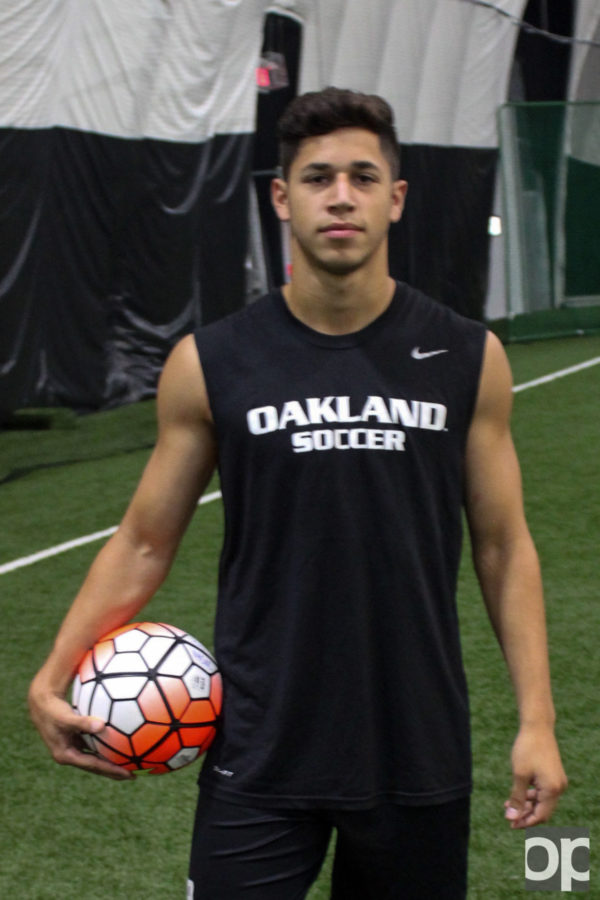 By Katlynn Emaus
September 13, 2015
Overtime, sudden death, shoot outs: the most intense moments known to sports. 
Recently, the Oakland men's soccer team sent a game with Navy into overtime.
On Navy's home field, sophomore Austin Ricci silenced the home crowd as he scored the winning point. Ricci scored two of Oakland's three goals.
"It was an extremely tough game and it felt good to help our team get the win," Ricci said. "Nothing beats scoring the game winner in overtime and making the away fans go silent. Just a good feeling overall and hopefully more to come."
Ricci grew up playing soccer. He chose Oakland because of the quality players, competitive environment, great facilities, expert coaches and the short distance from home.
According to head coach Eric Pogue, students experience an adjustment to playing soccer at a college level. The game is more physical, quicker and the players' ages range from 18-23.
"Austin had that adjustment," Pogue said, "and I think he put together a good summer playing at a high level as well. He's kind of  transitioned that into starting the season out really well for us."
Pogue credits the graduated seniors from the previous season for showing Ricci the ropes, saying he was "able to learn from [last year's seniors] and kind of step into that starting role this year."
Last year, Oakland men's soccer won the Horizon League. This year they are looking to do the same. 
The main difference between last year and this year is the tone of the team, according to Ricci.
"I think we just we came in [this year] and tried to start better than last season," Ricci said. "Last season we started off 0-5 and we are trying to make a different start so we have a different tone this season."
This season has already started out better than last. Currently the men's soccer team is 3-2-0, playing teams like Navy, Louisville, Saginaw State and Western Illinois. However, the team has not played any Horizon League teams yet. Their first league game is the homecoming game  against Milwaukee on Saturday, Sept. 19.
"I think the Horizon League in general is a really good league from top to bottom," Pogue said. "We have created quite a few rivalries with the short time we have been in the league. Doing as well as we've done the past few years we kind of created a spot light for those teams. When Oakland comes to town to play them or they come here it is one of their big games."
According to Pogue, the team is trying to build on the success of last year and be back-to-back Horizon League Champions—a feat that has never been accomplished in men's soccer. Another one of the team's goals is to be a top 25 elite program. Pogue said players like Ricci and teammate Alex Serwatka are helping the team accomplish that goal.
It's not just those two players, but everyone on the team is working hard to achieve those  goals. 
"Its an ongoing process, but I think the future is bright for us," Pogue said. "We just try to get better one game at a time, one day at a time, and look to compete for another horizon league title…But we know we have to take each individual day and get better to do that."