OU Credit Union makes big donation to CSA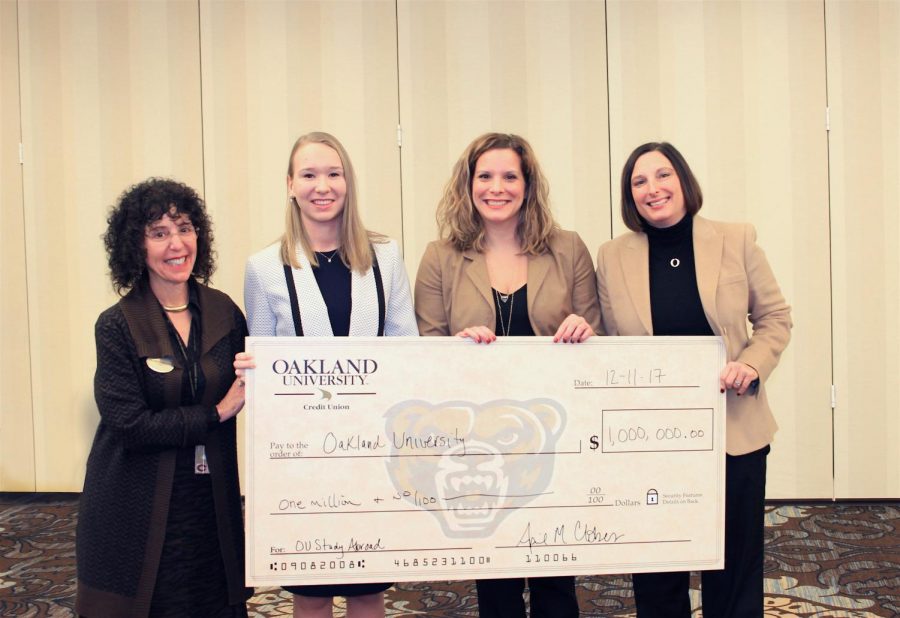 Ariel Themm, Staff Reporter
January 2, 2018
A whopping $10,000 is now available to student organizations thanks to a donation from the Oakland University Credit Union.
Student organizations can now apply for up to $1,000 for special projects or programs through the Center for Student Activities and Leadership Development. The CSA has already received several applications for the chance at collecting the cash. 
OU Credit Union is committed to be on campus for students, faculty and alumni for their financial service. OUCU funds the CSA, Oakland Athletics and other major events on campus. OUCU wanted to continue to show support and passion for the school by giving the money to CSA to spread among groups.
Renting Meadow Brook Theatre or other limited spaces on campus can be both expensive and difficult to find availability for the group. Being given this money from the CSA will make it easier for groups to cover the costs of their events.
The CSA has dealt with multiple situations where funding was desperately needed for important events. In 2015, Gold Vibrations, OU's a cappella group, had a finals competition set in New York. About 18 members needed to find sufficient funds to transport their singers and have a place to stay. The School of Business Administration funds would not have enough to fund them. They were able to subsidize to afford to go.
With this new funding, groups will be able to represent OU on a broader scale. Groups will also be able to afford to send more than one person to represent OU at events.
There are exceptions to the application process, though. Some groups, such as sport clubs, cannot apply for this funding.
"Sports and their clubs receive compensable funds strictly from the Oakland Recreation Center," Jean Ann Miller, director of the CSA, said. "The CSA deals specifically with just student organizations and those should be the applications being sent in."
"Don't be afraid to apply," Jennifer Yetter, a graduate assistant for student organizations, said. "If you have a great project or idea that you're wanting to see but you're feeling nervous to apply for a fund that you don't think that SBA will be willing to support, feel free to try this opportunity and see what happens."
A committee will be looking over each application and all applications can be submitted through April, but each group can only apply once. This will give at least 10 groups the opportunity to get money, but there is a possibility of more groups receiving funding as well. The applications can be sent through GrizzOrgs.
"If this is successful in its first year, we're hoping we can continue receiving funds as large as this sum to support student organizations," Miller said.
OU student organizations of any kind are encouraged to apply and be a part of this new, alternative way to collect funds for projects and events.