Men's soccer falls to MSU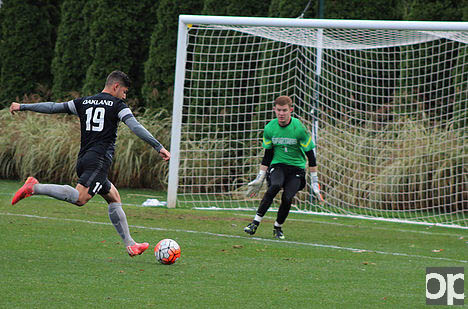 Oakland men's soccer traveled to East Lansing to play against Michigan State on Wednesday, Oct. 28, facing each other for the first time this season. With light rain in the air, the Golden Grizzlies and Spartans began play at 3 p.m. at DeMartin Stadium.
Michigan State scored two goals in the first half and went on to win the game in a 2-0 shutout. The Spartans' goals were scored by Ryan Sierakowski, with assists from Jason Stacy and DeJuan Jones in the 12th minute and Jimmy Fiscus in the 22nd minute, with assists from Ken Krolicki and Zach Carroll.
Oakland outshot Michigan State with 10 shots on goal and 19 shots total. Matt Dudley, Gerald Ben and Nick Strack had four shots each. Eliott Tarney made three saves on six shots. Nick Strack was named player of the game for Oakland.
Reviving the rivalry
In the past year, Oakland and Michigan State have played three games against each other.
During the 2014 fall season, the Golden Grizzlies shutout the Spartans 2-0 at home on Oct. 22 when the Spartans were ranked No.10 in the country. They faced each other again at DeMartin Stadium for the second round of the NCAA tournament. This time Oakland lost to Michigan State, a No.3 seed 1-0 on Nov. 23, concluding their season. In the spring season, the Spartans and Golden Grizzlies played to a 1-1 draw at the Oakland Athletic Dome on March 28.
Oakland associate head coach Stephen Gorton said the expectations were high going into Wednesday's game.
"As an in state rival, there is always some history with the two programs dating back to the NCAA tournament last season. With that being said, we know what is important and that is to get in the post season, to try and repeat as the representative for the Horizon League in the NCAA tournament," Gorton said.
Going forward
"We are never happy with a loss, but there are some things we can take out of the performance. Every game that we play is another opportunity for us to get better, to get ready for the next few games of the conference schedule and put ourselves in a positioning to make the tournament," Gorton said.
Team captain and senior midfielder Matt Dudley was disappointed at the score at halftime, but thought the team came out strong in the second half.
"Overall, proud of the lads for the effort shown to dominate the game in the second half which will be the kind of effort we need going into the last couple games of the conference season," Dudley said.
The Golden Grizzlies are now 6-8-1 overall and 3-3-1 in the Horizon League. There are only two more games left in the regular season for Oakland, a home game against Valparaiso on Halloween and a game at Wright State on Nov. 6.