"Coco" is another tear-jerking triumph for Pixar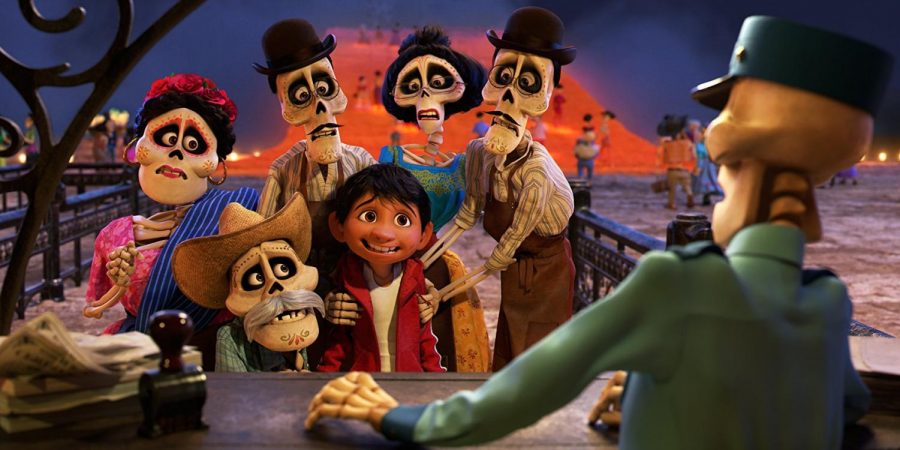 Pixar has done it once again with the colorful, cultural and creative wonder of "Coco."
Directed by Lee Unkrich and Adrian Molina, both longtime members of Pixar's creative team, the film had a lot to live up to. Unkrich has been involved in the majority of Pixar's projects, with directing credits on "Monsters, Inc.," "Finding Nemo" and the "Toy Story" sequels, while Molina worked on films such as "Ratatouille" and "Monsters University." Despite the high expectations set by its predecessors, "Coco" is truly unlike anything Pixar has ever done.
The film follows 12-year-old Miguel who lives in a small Mexican town and has a passion for music. His family, however, detests it, arguing that he should be a shoemaker like them. This, of course, is in response to his great-great-grandfather's music career, which separated him from the family and was viewed as an unforgivable form of abandonment.
Despite his family's wishes, Miguel secretly idolizes Ernesto de la Cruz, a revered musician throughout Mexico. In an effort to prove his musical talent to his family, he tries to steal the late de la Cruz's guitar from his tomb and, in doing so, is transported to the Land of the Dead. He sets out to find de la Cruz, who he believes is his great-great-grandfather, in order to receive his blessing and return to the Land of the Living.
Focused primarily on the Mexican celebration of Día de los Muertos, or Day of the Dead, "Coco" is first and foremost a visual masterpiece. It's a work of art, filled to the brim with bold and electric shades of gold, purple and pink that will dazzle viewers—though it shouldn't be overly surprising, considering Pixar's consistently brilliant animation.
"Coco" is about the importance of family from a thematic standpoint, but it also presents it as an important element of Mexican culture in a beautiful and respectful manner. Those who come from Hispanic heritage will find the film particularly resonant, though the charm of the film's message is its universality.
The film's score is gorgeous, though the most alluded-to song in the film, "Remember Me," (penned by "Frozen" masterminds Kristen Anderson-Lopez and Robert Lopez) is the true standout. On top of that are a group of phenomenal vocal talents, fronted by Anthony Gonzalez, Gael García Bernal and Benjamin Bratt, who truly bring the film's animation to life in a way only Pixar can.
At its surface, "Coco" seems like a "Book of Life" rehash, but at its core is something truly special. Though it never reaches the level of excellence held by films such as "Toy Story" or "The Incredibles," it's a tearjerker that succeeds in its own right, with an emotional punch whose effect is both familiar and profound.
Though a bit complex for an animated film—and perhaps too complex for younger audiences to fully comprehend—the film's depth serves a purpose, putting together all of its puzzle pieces to create a satisfying and heartwarming conclusion. There's a surplus of exposition and intertwined subplots, though the story warrants the inclusion of both.
Full of plot twists, emotion and some killer music, "Coco" is an unconventional approach for Pixar that still tugs at viewers' heartstrings in the best possible way.
Rating: 4.5/5 stars