"Bah, Humbug" is far from Thomas Mahard's attitude on "A Christmas Carol"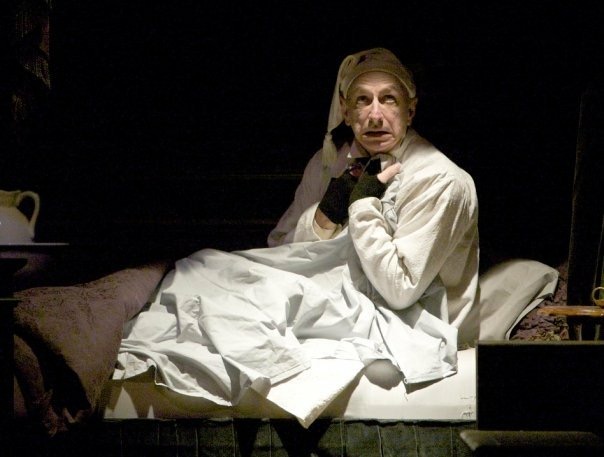 A sickeningly sweet smell drapes through the air: caramelized holiday nuts. The excitement is almost palpable through the hall as people of all ages enter.  This isn't Santa's workshop, despite its festive appearance; Oakland University's Meadow Brook Theatre been home to this production since 1983. Year after year, countless people flock to Meadow Brook Theatre to be enveloped in the Christmas spirit of "A Christmas Carol".
Each member of the cast is expected to collectively weave wonder throughout the audience from Nov. 10 through Christmas Eve. One character is especially responsible to sell the story: Ebenezar Scrooge, played by Thomas Mahard. 
Most aren't a stranger to the sour character Scrooge begins as, but the route to portraying a bitter character undergoing such a miraculous transformation is another story many don't know.
Mahard has been with Meadow Brook Theatre since 1979, and ever since has been studying Dickens' timeless classics. When he first took on the role of Scrooge eight years ago, he comfortably leaped into the persona of his character after watching the role for so many years.  
Even so, the character still manifests slightly different each year. Always striving for improvement, Mahard has channeled different mindsets to constantly perfect his character.  
"This year I have found a different approach," he said. "[Focusing on] Scrooge having a big heart, warmth and generosity underneath everything all the time.  Even though he has become mean and greedy, this basic warmth has always been there."  
Consequently, he's developed the same feeling of joy his character feels because he devotes so much emotion to Scrooge during and after rehearsals.  Although elaborate, this process is entirely necessary for Mahard to capture the journey Scrooge goes on, not only through his memories but as a person.
How could so many emotional nuances possibly be seen by the audience?  While entering Meadow Brook Theatre, holiday features overwhelm the building. These collectively present the atmosphere Marhard envisions.  
"A lot of times, audience members will come back after a show and they'll say, 'You guys changed it this year' or 'It was different,'" Mahard said. "But sometimes, that can just mean the audience member sat in a different location."  
Acting reflects a specific emotional level that is rarely seen in other professions.  Despite the fact that the audience is only spectators, Meadow Brook's performance of "A Christmas Carol" continues as a holiday tradition for many because of the level of commitment from actors like Mahard.  
Of course, the immense emotion and commitment required would seem overwhelming to some. But, Mahard described his passion for theatre by saying "I find that when I'm acting I'm as close to being 100 percent myself… I am connected in all ways."
Theatre wasn't just a choice for Mahard: He has maintained a consistent passion for the arts since he was young, immersed in a childhood of theatre as his father often worked behind the scenes.  Since then, his daughter has followed in Mahard's footsteps, devoting her life to a career of acting as well.  Now, he advises other novice actors to explore their own passions for the stage first, and if it's a necessity for their happiness, dive into the field wholeheartedly.  
"If there's anything else you can do that will make you happy, do that," he said.
He assured that there are plenty of moments of rejection along a career in theatre, but the magic created on stage is worth the risk.  In fact, he explained that after his first performance of "A Christmas Carol", he had little expectations except for that he hoped that he could do it again.  
Mahard now sits as one of Meadow Brook's most seasoned actors.  
"I hope they ask me back again next year," he said.     
Even if the pressures of acting are too vast, a theatre is still a welcoming place for many.  Catch a glimpse of Meadow Brook Theatre's timeless magic. After all, "A Christmas Carol" will be playing at Meadow Brook Theatre Nov. 10 through Christmas Eve, and an audience is just as vital of  part of theatre as the actors and crew are.