Meadow Brook Holiday Walk lights up the town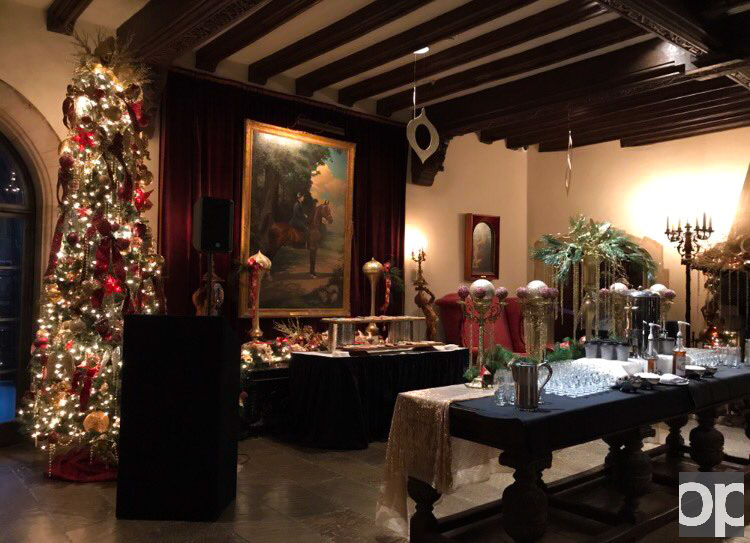 Falin Hakeem, Staff Reporter
November 28, 2017
What better way to kick off the holiday season than with a magical display of Christmas decorations at the 46th annual Meadow Brook Holiday Walk. Opening night, which was sponsored by the Oakland University Credit Union, was on Tuesday, Nov. 21 from 4:30 p.m. to 6 p.m. inside Meadow Brook Hall.
An array of opulently decorated gold and burgundy Christmas trees surrounded the dimly lit estate as Santa jollily walked down the stairs to officiate the cutting of the ribbon ceremony with Mayor of the City of Rochester Cathy Daldin.
"This is a gem, truly one of the best gems the community has and we're very fortunate to all share it together," She said.
Guests got to enjoy cookies and hot cocoa as they toured the four-level mansion in which each room featured a different holiday theme.
"The most exciting part is showing guests around talking about the history with those who have never visited the mansion," said Katie Weatherly, who has been a part of the staff at Meadow Brook for two and a half years. "I never feel sad coming into work. How could you?"
The bedroom level is on the third floor, where both Danny and Francis Dodge's wings come complete with a guestroom and the nanny's room. Matilda Dodge Wilson's room is also located on the third floor as well as Alfred Wilson's.
The fourth floor is where the children's playroom, storage, archives and Matilda's salon are all located. Now the director's office, curators and programmer's offices are there as well. Many of the Christmas decorations were from storage on the fourth floor.
"There's a lot of manpower, a lot of planning that goes into this but it shows," Marketing and Community Relations Assistant Faith Brody said. "We've got it down to a science."
According to Brody, plans for marketing and branding as well as plans for decoration themes were already in motion for the Holiday Walk since August.
"If you've never been, you must take some time and visit cross this off your bucket list," Mayor of the City of Rochester Hills and Oakland alumnus Bryan Barnett said.
The event is officially open to the public from Nov. 24 through Dec. 23, its longest run they've had to date. The mansion is open from 11 p.m. to 5 p.m. every day, and will extend its hours from Dec. 18 to 23 from 5 p.m. to 9 p.m. for their Holiday Lights and Winter Nights Tours.
The mansion will also be hosting an OU night on December 11 from 5 p.m to 9 p.m. where all students, staff and alumni are welcome. Tickets for all Oakland students for the holiday walk are $5.
For more information about these events, please visit Meadow Brook Hall's website.