Art professor gets awarded by peers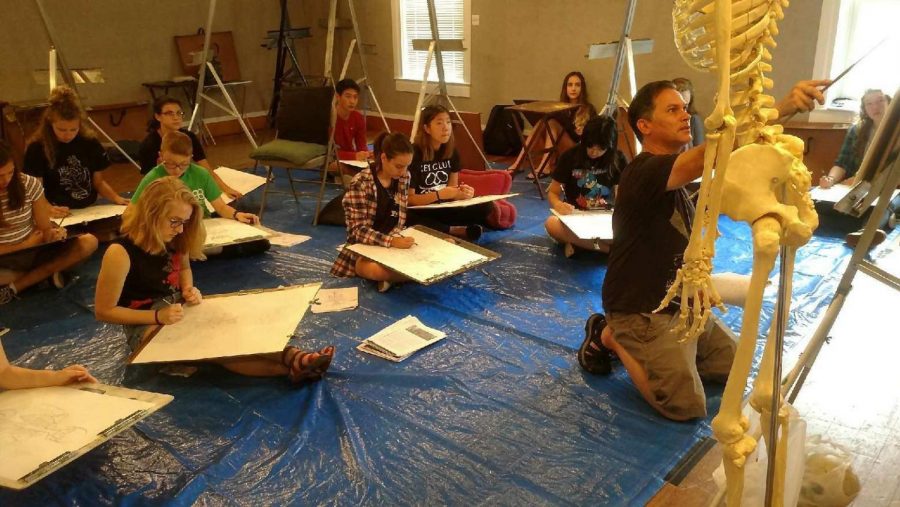 Mary Siring, Staff Reporter
November 28, 2017
Awards and newfound success aren't just for the students of Oakland University.
Art and Art History Professor Eugene Clark recently received the Distinguished Service Award from the Michigan Art Education Association, an association founded in 1949 to provide a networking opportunity and support for visual art educators throughout Michigan.
"It was a wonderful experience," Clark said. "The MAEA presented the award to me during an awards banquet at Cobo Center during their annual arts conference."
He was also featured in ArtPrize, an open, independently organized art competition which takes place each fall in Grand Rapids, Mich.
"I exhibited a large outdoor sculpture titled 'The Homeless Are Not Faceless,' attempting to bring attention to the problem that plagues the U.S. and elsewhere," he said. "The entire experience was positive."
Clark is a Michigan native born in Northwest Detroit. He received his Bachelor's of Fine Arts from the College for Creative Studies, his Master's of Fine Arts in Drawing from Wayne State University and post-graduate study in printmaking at Cranbrook Academy of Art.
During his time at CCS, he studied with and assisted acclaimed figure artist and anatomist Russell Keeter.
"I owe him a lot for all of the knowledge he has passed on to me," Clark said. "I'm very grateful."
Clark is in his 30th year of teaching, with the last eight years teaching art and art history at Oakland.
"After teaching in the Summer Art Intensive at OU in 2008 and 2009, it became a natural transition to join the studio art program," Clark said. "I enjoy the ability to discuss content and explore concepts within the student work through the critique process. I find students at OU to be very open to new ideas and willing to define new ways of thinking."
The professor not only works with a variety of mediums including acrylic paint, charcoal, pen, digital media, photography and sculpture, but he has also created his own puppet show.
"I lived and worked in New York City in the mid-'90s," Clark said. "During this time, I studied with Jim Henson Associated and the Muppets. I was selected to study at the Eugene I'Neil Theater Center in Connecticut, learning the fine art of puppetry with Jane Henson and internationally known puppeteer George Latshaw."
Clark has performed at the Cleveland Public Theater as part of their performance art festival, the Greenwich Village Center Theater in New York and the Puppet Art Theater in Detroit.
"My interest in puppetry extends longer than my teaching career," he said. "It's going on 45 years now."
Clark certainly has plans for the future, as well. He is in the process of trying to secure a gallery for a two-person exhibition titled "Serious Work" in collaboration with fellow artist, Will Cares.
"He and I went to graduate school together at Wayne and have found a synergy between our work that we are excited to share," Clark said. "I am interested in continuing to push myself to try new things and work with new materials."