A clean meal starts with S.O.P.E.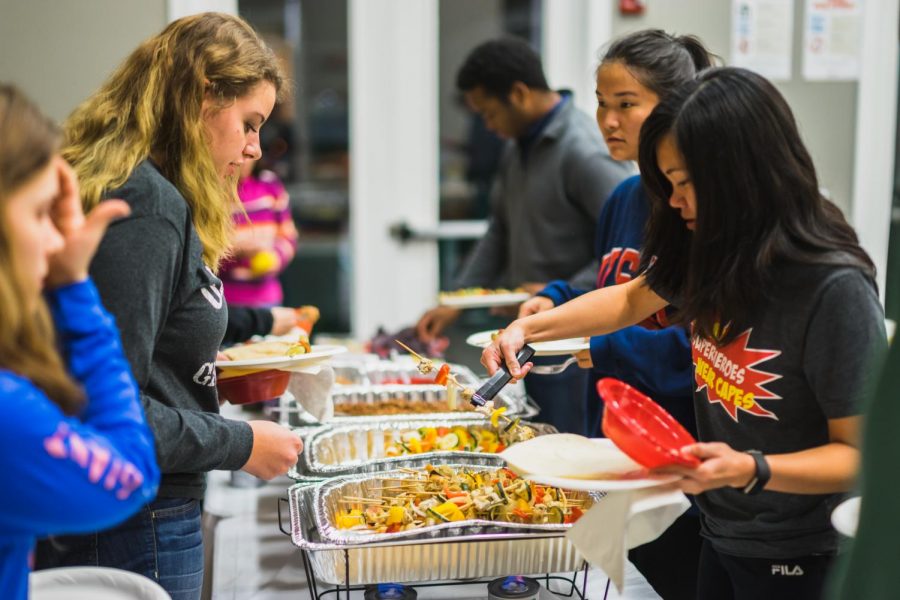 Ariel Themm, Staff Reporter
November 28, 2017
The Sustaining Our Planet Earth (S.O.P.E.) initiative hosted its annual organic Thanksgiving dinner for about 40 students before the Thanksgiving break. 
S.O.P.E partnered with the student Organic Farm on campus which provided some of the raw ingredients for the meal. The group also visited stores such as Whole Foods and Sam's Club to gather ingredients. All dishes served were homemade and organic-based, letting students enjoy a meal unlike many of the others they can find on campus. 
Events like this allow for students with interests in organic food and a healthy lifestyle to interact and bond with one another, according to Eric Henkel, the annual events coordinator for S.O.P.E.
"S.O.P.E hopes to spread awareness of more natural, organic, and healthier eating options to Oakland's campus," he said.
Setting up for the event can take up to eight hours to prepare the dishes and to decorate the Ann V. Nicholson's 4000 apartments and create presentations. With that much planning and preparing, ambassadors occasionally run into road blocks. 
"The biggest task is figuring out everyone's schedule and planning accordingly," said Morgan Sumpter, the campus initiative coordinator for S.O.P.E.
To counteract some of the scheduling issues and time problems a larger event could entail, the group creates agendas and goals for their programs so they can better use their given time according to Sumpter.
Though S.O.P.E doesn't typically enlist volunteers for the setup of the dinner, it does offer all students an opportunity to join in eco-friendly programs on campus and accepts ideas that are shared.
S.O.P.E is connected to the Housing programs at OU for students to explore and appreciate their environment. Every week, it takes all the recycling from all Housing units to their pick-up location. 
"S.O.P.E tries to aim high with its goals of making OU a more sustainable campus, but it also needs the help from students to do so," Sumpter said.
Anyone interested in joining as a volunteer or learning more information can stop by S.O.P.E's office at 150A in West Vandenberg Hall.
The executive board of this initiative are all paid as Oakland University Housing employees. Applications for S.O.P.E jobs go live in the spring alongside desk attendant and Resident Hall Association executive board positions.
Applications for resident assistant, night watch and academic peer mentor positions are currently live.
"We aim to bring students together to have good company and a good meal," Sumpter said.