The Golden Grizzlies take home a win from from Robert Morris University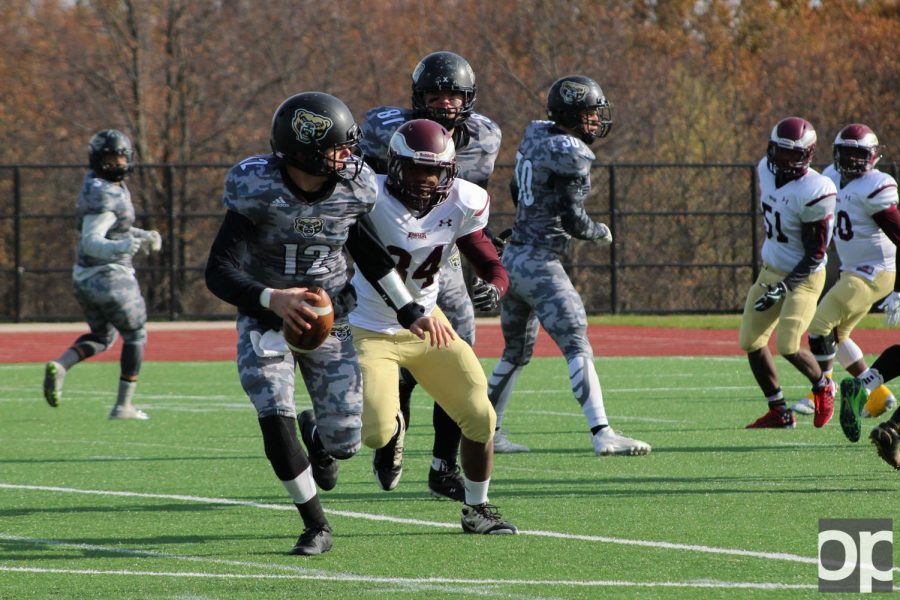 Darcy Dulapa, Staff Reporter
November 14, 2017
The air was crisp, the fans were bundled up in winter attire and the scoreboard was anxiously counting down the minutes before the Golden Grizzlies club football team stormed the field.
The Golden Grizzlies played Illinois' Robert Morris University, who had a record of 5-2 before they played Oakland for the NCFA Great Lakes Conference Championship title.
It's playoff football time, and the Golden Grizzlies are looking to continue their 22-straight winning streak. Spoiler alert: that's exactly what the team did, beating RMU's club footall team 12-6.
"Everyone's 0-0 right now," weakside linebacker and center Zack Eaglen said. "It's playoffs, so it's win or go home and we just have to play with our hearts."
The Golden Grizzlies didn't have a problem playing with heart, in fact, that might have been the teams secret weapon.
Oakland started the game off fierce when six minutes into the first quarter, RMU fumbled the ball and outside linebacker Luke Dushaj picked it up and ran 70 yards for a touchdown.
"It felt absolutely amazing, there's nothing like scoring a touchdown like that," Dushaj said. "Not only was it the first score of the game, but it came on a drive where they were moving the ball and it looked like they might score, so it was a big momentum swing for us."
The crowd roared, the cowbells rang and the beads in the water bottles were shaken, as Oakland was now up 6-0.
"As the crowd got more wild, it pumped the whole team up," wide receiver Tramon Wiley said. "It got us elevated, it got us ready to go and that's how we prevailed and finished."
In the second quarter, quarterback Ben Hajciar went for a fake hand off and ran the ball himself for a touchdown.
RMU blocked Chris Polite's field goal kick for the extra point, keeping Oakland at 12 points.
Oakland held it's own for three quarters without allowing RMU to score. It wasn't until 14 minutes into the third quarter that RMU scored their first touchdown, but was unsuccessful with scoring the extra point.
Both teams fought it out in the fourth quarter, but Oakland University stayed on top and took the win over RMU 12-6.
Wide receiver Jonathan Craven said he and his team prepared for this game the same way they prepare for every game: Head Coach Tom Menas puts them in the best spots and from there, it's up to the boys to carry out their roles.
"All we could do was execute, that's it," Craven said. "Now I'm ready for next week."
Wiley said the team plans on preparing for the next playoff game by studying the other team, building their strength and giving their all during practice.
"Today it was pretty tough," Wiley said. "They were a good team, and I love them. It was our third time playing them, so it was a challenge but we prevailed like always."
The club team has two more practices this week before they take off for the NCFA playoff game in Eerie, Pa. Saturday, Nov. 18, where they hope to continue the massive winning streak.