Celebrating lost spirits for the Day of The Dead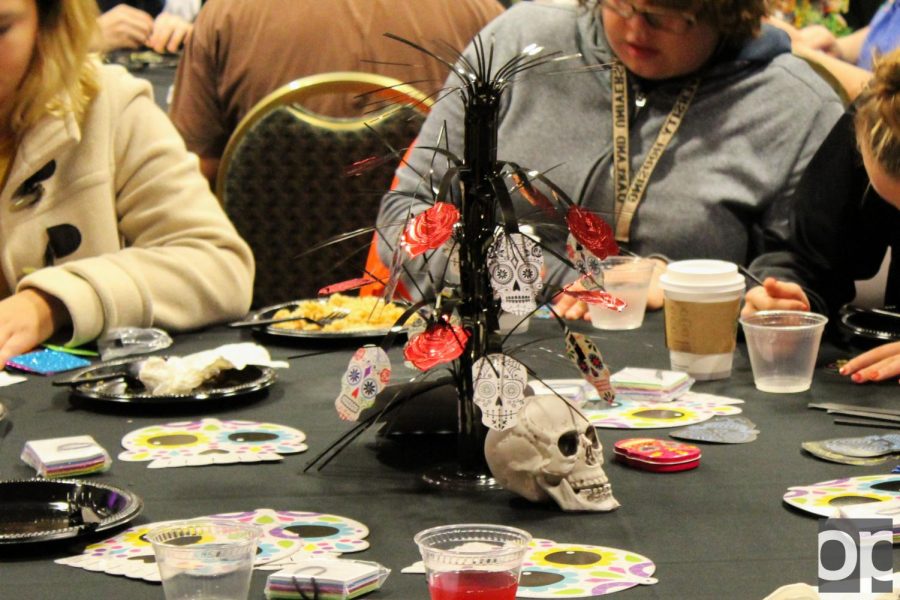 Ariel Themm, Staff Reporter
November 7, 2017
On Nov. 1 and 2, families prepare special meals and bring what are called ofrendas to the graves of the deceased. One day is to honor the angelitos, or the deceased children, and the other day is to honor adults. 
"This celebration brings families together to remember dead family members, pray for them and honor their passing," said Dr. Cecilia Saenz Roby, an associate professor of Spanish at Oakland University.
With Oakland having students from countless different cultural backgrounds, offered more than one way to celebrate the holiday. The biggest one? The Student Program Board's Day of the Dead festival. 
The event was coordinated by Anushree Jagtap, the diversity director for SPB. She's a Spanish major, and learned about the festival through her coursework.
"I thought it'd be cool, fun and educational to bring to OU," Jagtap said.
Jagtap said the hardest part was finding the performers. Since there is no real performance aspect to the actual Day of the Dead, she had to find a performance group that would be related to the event.
The Aztec dancers brought their own black lights so when they danced, their outfits lit up with different colors. Jagtap said that the dancers told a story and incorporated how their culture views and honors the dead.
The event gave students the opportunity to decorate sugar skulls with icing to take home. They had scratch off arts-and-craft skulls to decorate as well while students enjoyed the food and performances.
Over 180 people came to the event, and SPB ran out of food during it.
"That's a good problem to have," Jagtap said. "If this was run next year, they should get more activities and order more food."
Jagtap said organizing the program was a good learning experience, and gave her the ability to do research and teach the student body.
"If people leave my events learning something, I think I know that I did my job," she said.
The Detroit Institute of Arts also joined in on the celebration. The DIA created an exhibit to highlight local artists' personal connections to Dia de los Muertos. 
They displayed plaques written in Spanish and English so that visitors can experience and appreciate the culture for themselves. Ofrendas were offered for grandparents, offered for famous people like Frida Kahlo, and ofrendas that were offered to human trafficking victims were put on display for onlookers.
"Learning different traditions makes us more tolerant and understanding," Roby said. 
This exhibit lasts until Nov. 12 and it only costs $8 for college students and is free for those living in Macomb, Oakland and Wayne counties.