"A Bad Moms Christmas" is a good kind of bad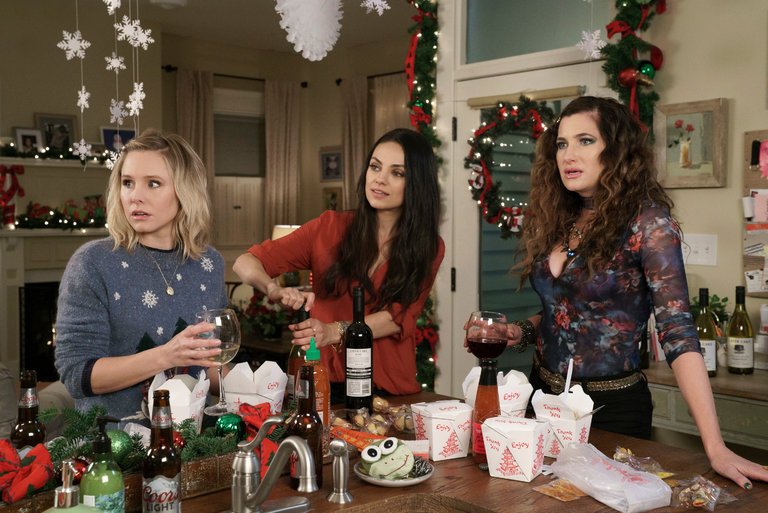 Falin Hakeem, Staff Reporter
November 7, 2017
Warning: This review contains plot spoilers
It's never too early to get into the holiday spirit, especially when it involves Santa lap dances, stealing Christmas trees, a lot of booze and Justin Hartley's spray-tanned abs. The bad moms are back at it again to "take Christmas back" in the Jon Lucas and Scott Moore directed sequel.
Feeling stressed out and unappreciated as they did in "Bad Moms," mothers Amy, (Mila Kunis) Carla, (Kathryn Hahn) and Kiki (Kristen Bell) are now dealing with the large, heavy bag of coal over their shoulders that is the pressures of making Christmas nothing short of perfect for their families. On top of all that, each one of their own moms unexpectedly show up to their daughter's houses for the holidays, thus intruding, imposing and invading their personal space.
Though Kunis and company stole the show in the film's predecessor, the moms of the moms were the main event in the sequel (aside from Christmas). Each grand mom had their own…. shall we say "quirks."
First, we have Amy's mom, (Christine Barnaski) the uppity, snooty type that is a perfectionist in the most horrifyingly entertaining way. Then there's Kiki's mom, (Cheyrl Hines) who literally wants to be her daughter's twin as well as her best friend and has a questionable way of showing it (wearing pajama sets with Kiki's face on them). And finally, Carla's mom (Susan Sarandon, whom I cherish and adore) a rock n' roll, gambling mom who schmoozes her daughter for money and then runs away each time.
According to the Chicago Tribune, Kunis said "Directors Jon Lucas and Scott Moore gave the original 'Bad Moms' the green light to choose who would play their moms in the sequel."
It makes sense why each mom and grand mom had such great chemistry with one another.
Although I couldn't choose which dynamic duo I enjoyed more between all of the mothers and the grand moms, I'd have to say Amy and her mother had to be my favorite. The final showdown between the two was truly the blue and silver (Amy's mom's preferred color scheme for decorations) star on top of the Christmas tree. Carla and her mother's relationship came in at a close second as well, Hahn and Sarandon playing a smutty mother-daughter duo is pure comedic gold.
Now typically I find sequels disappointing, but this one was actually pretty funny. Though I enjoyed the first one just a little bit more, (mainly because I am a firm believer in part ones) "A Bad Moms Christmas" was a raunchy yet feel-good comedy that actually had heart and was relatable, even if someone is not a mom. Movie goers can see this film without having to watch the first one. However, it's highly encouraged that they do.
Rating: 4/5 stars