Team 49: A preview of the 2015-16 Oakland men's basketball season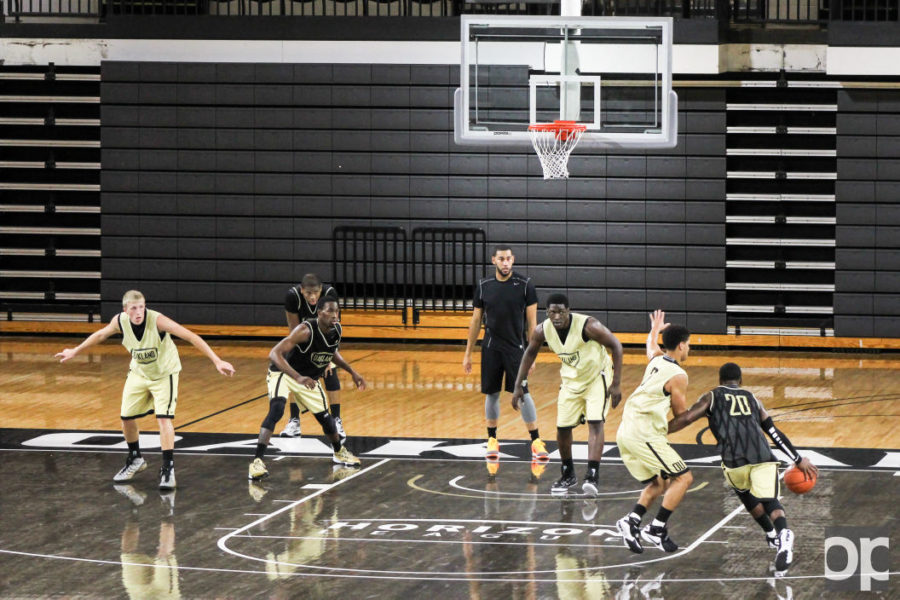 By Kristen Davis
October 18, 2015
It's the most talented team he's ever coached.
Just one week into practice, head coach Greg Kampe already made that statement about this year's men's basketball team.
That's bold, considering Kampe has over three decades of coaching under his belt.
"What I'm saying is this team, from one through 11, is the best collection of talent that I've ever had," Kampe said.
"When you get to eight or nine, we're still as good as two or three and I've never had that. I've had teams that have gone seven or eight deep – never 11 deep." 
The Golden Grizzlies had their first offical practice of the season on Sunday, Oct. 11. Last week, they were picked to finish second in the preseason poll to Valparaiso, the defending league champions. 
Although Valparaiso is the league favorite, Oakland is expected to present the greatest obstacle in its quest to repeat. 
A glimpse at the roster
Leading Oakland is junior point guard Kahlil Felder, who was tabbed Horizon League preseason player of the year and played 38.5 minutes a game last season. 
The two-time all-league selection is joined by his fellow recruting class, redshirt sophomores Jalen Hayes and Nick Daniels. Both Hayes and Daniels were Horizon League all-freshman team selections last season. 
The trio was Oakland's first Horizon League recruiting class. Kampe said they are at the core of this year's team. 
He added that this year's freshman — Bradley Brechting, Xavier Hill-Mais and Jaevin Cumberland — have a skill level comparable to Felder, Daniels and Hayes when they first came in. 
Senior Max Hooper and sophomore Femi Olujobi will also return for the Golden Grizzlies. 
Three other newcomers will suit up for Oakland. Iowa State transfers Percy Gibson and Sherron Dorsey-Walker are eligible to play right away, while Martez Walker from Texas won't be eligible to play until after the fall semester.
The team will be without starting forward Tommie McCune, who would've been a redshirt senior this season.
McCune transferred to Oakland from West Virginia in 2012. He played in 64 games, making 45 starts while averaging 6.1 points and 3.4 rebounds.
According to Kampe, he and McCune decided together that basketball was a deterrent to his pursuit of a college degree. 
Benefits of Spain
Over the summer, Oakland took an international trip to Spain, where it played and defeated three professional teams. 
Not only did the trip allow Kampe to see new players in action, with the exception of Walker, but he was also able to put the "beginning of the season drills" in during the 10 days of practice the team had before departing.
As a result, Kampe said the team is currently "way ahead of the curve."
"We have the base offense and base defense in, now we can start tweaking and adding more plays, more sets, more wrinkles defensively," Kampe said. "The players want to play [games] now."
Two other Horizon Leagues teams took international trips this summer: Valparaiso and Youngstown State.  
Early focuses and goals
Valuing the ball and minimizing turnovers is the main area of focus in the weeks leading up to the first non-conference game on Nov. 18 at home against Eastern Michigan.
The reason these are areas of importance is because turnovers lead to less chances to score, which hurts the team's strength of offense.  
Last season, the Golden Grizzlies led the Horizon League in scoring offense with 74.2 points per game. But, Oakland also turned the ball over 12.6 times a night. 
In Spain, the team averaged 99 points a night against professional teams with a 24-second shot clock. 
Beyond the obvious goal of winning the league and making an NCAA tournament appearance, another goal Kampe has is to post a winning non-conference record. 
Oakland will play 14 non-conference games and face tough power conference opponents like Michigan State, Georgia and Virginia, but Kampe believes the goal is achievable with this year's team.  
High-profile recognition
Despite the amount of new faces on the roster, expectations are still high for the Golden Grizzlies. 
ESPN college basketball analyst Fran Fraschilla tweeted that he sees Oakland or Valparaiso as this season's mid-major dark horse. 
This hype wasn't something the team received last season, when it was picked to finish seventh in the league. 
Despite this, Oakland contended for the title through the final week of play and finished third with an 11-5 record. 
The buzz about this year's team is something Kampe thinks is beneficial.
"I really do think we should be good and we shouldn't shy away from it, but we aren't going to go out there and thump our chest either, we haven't done it yet," Kampe said.
"This is our third year in the Horizon League, we were fifth the first year, third the second year, so maybe we can take two more steps and be first."