Oakland University and MIOSHA Form Alliance To Promote Growth Of Workplace Safety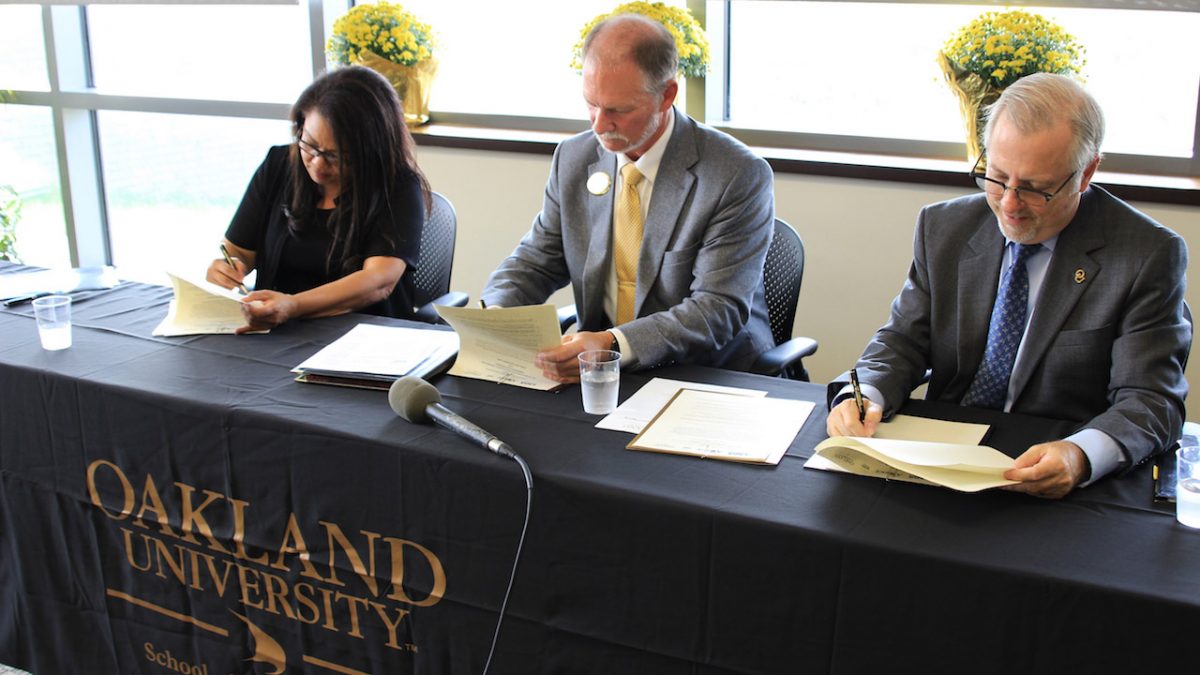 Mary Siring, Staff Reporter
October 3, 2017
The Michigan Occupational Safety and Health Administration  (MIOSHA) has established the MIOSHA Training Institute  (MTI), a workplace safety and health training certificate program, to a Bachelor of Science in Environmental Health and Safety Degree Program.
With the Occupational Safety and Health Act of 1970, Congress created the Occupational Safety and Health Administration (OSHA). MIOSHA is Michigan's program of OSHA , giving the state more oversight over the program.
"There are some states that have decided to have their own state program and Michigan is one of them," said Richard Olawoyin, an assistant professor of environmental health and safety  at Oakland University. "They have even more oversight and enforcement of the law at a state level."
The opportunity for OU to team up with MIOSHA was first mentioned about four years ago, and last week on Thursday, Sept. 21 a three-year agreement was signed to officially form the alliance between OU and MIOSHA.
The new program is available to those who have a valid MTI Level 2 Safety and Health Management Systems (SHMS) certificate. These individuals will be granted 11 Environmental Health and Safety (EHS) credits through an examination.
"Ideally, it provides students with an opportunity in jobs that they currently have," said Nella Davis-Ray, the MIOSHA CET Division Director. "It's a way to recognize the need for the background and training to do the job that they have been entrusted in doing."
The program is not only for students, but for working adults that are already professionals in the field, as well.
It also creates a chance for older individuals to interact with students, where both have different experiences and perspectives to discuss and apply.
"These students bring something to the table that we haven't had," Davis-Ray said. "It adds dimension to the classroom, adults and students working together."
The program is relevant and far reaching. In any occupation you can find a safety professional there. Whether in the automotive industry, manufacturing, construction, even in wholesale and in parks like Disney World.
"Anywhere you need to protect people, you find us," Olawoyin said. "We eliminate the risk so people aren't exposed to that risk."
Besides the certificate and resume line, MIOSHA is aiming to promote and foster the growth of workplace safety.
There has been a larger focus on safety after an increase of accidents in the workplace that have occurred in recent years, such as the BP oil spill.
According to Olawoyin, roughly 5,000 workers were killed on the job in 2008. By 2015, that number only dropped to 4,826 deaths. These numbers do not include the number of workers hurt and disabled on the job.
"It is important to train professionals that will be able to stop these things from happening," said Olawoyin. "We want people to go to work and come home safely."
With an ever-changing industry and economy, it is important to continue to keep that promise of safety that was made to workers. The end result is to protect people, people's property and the environment.
"We do it because we love it; because we are actually enriching people," Olawoyin said. "You see what you do every day."