Emma Stone serves a gripping spin on sexuality and equality with "Battle of the Sexes"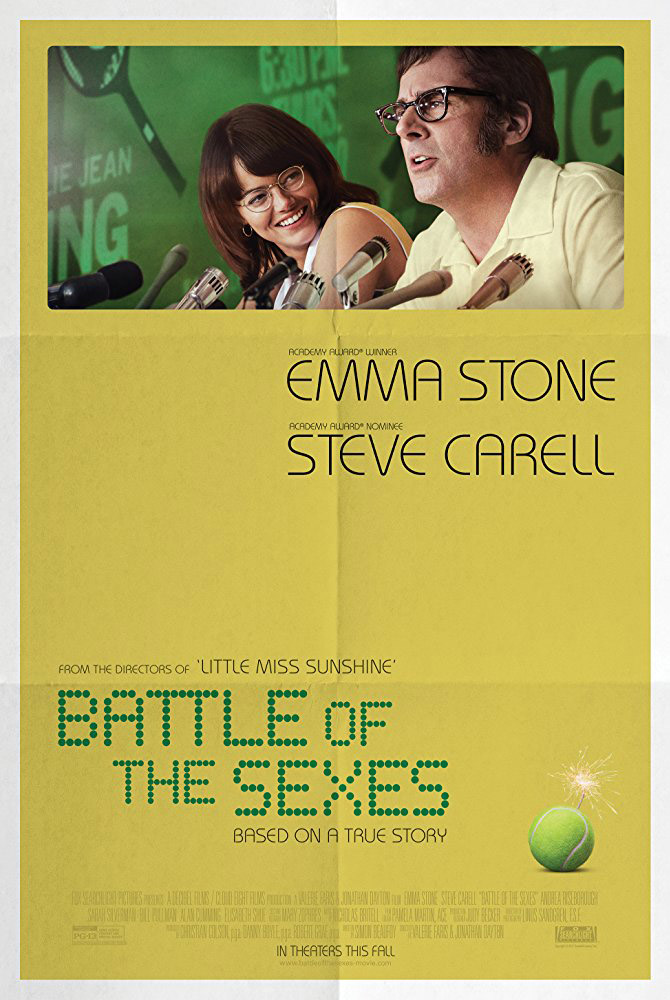 Most of us didn't need to be alive in 1973 to understand that society was plagued by sexism and homophobia. We still experience these issues every day, though with a far more extensive eagerness for change. This fervor stems from the courageousness of icons like Billie Jean King, the focus of the new film "Battle of the Sexes."
The film tells the true story of the 1973 tennis match between King (Emma Stone) and Bobby Riggs (Steve Carell). King, motivated by the unequal pay between male and female tennis players, agreed to compete with Riggs in the tennis match, which has since become a monumental moment for feminism.
It's a fitting role for Stone. The 28-year-old actress was recently named the highest paid actress of 2017 and has been very vocal about the pay disparity in Hollywood, making the parallels between Stone and King uncanny. Although the performance doesn't quite match the brilliance of her role in "La La Land," for which she received the Academy Award for Best Actress, Stone rejuvenates the real-life King, bringing her strength to a whole new generation.
Carell also perfectly encapsulates the goofiness of Riggs, King's distastefully sexist opponent. His unfiltered crudity and inappropriate remarks are reminiscent of Carell's role as Michael Scott on "The Office," though on a deeper and more serious level.
Stone and Carell have a surprisingly limited amount of screentime together, given the film's premise, but the moments they do share demonstrate their remarkable chemistry, after previously appearing together in the 2011 flick "Crazy, Stupid, Love."
The film's biggest issue lies in its romantic subplot. Though King is shown with her husband Larry (Austin Stowell) at the beginning of the film, it quickly becomes clear that there is sexual tension between her and her hairdresser, Marilyn (Andrea Riseborough), with whom she develops a romantic relationship. Though the affair feels far from forced, many of their scenes feel awkwardly shot, almost as if to emphasize that there is an openly lesbian relationship in the film, and for once, it doesn't feel like a publicity stunt.
Although King's infidelity was indeed one of the personal struggles she endured in her preparation for her match against Riggs, the film's choice to focus on it so extensively just feels wrong. It almost incriminates her character before she even has the chance to be a protagonist with whom audiences can empathize. Despite this, props should be given to directors Jonathan Dayton and Valerie Faris for giving audiences an authentic, realistic portrayal of a young woman struggling to come to terms with her sexuality.
Overall, "Battle of the Sexes" is witty, entertaining and powerful. Although the film would really flourish with a little less romance and a little more tennis, it ends on a satisfying note that will both uplift and inspire audiences.
The film's final moments reiterate to both King and audiences the importance of her fight for equality and the change that it is facilitated.
"Times change," says King's fashion designer Ted (Alan Cumming). "You should know, you just changed them."
If King's goal was to change the world with her story, it's safe to say she aced it.
Rating: 4/5 stars