Student Veterans of OU prepare for Third Annual Road March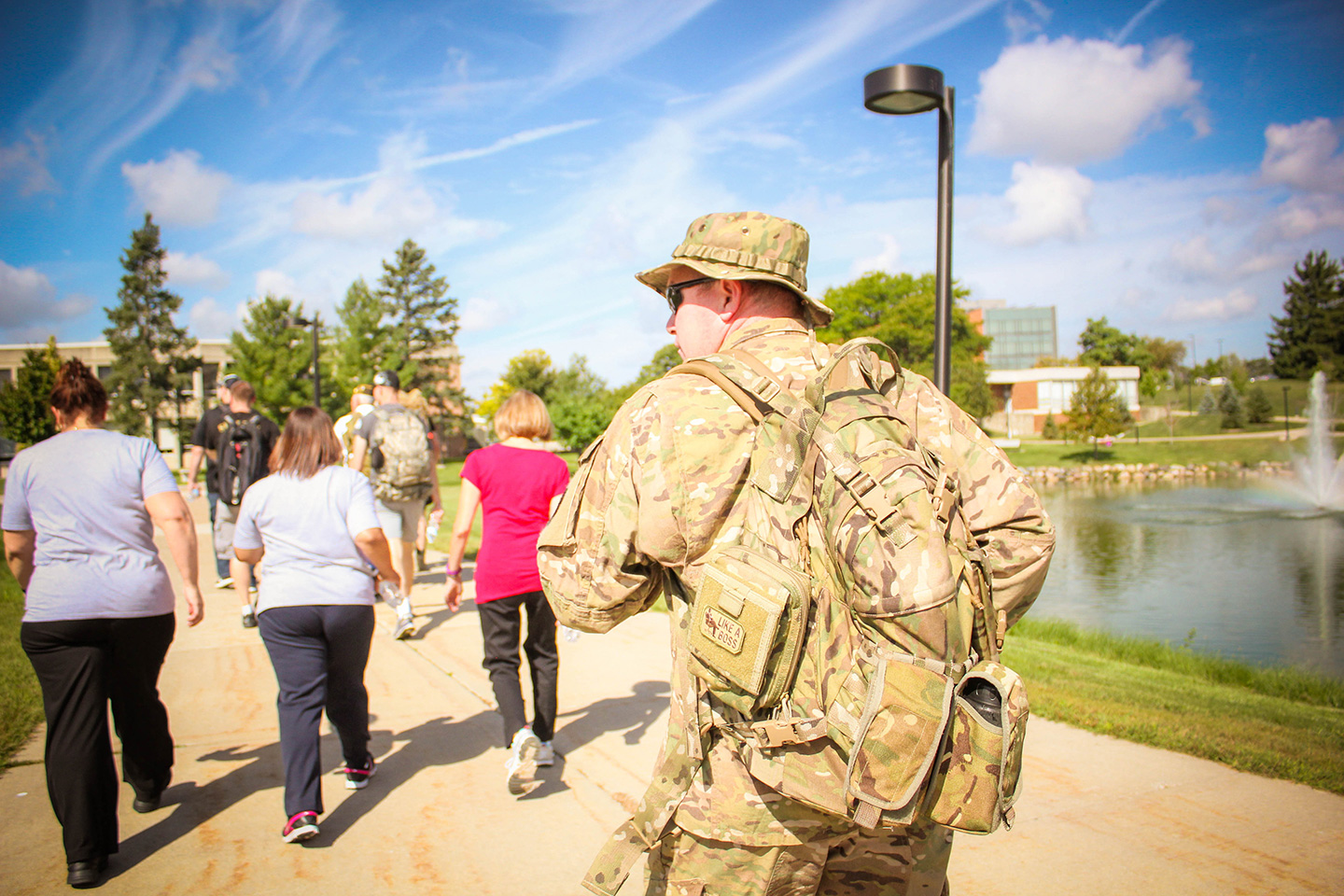 Mary Siring, Staff Reporter
September 5, 2017
The Student Veterans of Oakland University will host the third annual Road March to End Hunger on Friday, Sept. 8, to raise donations for the Emmanuel House in Detroit, a nonprofit that provides housing, substance abuse treatment and job placement services to homeless veterans.
The event will take place on Oakland's campus from 11 a.m. to 3 p.m. and begin with a 9/11 memorial service, performances from a veteran color guard who are residents at the Emmanuel House and the Star-Spangled Banner.
Following the memorial will be the event's signature one-mile hike around campus. Participation does not require signing up and is not exclusive to Oakland students and faculty.
Participants are asked to bring donations of non-perishable food items, toiletries and new or gently used clothing. Participants are also encouraged to bring a backpack to carry their donations in during the hike, symbolizing the weight that veterans bear.
"As veterans, we carry a certain amount of weight with us, both tangible and intangible weight," said Kyle Mcintosh, treasurer of SVOU and this year's main event organizer. "We want individuals to take those donations, put them in a backpack and walk this."
However, it is not required to partake in the hike. Participants are encouraged to mingle at the starting point, are welcome to purchase t-shirts and enjoy a catered lunch from Roadhouse Subs in Rochester.
Last year's event was host to 150 participants and raised $600 dollars as well as 600 pounds of food.
All donations will be given to the Emmanuel House where 70 previously homeless veterans are currently housed, receiving help during their transition back to civilian life.
"We have gone through the same thing, we have seen the same thing, but we all took away a different aspect or a different perspective from the one single incident," said Eric Wuestenberg, Coordinator of Oakland's Veteran Support Services. "It can affect us traumatically to the point where I'm here in this position and they are in the Emmanuel House or on the street corner."
Homelessness is a fairly common result. According to the U.S. Department of Housing and Urban Development (HUD), 39,471 veterans are homeless on any given night.
"It's not hard to be homeless," Mcintosh said. "It's the difference between making a left or a right turn at an intersection."
Both Mcintosh and Wuestenberg shared their own stories of near homelessness, both losing their support systems upon their return home and struggling to reintegrate themselves back into civilian life.
"The one person, or people, that we come to that we would hope would be there for us in our darkest hour abandon us and take off from us," Wuestenberg said. "It's knocking the legs out from underneath you."
The event is helping create and promote the support system for veterans that they, themselves, lost upon their return.
"It's people helping people. We are in a time where both sides of the aisle need a reason to come together and I believe that helping people is coming together," said Mcintosh. "To help someone who has given everything that they have to this country…that is who we need to be giving back to."