OUCARES Prepares For Next Pre-Employment Skills Training Program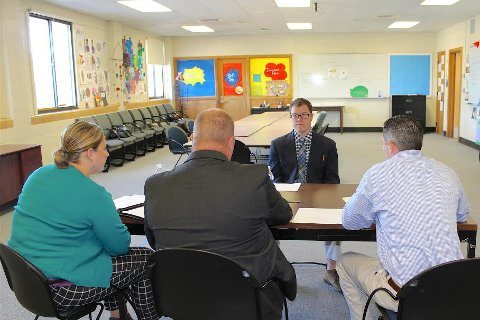 Mary Siring, Staff Reporter
September 5, 2017
OUCARES, the Oakland University Center for Autism Outreach Services, held an information session on Aug. 29 for their upcoming Pre-Employment Skills Training session, a 12 week program for adults with high functioning Autism, Aspergers or PDD-NOS, focusing on job-related skills, beginning Sept. 18.
"There are over 3 million individuals living with autism today," said Caroline Gorman, the Meadows Learning Center coordinator of OUCARES. "Over the next decade, an estimated 500,000 individuals with Autism Spectrum Disorder (ASD) will reach the age of 21 and 'age out' of government-mandated programs."
The increase in the population of adults with ASD is a large concern to the state of Michigan and for OUCARES. The goal of the Pre-Employment Skills Training is to help adults with ASD overcome the difficulties they often face in securing and maintaining meaningful employment opportunities.
"The Pre-Employment Skills Training has been offered since July 2016," Gorman said. "Over 70 percent of the individuals who have previously participated in this program have gone on to either gain employment or enroll in an educational program that will assist them with reaching their employment goals."
The three key areas that will be focused on during the session are interpersonal skills such as communication, social awareness, networking, teamwork, and collaboration.
"If you are seeking a job in any field where you will be helping others, being able to relate to people is crucial not only to finding a job, but also to being successful at your job," said Jenna Katz, a Special Lecturer in the Department of Writing and Rhetoric. "For fields where the focus is not helping others, you still need to be able to relate to people on a daily basis, so making sure that you show your interest and compassion for others is always a wise move."
For individuals with ASD, a condition specifically characterized by difficulty in communication and forming relationships with other people, it is important to provide extra help and resources to ensure that they have support in overcoming their struggles and ensuring that they have as positive a chance as anyone.
These outreach services focus on improving the quality of life of individuals with autism across their lifespan, their families and the broader community by developing comprehensive and quality programs. As the job market becomes more competitive and is ever-changing, providing avenues which allow every individual to put their best foot forward is of great importance, which is what OUCARES is working to achieve.
"Searching for a job, interviewing and networking are some of the most nerve-wracking things for anyone to have to do," Katz said. "Programs that help people to develop skills to highlight their natural abilities to assist them in this process are outstanding."