"Ingrid Goes West" gets honest about the dangers of social media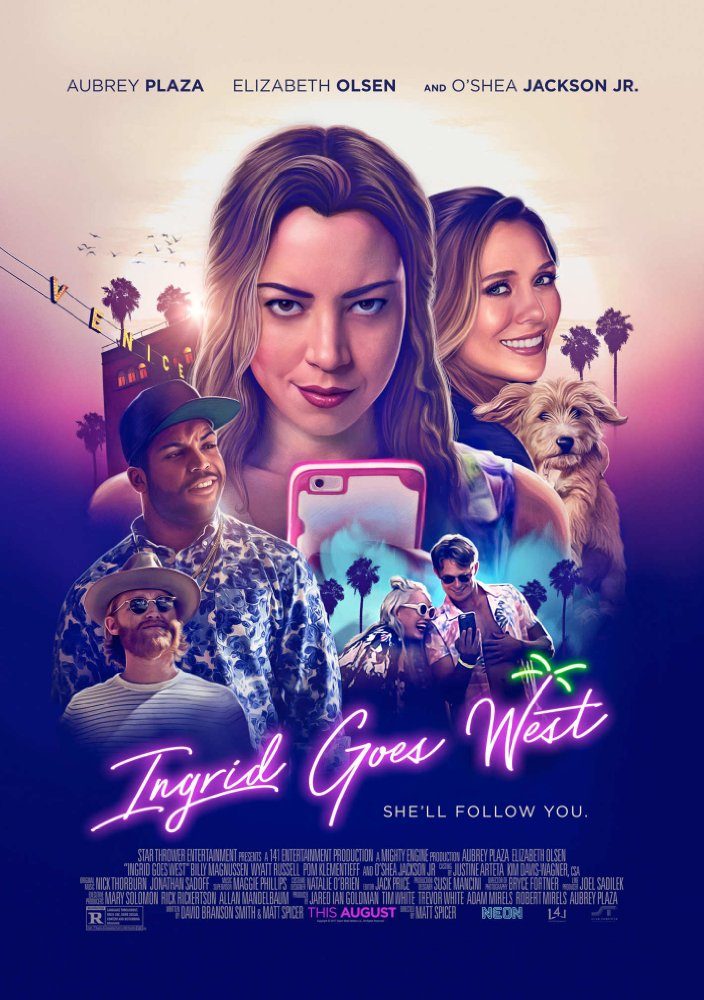 Spoiler alert: This review contains minor plot spoilers
Ah, social media, the only real way anyone finds out anything about anyone anymore. Most of us are guilty of stalking someone else's profile at some point or another, right? The good old days where people learned about one another through one-on-one communication are all but gone, and while our surroundings continue to evolve, we're taking steps back in our ability to communicate with others.
In "Ingrid Goes West," director Matt Spicer tackles this issue head-on. The film follows Ingrid Thorburn (Aubrey Plaza), a mentally unstable girl whose loneliness following her mother's death leads her to a life of social media stalking and subsequent one-sided friendships. After arriving uninvited to the wedding of one of these "friends" to attack her with pepper spray, she is briefly admitted to a mental institution, only to take the $60,000 her mother left her and go to California to befriend Taylor Sloane (Elizabeth Olsen), an Instagram "influencer" who has become Ingrid's latest infatuation.
Viewers will recognize Plaza from her breakthrough role as April Ludgate on the popular sitcom "Parks and Recreation." The series found Plaza portraying a pessimistic young woman with a sick and twisted sense of humor, a quality that she has brought to this role in a far more serious fashion. The disturbed character's portrayal is so convincing that it inclines audiences to feel somewhat sympathetic toward her. Though "Ingrid Goes West" is far from a psychological thriller, Plaza's exceptional performance as a deranged social media stalker reaches a previously unseen depth and would make her the perfect choice for such a film.
In fact, the film mostly teeter-totters between comedy and drama, providing enough sadistic humor to not be taken too seriously but enough drama to convey the film's overall serious message. Though the film is classified as a dark comedy, the laughable moments are few and far between, and audiences will find it hard to laugh at Ingrid's desperate attempts to befriend Taylor throughout the movie because of the underlying themes of mental health. The film's inability to commit to either a serious or comedic approach results in a convoluted blend of genres that occasionally loses focus.
Despite its flaws, "Ingrid Goes West" has a brilliant cast. Plaza's aforementioned starring role is reason enough to watch the film; however, Olsen's portrayal of Taylor Sloane is equally compelling and offers audiences a glance at the delusive lifestyles so many of us try to exhibit online. "Straight Outta Compton" star O'Shea Jackson Jr. portrays Ingrid's landlord and eventual love interest, giving a performance that is both charming and promising for the up-and-coming actor.
However, more than anything else, what drives this film is the statements it makes about social media and mental health awareness. The lengths to which these characters go, emphasizes the severity of technological addictions in the modern world, while the film's final moments offer a painstakingly emotional plea for help from a victim of mental illness (although the relatively happy conclusion is perhaps too unrealistic to fully carry the weight of such heavy themes). Unfortunately, the film's "R" rating makes it nearly impossible for its messages to reach many of the younger audiences that it should.
In short, "Ingrid Goes West" has some powerful and relevant subject matter that make the film worth seeing, but doesn't provide enough entertainment for more than one or two viewings.
Rating: 3.5/5 stars