OU Named A Top Producer For Autonomous Vehicle Workers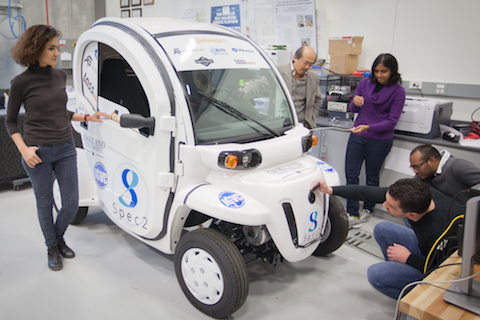 Mary Siring, Staff Intern
June 29, 2017
The San Francisco Business Times reports that Oakland University is among the top five schools placing graduates in the autonomous vehicle field.
As the automotive industry works to put self-driving vehicles on the road, the market for those qualified to work in the field is growing. The San Francisco Times reports that many of those with the right skills and knowledge for the positions are coming from Oakland.
The report states that about 1.75 percent of all engineering jobs in this field are being filled with OU graduates. While this may not seem like a large number, it puts OU among the top five schools doing this.
Self-driving vehicles may seem like a concept from a sci-fi film, but a future with autonomous vehicles is not so farfetched.
"Basically, this is the future of the automotive industry in this country and around the world," said Louay M. Chamra, dean of the School of Engineering and Computer Science. "The technology is out there, we just need the infrastructure and the communication in order to make it happen."
Experts predict that by 2035, companies such as Uber and Lyft will be taking full advantage of an autonomous vehicle market, allowing the average person to summon a self-driving car via their cell phone.
"I think even in the near future, Uber and similar companies would go completely autonomous once the option was available," said Christopher Lane, an engineer at General Motors.
Self-driving vehicles are also expected to decrease driving fatalities.
"I think autonomous vehicles are a lot safer," Lane said. "Especially with the evolution of technology like the cell phone, distraction-wise."
The autonomous vehicle industry creates a network of transportation that will eliminate distracted driving, impaired driving and creates communication between vehicles to combat traffic accidents.
But until then, there is still much that needs to be accomplished.
"The technology already exists," Chamra said. "We need to standardize that technology."
Particularly, this includes communication development not merely between cars from one manufacturer, but between manufacturers' cars, as well.
As for advancing Oakland's program, curriculum development to keep up with the changing industry is the biggest focus for the future.
"We already teach multiple courses on autonomous vehicles and different technologies," Chamra said. "Now we want to focus our school on applied research and applied engineering."
Oakland's engineering curriculum is already based on consultations with an advisory board where companies have direct input about curriculum improvements and updates. Faculty has the ability to take these suggestions and then incorporate them into their classes.
This collaborative relationship is truly what brought Oakland to the top of the industry in the first place.
"What makes our students different is that they do a lot of internships with companies developing autonomous vehicles," Chamra said. "We are surrounded by good companies that are involved with them."
Whether this includes the Big Three manufacturers or suppliers such as Continental or Mobis, Oakland students are given local opportunities for interning in the field and, according to the SECS annual report, 96 percent of the employment from Oakland remains in Michigan.
"People always ask me what makes Oakland different," Chamra said. "Oakland provides opportunities for people to be successful and transform their lives. I think that's the difference."