50 Years of OUPD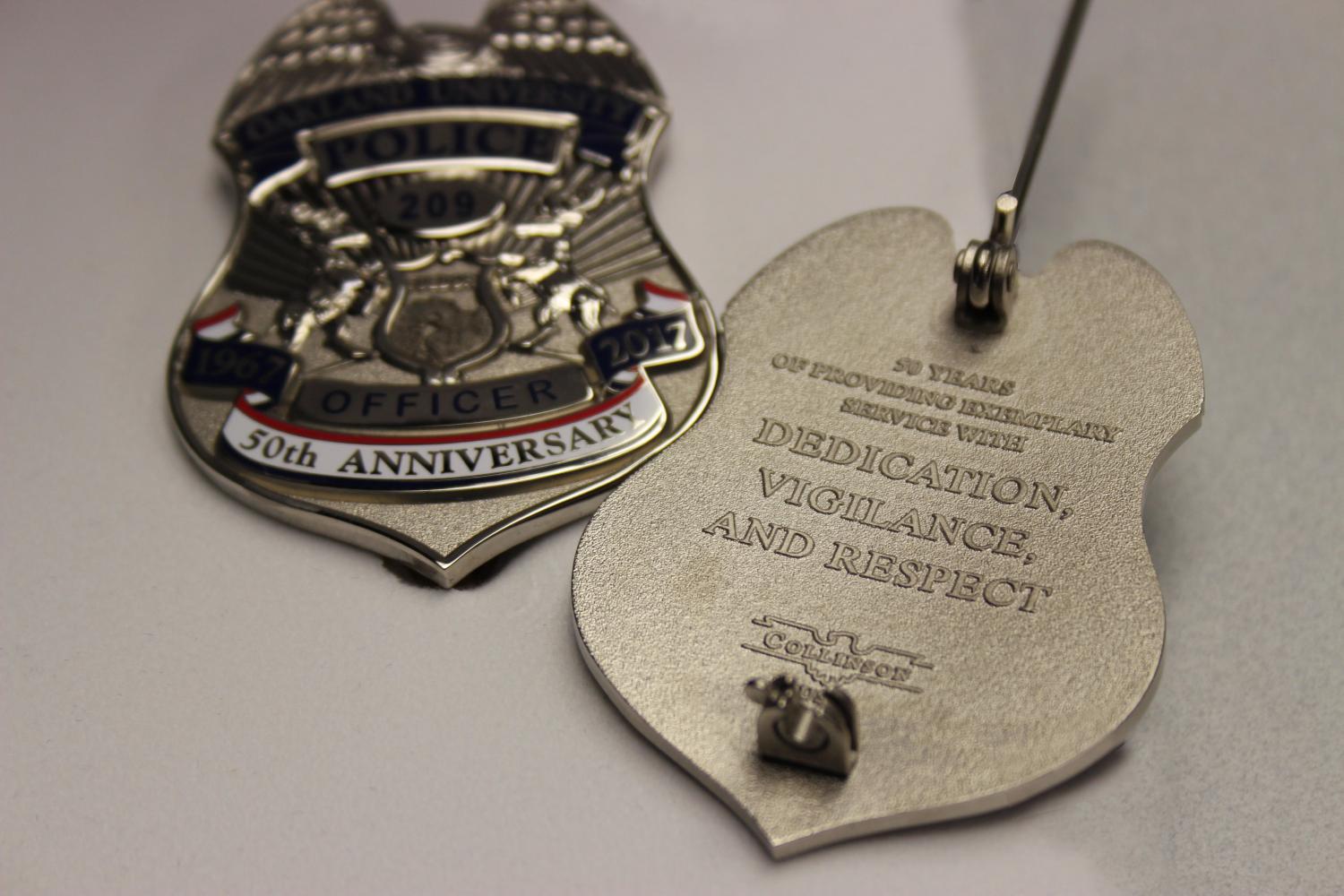 Laurel Kraus, Life, Arts and Entertainment Editor
May 18, 2017
In September of 2016 Oakland University was named the seventh safest large college campus in the country by college resource website College Choice.
This year, the Oakland University Police Department celebrated its 50-year anniversary on April 20, prompting a look back to 1967.
According to OUPD's website, the Department of Public Safety was established due to a recommendation by the Citizens Research Council of Michigan for nine police officers and 20 firefighters to ensure public safety.
Oakland had been open for 10 years when the first four public safety officers were hired, but fire protection was pushed aside due to budget limitations.
The first Director of Public Safety, Thomas D. Strong, had been brought on a year beforehand.
In the first year, the department responded to 743 calls for service compared to the around 10,000 in 2016 reported by the current OUPD Chief of Police Mark Gordon.
When Strong resigned in 1969 to return to his previous career in the Secret Service, Earl N. Gray, a 15-year veteran of the Detroit Police Department, became the second director of Public Safety.
The Public Safety and Service Building was built in 1975 following Senate Bill No. 81, Act No. 244, Public Acts of 1967.
Former Lieutenant for Wayne State University Police Richard W. Leonard served as the next director of Public Safety for 24 years.
"Every time you change police chief positions, those are always very big days in the history of a police department because you end up going maybe in a different direction or there's a new vision for the police department," Gordon said.
On October 1, 1992, the Department of Public Safety changed its name to Department of Public Safety and Police. This was brought about after the department became completely separate from the Oakland County Sheriff's Department.
One year later, the Department of Public Safety and Police set up the first of the emergency blue light phones that are on campus today.
It was on June 6, 1996 that the department officially changed its name to what we know now: OUPD.
"Public safety implies that you are a police and fire agency, so you'd have one responder (who) could do both jobs," Gordon said. "Well that's not how we're trained, we're police officers only, so calling us Department of Public Safety was becoming confusing."
Beginning in 2001, Adam Garcia was the fourth director of Police for a year before resigning and making way for Samuel C. Lucido, OUPD's fifth chief of Police for 12 years.
"We had major events to handle," Lucido said. "We had President Bush here on campus a couple of times when he was president, [and] we had the Republican Party Presidential Debate in 2012."
Gordon was hired in 2014 along with the OUPD's first female and youngest lieutenant, Nicole Thompson.
Currently, OUPD employs 22 sworn in law enforcement officers and five dispatchers.
"We are very proud of 50 years of service to the University community," Gordon said. "We just like to remind our community that there is no police department that can continue to create a feeling of safety and security by themselves, they need the support of the community to be able to do that."