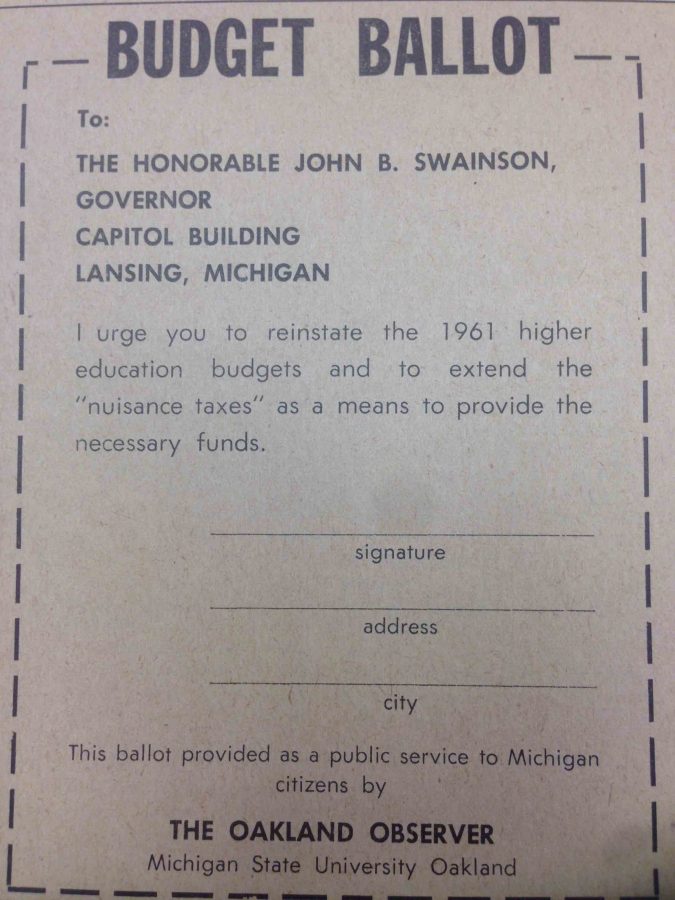 Looking Back: MSU-O faces funding troubles
Oakland University was established in 1957 as Michigan State University-Oakland. It was known as MSU-O until 1963, and became independent in 1970.
But in April 1961, MSU-O almost shut its doors for good. Legislators at the state level aimed to decrease the financial burden universities posed to the state by decreasing funding to MSU-O.
In the legislators' proposal, the state would provide Oakland somewhere around $12,300 for the year. Today, this is worth less than $100,000.
There were 18 new faculty members brought on for the fall 1961 semester, and two new buildings were opening. The state thought this $12,300 would be enough to employ the new faculty members and maintain the new buildings.
In reality, it would cost $80,000 of 1961 currency just to maintain the buildings. MSU-O also increased in-state tuition by a flat amount of $20 per student.
One way that MSU-O would be able to continue operation was through the extension of Michigan's "nuisance tax," which was due to expire soon after April 1961. Though this would help, it wouldn't be a long-term fix.
Governor John Swainson also ordered state-funded universities to reduce the cost of operation per student. MSU-O's response was to offer year-round classes to cut costs by 17 percent per student. However, the legislature overlooked these appropriation measures.
Rumors were also swirling that the residence halls would open in fall 1961. The April 14, 1961, issue of The Oakland Observer showed a photograph of an area being bulldozed for the suspected residence halls.
In the April 28, 1961, issue of The Observer, the newspaper took action by providing a "Budget Ballot" for students to cut out and send to the governor.
If the appropriation measures passed in the Michigan Senate, the state would grant MSU-O an additional $12,300 for the 1961-62 academic year. With this money, the university would need to pay for not only those 13 new faculty and the two new buildings, but also course offerings for its first junior class. These were all new expenses in the 1961-62 school year. 
If the nuisance tax wasn't left in effect, then MSU-O only had a few solutions. One would be to raise tuition again, but Chancellor Woody Varner felt this was unlikely to be approved by the Board of Trustees, as a large tuition increase had just happened in the 1960-61 academic year. 
Another option would be to only admit 100 new students in the fall, even though there were already plans to admit at least 340 freshmen.
Another solution would be to keep the library and the new science building (now known as the Math and Science Center) from opening. This would leave faculty members without offices, furniture or supplies.
A final solution was a suggestion that MSU-O could become a two-year institution. In response, Varner and the Board of Trustees urged community members to reach out to state legislators to let them know they were willing to pay the taxes "to save MSU-O from disaster."
By May 26, 1961, the state appropriated an additional $200,000 to MSU-O, instead of the original $12,300 on the table. This allowed for a 1961-62 total student population of around 1,200 students.
However, the university proposal to recognize MSU-O separately from MSU was denied, leaving MSU-O reliant on MSU for funding.