Make a splash at swimming and diving's Water to Water fundraiser on Friday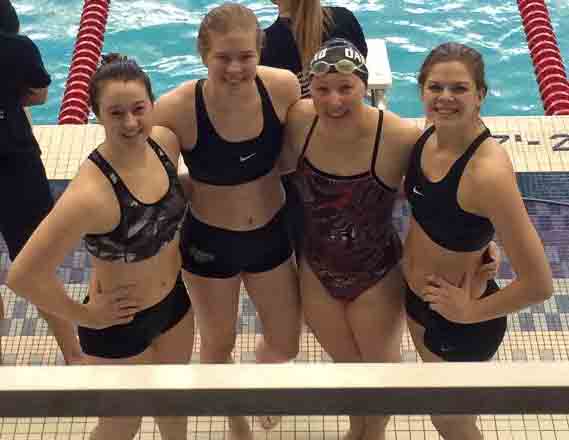 The Oakland Swimming and Diving team will host its sixth annual Water to Water fundraiser to raise money for Thirst Relief International, an international humanitarian organization that aims to globally bring clean water to over one billion people who do not have access to potable water.
The fundraiser will take place at 4 p.m. on Friday, April 7 at the Oakland Aquatic Center. The event will be open to all Oakland University students.
Participants swimming at this event will form relay teams consisting of four people: one swimmer from the Oakland swim team and three others of the participants' choosing. Members of the swim team will be assigned to the relay teams if participants do not know any members of the swim team, or do not have a swimmer selected at sign up.
"The goal of the fundraiser is to try and make as much money as possible to help make a difference, and with Thirst Relief International, we can do this," said Takara Martin, head organizer of the fundraiser and senior captain of the women's swim team. "Just $10 can provide someone with clean drinking water for 25 years."
Water to Water was started as a project in 2011 by former Oakland swimmer Candace Savonen. In order to make the fundraiser possible, the swimming and diving team had to fill out a compliance form for NCAA rules and contact the Student-Athlete Advisory Committee to get help from OU Athletics. They also push the event on social media and campus by setting up a Facebook page and renting tables in the Oakland Center.
"It's a great way for our community to give back and use the athletic department to help spread the word on Thirst Relief," said junior Mary Pilibosian, junior captain of the swim team. "It shows that there are things bigger than us in this world. As one school and one small sport we can make a huge difference in someone's life."
Water to Water was originally exclusive to the athletics department, but last year, it was opened up to all OU students.
"We wanted to make relationships with the entire student body," Martin said. "[Athletic Director Jeff Konya] established a new ethos, and we wanted to increase support from the student body, and through that, [Water to Water] was a great way to do it."
Last year, the event raised $1,400, $600 short of its $2,000 goal. This year's goal is once again $2,000.
Teams will compete in four themed relay races, with each event raising money to help reach the fundraising goal.
Water to Water is not only designed to raise money for Thirst Relief International, but also to bring attention to how clean water is often taken for granted.
"As swimmers, we can sometimes take water for granted," Martin said. "We swim in a huge 50-meter pool full of water, and there are people in this world who don't even have access to a cup of water. It's a way to give back."
Participants will be provided with prizes, such as gift cards or coupons to local restaurants.
"It is always a fun event," Martin said. "People are welcome to come and watch. It is always very funny to watch."
Donations can be made at the event or online at https://thirstrelief.dntly.com/fundraiser/6th-annual-water-2-water-fundraiser#/.