Dorsey-Walker looks past Oakland basketball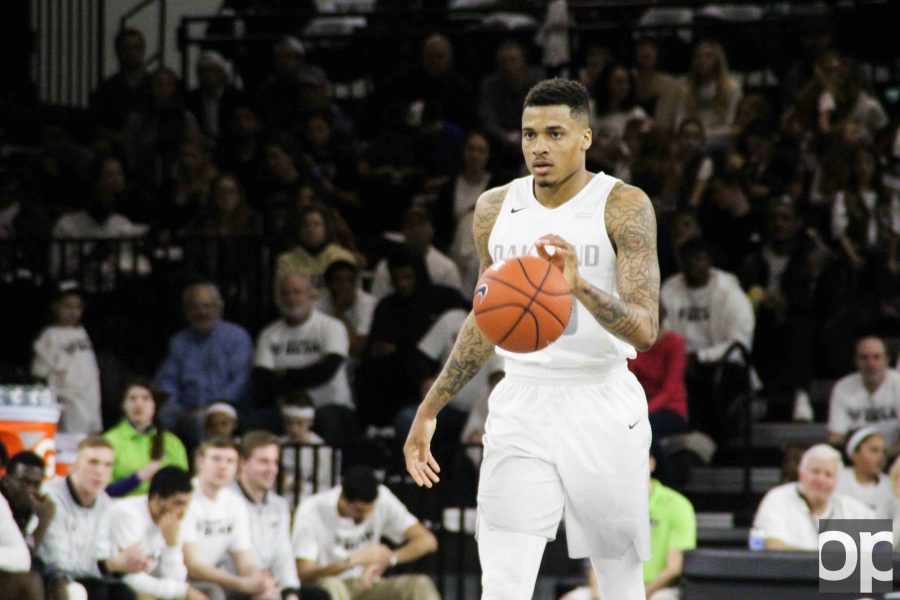 As the lone senior on the men's basketball team, Sherron Dorsey-Walker has proved his talents on and off the basketball court. After being named valedictorian at Pershing High School, Dorsey-Walker continued his academic success at Oakland, taking classes to work toward a bachelor's degree in integrative studies.
During his time at Oakland, Dorsey-Walker has left a mark on the men's basketball program. This season, he averaged 13.4 points per game, scoring a career-high 28 points against Milwaukee on Feb. 28. He was also named to the 2017-2018 Horizon League Academic All-League Team.
With spring commencement less than a month away, Dorsey-Walker has to leave Oakland basketball behind and look to the future.
"It's kind of devastating to see that my career came to an end so fast, but, you know, I'm happy," Dorsey-Walker said. "I'm excited about the next step and ready to make that next step to play professionally now."
Dorsey-Walker is currently looking for an agent to help him sign on to a professional basketball team after graduation. He said he wants someone who has his "best interests in mind."
"It's not going to be an easy process, so right now I'm just taking it in and embracing the challenges," Dorsey-Walker said.
Dorsey-Walker is not alone as he pursues a professional career; he has the support of his childhood friend and teammate, junior Martez Walker.
"That's my brother, man," Walker said. "I just want to see him do great. It's going to be sad to see him leaving. I wish he could stay another year, but you have to move on and do better things."
Dorsey-Walker's absence will be felt by the team next year. As a leader, he helped to bring the team closer together.
"I feel like where he left off this year, with him being the only senior on our team, is everybody getting along with each other on and off the court," Walker said. "From that, I feel like guys need to buy into what the coach is asking them to do . . . and don't complain about it. That's one thing [Dorsey-Walker] didn't do this whole season — he didn't complain. No matter if it was going good for him or going bad for him."
As he prepares to take the next steps in his life, Dorsey-Walker has accomplished his main goal: earning his college degree.
"I was happy about getting a scholarship and playing basketball, but getting that degree is great because, once the ball stops bouncing, I'm going to need that degree to live my life and have that second career," Dorsey-Walker said. "I'm very happy about getting that degree next month."
He said getting here wouldn't have been possible without the support of the people who helped him as he grew as both a basketball player and a man.
"I would just like to say thank you to all the people that helped me along the way in college," he said. "I feel like I've had some great relationships with people here at Oakland and at my previous school [Iowa State]. They've helped me a lot, even if I haven't told them that. Their hard work didn't go unnoticed, and they helped me get to where I'm at, even if it's just words of encouragement. It's great to have that on your journey."
After playing professionally, Dorsey-Walker plans on earning a master's degree in human resources development.