Athletics hosts first-ever Trivia Night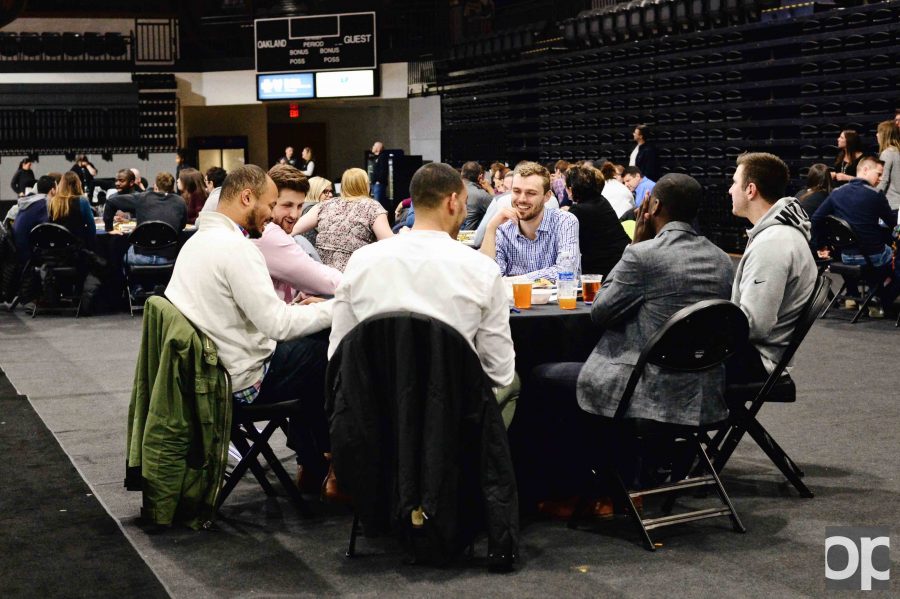 University Athletics held its first Trivia Night on Thursday, March 9 in the O'rena. Teams of eight battled in 10 rounds for a chance to win the grand prize: two tickets to the 2017-2018 Oakland vs. Michigan State University basketball game for each member.
Trivia Night was a fundraiser put together by Athletic Director Jeff Konya and Associate Athletic Director Marshall Foley. The event raised money to help fund student-athlete expenses, such as equipment and transportation.
Konya has hosted trivia nights at previous institutions he has worked for, but this was the first time he held the event at Oakland.
"I thought [the turnout] was OK for a first-year event," Konya said. "Very similar to what we did at the previous institution, but as people had a good time and really like the event, it's going to grow, and that's what we want."
Participants had to answer 100 questions split into 10 different categories, including General Knowledge, Number, True or False, Movies and Logos. Teams earned one point for each question they got right.
There were also bonus questions that gave teams extra points and individual prizes, such as a Red Wings jersey signed by Henrik Zetterberg.
Many of the attendees were Athletics faculty and staff or alumni. Men's basketball assistant coach and former Oakland basketball player Drew Valentine attended with other basketball alumni.
"I didn't necessarily know what to expect," Valentine said. "When I think of a Trivia Night and it being at an athletics arena, you would think that it's going to be a lot about sports trivia, but when they said the questions weren't going to be about sports trivia, I was kind of concerned and wanted to get the answers right."
Foley said one purpose of the event was to show that the Athletics department is about more than just sports.
"Part of our outreach on this was to get people from different parts of the Oakland campus . . . to come and take part," Foley said. "We felt that part of the attraction of that would be not to focus just on sports, to show that we're interested in what else goes around. We recognize that there's a lot of people on campus where sports is not their primary interest, and so we tried to have some stuff out there for a community event . . . for people who like random trivia things."
Valentine said he enjoyed being able to get the basketball alumni back together.
"Just getting the chance to come back in a team setting, to be competitive and get to hang out with each other has been really fun for me tonight," Valentine said. "I definitely would [come back], and I would definitely try to pass this on to other people that aren't here. I think it's pretty fun to be in a competitive atmosphere where everybody's having fun and camaraderie is high."
Athletics expects to host another Trivia Night next year. There were not many student participants at the event, but Athletics hopes to change that moving forward.
"Hopefully, we'll have a broader reach as we do this in years going forward," Foley said. "Hopefully, the word goes around and we can draw more students, we can draw more faculty, we can draw more of our season ticket holders. If we get to a point where there's people from the general public, that'd be great. We're going to do this again, and it'll be more fun next time."