The ascent of athleisure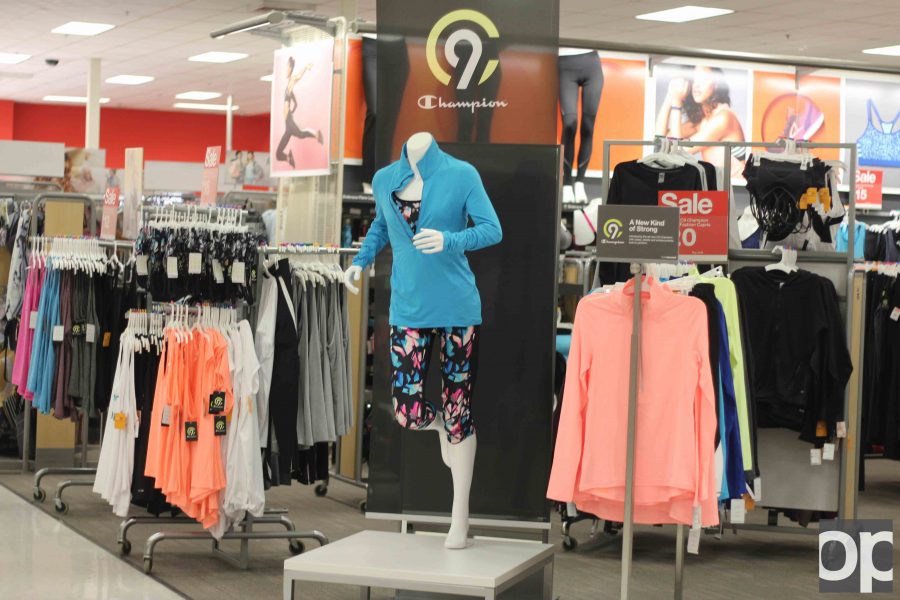 Falin Hakeem, Contributor
March 7, 2017
Say goodbye to your favorite pair of worn-in Levi's and hello to a brand-new pair of . . . Golden Grizzly sweatpants? Athleisure is quickly and unapologetically making its way to the finish line.
The term "athleisure" "refers to casual clothing — like yoga pants, sweat pants and hoodies — that are designed to be worn both for exercising and for doing (almost) everything else," according to Merriam-Webster.
Athletic wear has been around for some time now. Remember those matching, black-and-white Adidas tracksuits Run D.M.C. donned circa '86? But it's never been around quite like this.
"Athleisure isn't just a trend you see celebrities wearing," said Adriell Desero, a senior majoring in health sciences at Oakland University and a sales associate at Lululemon Athletica at the Somerset Collection. "Real people wear the trend on a day-to-day basis."
Desero believes athleisure has become popular because of its functionality and versatility.
"I think one of the reasons as to why people love the trend so much is because you can either dress it up or dress it down," she said. "Athletic wear can transition smoothly from day to night depending on the material of the fabric."
Desero said she may even favor athletic wear over denim because it's just more comfortable.
"The material and fabrics of yoga pants and leggings are much better than denim," she said. "I can wash my Speedtight leggings thousands of times, and they won't shrink."
In a recent on-campus survey, 30 students (15 males and 15 females) were asked if they would rather wear athleisure or denim to class.
Eight out of the 15 males said they prefer wearing sweats to class over jeans, and 12 out of the 15 females said they prefer wearing leggings to class over jeans.
"Every time I would walk through the OC, which was often, I'd see a plethora of people wearing the trend," said Haniya Halim, a 2016 OU alumna who majored in psychology. "Practically everyone in my classes did."
Still holding on to those Levi's, are we?
According to NPD Group research reported by Forbes, "U.S. consumers spent $323 billion on apparel, footwear, and accessories in 2014 — a 1-percent increase over 2013. That 1 percent, however, represented about $2 billion in sales and was largely driven by consumer spending on activewear, athletic performance footwear and bags."
Price ranges depend on where you shop for athleisure — but in the grand scheme of things, you can still buy quality pieces for a price tag that won't break the bank.
"I do tend to splurge on this trend from time to time," said Darcy Dulapa, a senior majoring in journalism at OU. "But at the same time, I'm a big fan of Target's athleisure section."
According to Forbes, "Morgan Stanley has predicted a growth to $83 billion by 2020, stealing the market share from non-athletic apparel." 
Certified personal trainer and national body builder competitor Frank Binno of Macomb County agrees with Desero's thoughts on denim versus athletic apparel. He also believes the trend is not only exclusive to women — men can look good wearing athleisure, as well.
"Jogger pants have been wildly popular with the guys lately," he said. "I think comfort is something that will never go out of style . . . And don't get me wrong — I love jeans. I think they're a classic look, but for me and for a lot of people nowadays, athletic wear is just more comfortable."
Binno said there is a big fitness movement going on, especially with younger generations. Though it may be millennials who are up-to-par with the trend, athleisure is ultimately for people of all ages.
"People want to create the impression that they're always on-the-go and health-conscious," said Alexandra Agapiou, a nurse practitioner at Henry Ford Hospital in Detroit. "I think wearing athletic gear makes them feel productive, in a sense." 
Though Agapiou believes the athleisure look can be effortless and understated, she said the choice to take part in the trend is making society lazier style-wise.
"Everyone is wearing the same sneakers, the same track pants," she said. "I feel like fashion becomes a little less personal with athleisure, even though higher-end brands are jumping on the trend's bandwagon."
Brands like Louis Vuitton, Tory Burch, Victoria's Secret, Gap and H&M are all selling athleisure.
"It seems as though athletic brands run out of their items relatively fast," Agapiou said. "Whenever I'm online shopping for new gym clothes, everything is sold out."
Agapiou said athleisure definitely seems to have created more competition for brands like Nike and Adidas.
"There has always been competition, but now the stakes are higher because these brands are constantly trying to reinvent themselves," she said.
One thing that's almost certain: athleisure won't be running away anytime soon.