OUSC candidate open forum promotes transparency and inclusiveness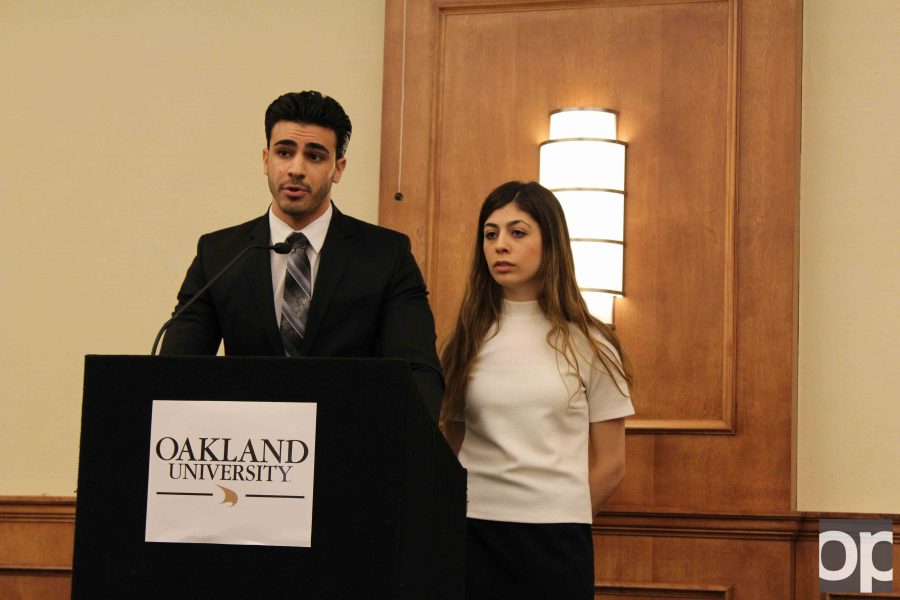 Oakland University Student Congress presidential and vice-presidential candidates Lena Mishack and Jousef Shkoukani, respectively, held an open forum event to answer questions and respond to concerns from students at noon on Monday, Feb. 27, in Banquet Room B of the Oakland Center.
The forum was held in place of presidential and vice-presidential debates because the Mishack-Shkoukani ticket is running unopposed.
Over 30 students and OUSC legislators attended the event, where the candidates emphasized inclusiveness and transparency while answering questions about their future administration.
Answering questions about campus life, Mishack and Shkoukani talked of how they want to help make more students aware of events on campus. Mentioning a plan of total awareness, both candidates want to use message boards and more signs in the OC to help students keep up with the schedule of events around campus.
They also want to work with the Student Program Board by hosting more events for students to attend, and they want to push for more tailgates and pep rallies before games. The ticket wants to work toward getting an NCAA football program at OU.
One of Shkoukani's major plans is to get more national companies to come to OU's career fairs. A few of the companies he has in mind are Microsoft, Google and Apple. He believes that students at OU should have better career opportunities outside of those available in metro Detroit.
Inclusiveness is a major issue for the team, and the two plan to represent all student groups on campus. They said Housing students, commuters and graduate students will all see equal representation in OUSC. Their administration has plans to have a table in the OC each month to help students to get to know the president and vice president.
"We want to do the best job we possibly can in representing all students, not just through the phone or online, but face-to-face," Shkoukani said.
Helping all students to feel included at OU is important to their administration, and they have plans to add both an athletic and a graduate representative to OUSC, a move which would help to diversify OUSC and connect more groups of students on campus.
They also plan to continue some of OUSC's current initiatives, such as free Scantrons in the OUSC office and the recycling bin program. Mishack and Shkoukani also plan to continue using the Bear Bus system to alleviate parking issues, on top of finding new ways to improve the parking on campus.
They also plan to continue working on improving accessibility in residence halls and other on-campus buildings. One new aspect they want to try implementing would be a text number or website where students can submit their complaints if a building is deemed inaccessible to those who are handicapped.
Lastly, Mishack and Shkoukani plan to work closely with Oakland's incoming president in the fall.
"We have a good relationship with the administration," Mishack said. "However, we're not opposed to sit-ins or petitions."
The two plan to have monthly meetings with the president, where they will bring up important issues and try to help the president realize just how special Oakland's on-campus culture is. The main goal of the meetings to showing the new president what OU is really all about.
The official election reveal will take place at noon on March 31 in Lake Superior Room B of the OC. Students are welcome to attend and should be on the lookout for future OUSC events in the new administration.