Study abroad in Greece, tell humanitarian stories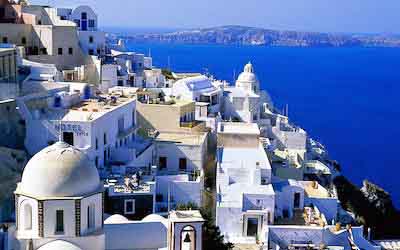 There is still time to sign up for the International Reporting in Greece study abroad program.
Working as international journalists in Athens, students will report on Greece's economy and the Syrian refugee crisis. The program will run July 3- 31.
Students will study at the American College of Greece, living in dorms designed to host athletes during the 2004 summer Olympics.
In conjunction with the four-credit course International Reporting in Greece (JRN 480), participants will receive political, historical and news briefings from guest lecturers. Oakland University staff will also help them become familiar with multiformat journalism, including podcasts, web and social media videos, TV reports and website design, according to the program's website.
These skills will be applied during various excursions, including trips to interview lawmakers at the Hellenic Parliament and talking to community members around refugee camps.
Students will also have time to explore Greece's mainland, Greek islands or parts of southern Europe on their own, as weekends are free for personal travel.
"I cannot stress enough what a golden opportunity this would be for any student who has a penchant for journalism, writing, investigating and understanding foreign cultures," said Cathy Shafran, broadcast journalism special lecturer and creator of the International Reporting in Greece program. "What is critical to this course is that it takes the students beyond theory, to application."
Shafran said participants will hone their international traveling and storytelling skills, as well as develop international contacts with the people and the press.
"They will be living and working among the people of another culture, understanding their challenges, and sharing their stories with the rest of the world," Shafran said.
One student making the trip is senior communication major Allyson Szydlowski.
"I personally signed up for this trip to gain a new perspective on life," Szydlowski said. "It's an experience I don't feel should be passed up."
Before this course, Shafran developed and directed a study abroad program to Jerusalem with ieiMedia, the Institute for Education and International Media, an organization of journalism professors that provides instruction in countries around the world.
Having worked overseas as an international correspondent for more than five years, Shafran decided to share her knowledge with other aspiring journalists.
A need for the program was recognized because Oakland has never offered training in foreign reporting as part of its journalism major, said Alex Zimmerman, director of International Education.
"OU students who participate will have the opportunity to experience a part of history and report on a fast-developing situation with worldwide implications," Zimmerman said.
Garry Gilbert, director of the journalism program and adviser of The Oakland Post, said that working in an international environment is especially important given the present political divide in the U.S.
"The chance to travel and work gives our students a chance to observe — and more importantly, listen — to people who have varying points of view," Gilbert said. "We have millions of people talking today . . . but it seems very few are listening."
The program costs $3,300, not including tuition. This covers airfare, housing and multiple excursions throughout the country while gathering news.
While an initial $350 deposit was due Feb. 15, applications will be accepted until March 15. To begin the application process, visit www.oakland.edu/ie.
Financial aid is available to who enroll in six summer credits.
There are also scholarship opportunities through International Education. This includes a $1,000 scholarship donated by the Brouillet family to be used specifically for this program.
To apply to any of the scholarships, visit www.oakland.edu/ie/payment/.
For more information, contact Cathy Shafran at [email protected].