SATIRE: Trump 'randomly selects' seven Muslim countries for additional security screening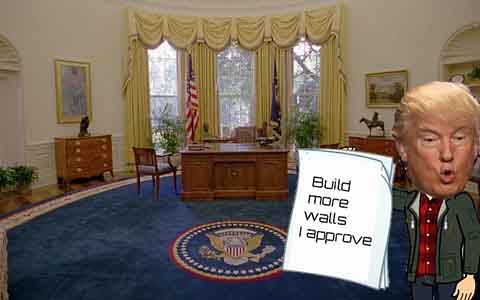 A recently invented security screening technique will now force anyone immigrating from the seven countries mentioned in the recent executive order to go through 120 days of additional security screening.
White House Press Secretary Sean Spicer, stated in his press briefing that, "Based on a selection program that we developed through months of work, these are the random selections."
When repeatedly asked about the "coincidence," Spicer disingenuously stated multiple times, "Hey, we're just as surprised as you guys are."
The security screenings come after appeals courts have temporarily blocked President Donald Trump's travel ban against the seven Muslim countries in which he has no business interests.
"This is the most pathetic attempt made by [the Trump Administration] to get around the law," The Pathetic Post said. "I thought they would at least be a little clever."
One of the judges who originally blocked the travel ban also commented.
"Wait, he did what?" said Judge Judy Smith, a sixth precinct federal judge from Michigan. "You mean we have to do this bullshit paperwork all over again?"
President of the American Civil Liberties Union, Libby Turner, contacted The Oakland Post recently to comment.
"I'm not the only one who thinks this guy's crazy, right?" Turner said. "I mean, have you ever heard of a leader of the free world that did something this petty? It's gonna be the longest four years of my life. . ."
Even Oakland University students who aren't majoring in political science are weighing in on the situation. The divide remains between the people whose political vocabulary has been limited to "Trump 2016" and the people who can't seem to stop talking about how much they hate Donald Trump.
One well-spoken student who voted for Trump wanted to broadcast his opinion in the matter.
"I didn't vote for the best person to lead," John Buck said about an election literally meant to find the best person to lead. "I voted for someone that could get shit done. And I think this is just another example of getting shit done."
Jane Deer, a self-described "radar detector for political discussions" wanted to make sure that people with her worldview were represented when she overheard me interviewing Buck.
"Excuse me, but I just wanted to say that this is not the kind of behavior that I voted for in this election," Buck said. "I didn't vote for someone to screw things up and turn this country into a fascist state."
Buck declined to comment on who she voted for, or whether she voted, for that matter.
Despite the massive implications of this new security technique, most people seem not to be worried about it, as the common sentiment is mild annoyance at this point.
The only thing we can be sure of is that,when the wall starts coming into being, there's gonna be a lot of petty politics that comes with it.