Daniels contributes more than just statistics to the men's basketball program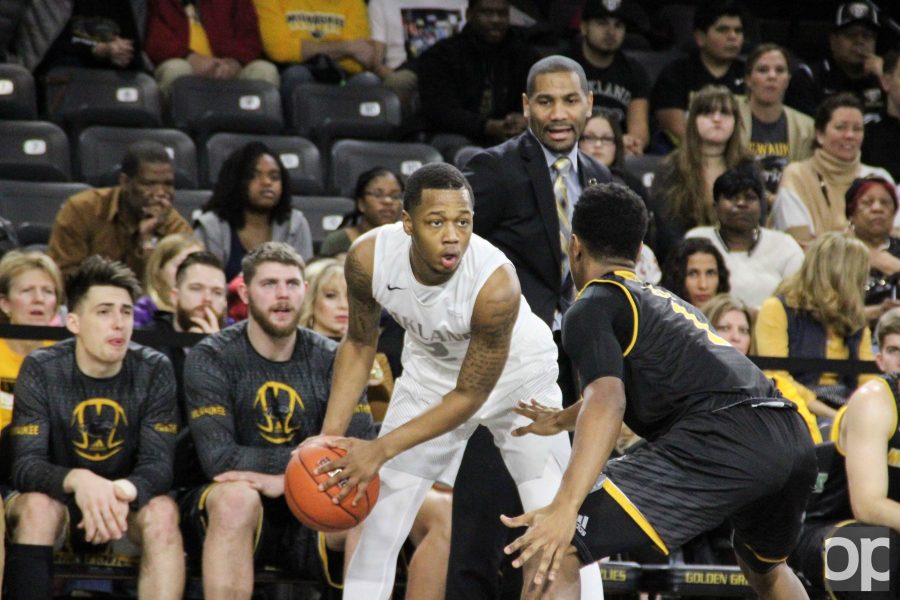 Every game, he's the guy who hypes up the starting lineup during introductions. He's the guy who leads the men's basketball team's dance circle before the game. He's the guy who turns to the crowd and gestures to make some noise at big moments of the game. His name is Nick Daniels.
Daniels found his love for basketball when he was 5 years old and playing recreationally in his hometown of Toledo, Ohio. Eight years ago, Daniels moved to Michigan, and his love for basketball only grew.
A four-year basketball captain at John Glenn High School in Westland, Daniels graduated as the school's all-time leading scorer and was selected to play in the Michigan All-Star game.
During his freshman year on the college basketball team, Daniels redshirted due a broken foot that he sustained in practice.
Despite not having much playing time his freshman year at Oakland University, Daniels bounced back his sophomore year. During the 2014-2015 season, he was named to the Horizon League All-Freshman Team and earned Horizon League Freshman of the Week Dec. 8, after scoring his then-career-best 17 points, shooting 5-for-5 from behind the arc against Rochester College on Dec. 3.
Although he was unable to play in the 2013-2014 season, Daniels soon became known for his positive attitude toward the Oakland community.
"I think he's more proud of this university and being a part of it than anybody I've been around," said head coach Greg Kampe. "That makes me very loyal to him. That makes me really believe in him just because I love that character. I wish everybody felt that way. I wish everybody that worked at Oakland, everybody that went to school at Oakland, everybody that gets a paycheck at Oakland — I wish they had whatever it is that's in him that's just a love of this university."
Daniels came to Oakland for the homey feel, the campus and the basketball program.
"I just love the culture here and the brotherhood that we have as a team outside of the court," Daniels said. "On my official visit, Drew [Valentine] was my host, and once I'd seen how he was a leader on and off the court, it just motivated me to be the same as he was when I got here. I just felt comfortable being here."
Inspired by Valentine, Daniels stepped up and became a leader on the team. His role evolved into a source of energy for his teammates.
"[He has the] biggest heart I've ever seen at Oakland," teammate Jalen Hayes said. "His attitude is contagious, man. He comes into practice every morning hyped up, energized, ready to practice and ready to go. He is high-fiving teammates, jumping up and down, and like I said, it's contagious. His attitude, it stays consistent throughout the whole year and throughout his whole career here. It's always a plus and a joy to be around him."
It's natural for Daniels.
"For me, it's really just who I am," Daniels said. "Outside of the court, I'm really silly with my teammates. I'm always dancing, always getting them hype off the court. I just bring it onto the court so it can get us hype before the game. I know that my teammates love seeing me hype, dancing and doing everything to get them pumped up for the game."
Daniels helps charge the team on the court as well.
"Even if he's not making shots, not having the best game that he wants to have, he's still out there taking charges, getting steals and just doing the little things, the energizer things that every team needs," Hayes said. "I think this year he's more of an X-factor than he was in his previous years."
Daniels' enthusiasm for basketball is obvious.
"He's a consummate team player," Kampe said. "He cares more about winning and losing than the average basketball player. He really, really cares, and he wears his emotions on his sleeve."
The main role that Daniels has on the basketball team is not just his position as a guard, but he is someone that a lot of people on the team call a friend.
"He's just my best friend," Hayes said. "I've been able to grow so much around him throughout the four years that I've been able to know him. He's my brother, really. We've done everything together and hang around each other every day."
As a communication major, Daniels aspires to be a sports broadcaster after graduation. He wants to keep up with basketball, even though he will not be playing the game.
"I love basketball," Daniels said. "I just want to stick with it for as long as possible."