Men's basketball selects All Half-Century Team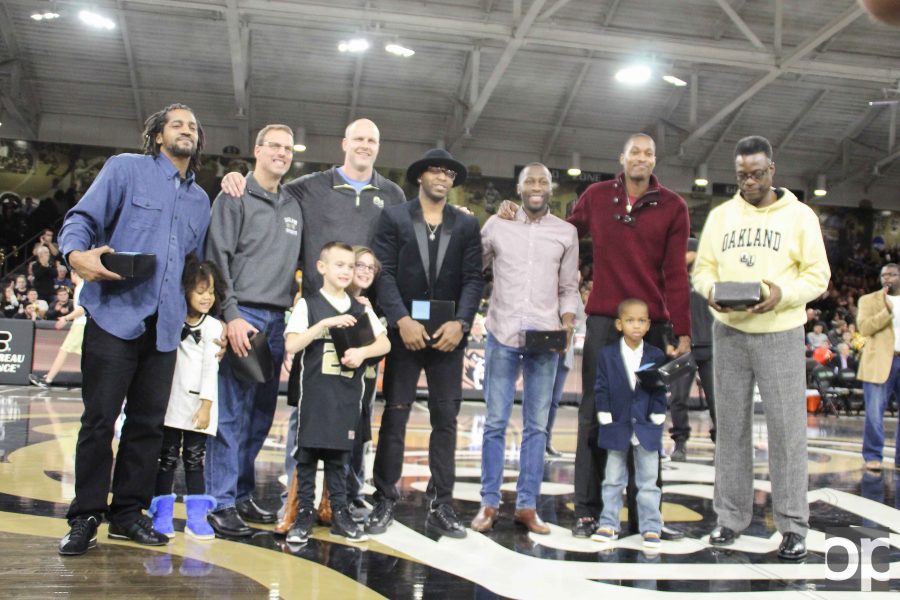 In celebration of the 50th anniversary of the men's basketball program, Oakland University Athletics organized a search for an All Half-Century Team, comprised of Oakland's all-time top-10 players. The team was announced Friday, Jan. 28 at halftime during the men's basketball Winterfest game against Green Bay. 
In order to decide who would be honored on the Half-Century Team, a committee of faculty, staff, longtime season ticket holders, Oakland alumni and a former player came together to make a list of 50 players, then fans voted online for the top 20. Over 7,000 people voted, and 21 players were selected, due to a tie.
After the top 21 players were selected, the committee came back together and debated which 10 players would make the Half-Century Team.
Scott MacDonald, senior assistant athletic director for public relations, was head of the selection committee. He has been following Oakland's men's basketball since 1999, when he started out as a graduate assistant.
"It seemed like the right time to do a half-century team," MacDonald said. "We really wanted the fans to have a part of that, too. That's why we wanted them to vote on the top 20."
After discussion, the committee selected Travis Bader (2010-14), Keith Benson (2007-11), Scott Bittinger (1984-88), Dan Champagne (1997-02), Kay Felder (2013-16), Reggie Hamilton (2010-12), Mike Helms (2000-04), Johnathon Jones (2006-10), Rawle Marshall (2002-05) and Carvin Melson (1969-73).
Jones is an American professional basketball player who last played for KK Igokea of the Bosnian League and Adriatic League. 
"For myself, it was a great honor just being nominated," Jones said. "With the history that we have, there's so many great players who paved the way for myself and others. Just being nominated with them and being mentioned in the same name as them was a big honor in itself."
Melson was one of Oakland's first stand-out players. Upon his graduation in 1973, he held the school record in almost every offensive category and still holds the school record for most career points and rebounds.
"I was a little overwhelmed because I played so long ago," Melson said. "I am really, really, really honored because we've had several great ball players that have come through here. For me to be selected as one of them, I'm very, very thankful."
Seven of the 10 players were present at the Green Bay game and honored at halftime. The three players who were not able to attend were playing professionally; Bader plays for Basket Recanati of the Serie A2 in Italy, Benson in the NBA D-League for Sioux Falls Skyforce, and Felder for the Cleveland Cavaliers.
All Half-Century Team Stats:
Travis Bader
– NCAA career record holder in 3-pointers made (504) and 3-pointers attempted (1,246)
– Recipient of Coleman Award, given to Horizon League's top senior student-athlete
– Ranks No. 2 in school history with 2,351 career points
Keith Benson
– Lou Henson Award winner in 2010, given to the country's top mid-major player
– Named Summit League Player of the Year (2010, 2011) and Defensive Player of the Year (2011)
– Second player in the Summit League and school history to surpass 1,500 points and 1,000 rebounds

Scott Bittinger
– Became Oakland's first-ever All-American player (1988)
– Named Great Lakes Intercollegiate Athletic Conference Player of the Year (1988)
– Inducted into Hall of Honor (1994)

Dan Champagne
– School record-holder in field-goal percentage (.624)
– No. 10 on all-time scoring list with 1,721 points
– All-Mid-Con performer and ranks in top 10 for games, games started, minutes played, field goals made, scoring, field-goals percentage, blocked shots and offensive rebounds in Oakland history

Kay Felder
– Named Associated Press All-America Third Team (2016)
– Horizon League Player of the Year (2016), Mid-Major All-American, two-time All-Horizon League
– Led the NCAA in assists per game (9.3) and fourth in scoring (24.4 per game)

Reggie Hamilton
– Led the country in scoring (26.2) in 2011-12
– Broke the single-season school record with 942 points
– Led Golden Grizzlies to the 2011 NCAA tournament and scored 25 points against No. 8 Texas in 85-81 loss

Mike Helms
– Finished third in the NCAA with 26.9 points per game, No. 2 in school history
– Scored 2,314 points and stands third on all-time scoring list
– First-ever Division I All-American (2003), Conference MVP and Player of the Year and three-time All-Mid-Con

Johnathon Jones
– Broke all-time Summit League record in assists (814)
– Led NCAA with 8.1 assists per game (2008-09)
– First player in program history to surpass 1,300 points and 800 assists

Rawle Marshall
– Named Mid-Con Tournament MVP after leading Oakland to first-ever D1 NCAA tournament (2005)
– First-ever player to compete in NBA (Dallas, Indiana)
– Scored 1,671 points in three seasons at Oakland (14th all-time)

Carvin Melson
– NCAA District 4 All-Star and NBA Coaches Bulletin All-American
– School record-holder with 2,408 points and 1,204 rebounds
– Inducted into Hall of Honor (1984)